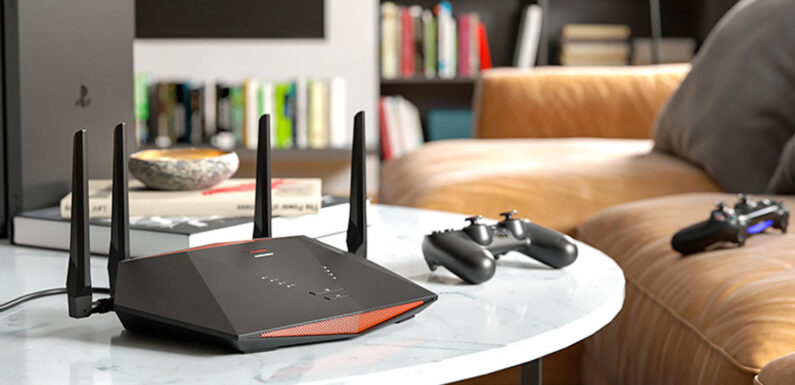 Versatile, sleek designs and whole-home coverage, ASUS is one of the best brands out there for top-of-the-line routers. This Taipei-based brand is a reputable leader in the tech industry and has produced several products known and loved by hundreds and thousands of customers around the globe. ASUS routers are perfect for your home, gaming and office use. There is a wide selection of router products to choose from. Whether you are going on a business trip, enjoying a multiplayer game, or setting off on a new location, you can find an ASUS router for every need.
Are you carefully considering a new ASUS router for your business, home office or gaming corner? Here are our recommendations for your new venture:
1) ASUS Gaming Routers
While they are not strictly for gaming purposes, these ASUS routers are equipped with exceptional specs and features that provide avid gamers with unmatched connectivity and gaming experience. Design-wise, much praise goes out to the team for their efforts. These router products have a futuristic vibe. In fact, there is a whole line of ASUS routers that are named after a popular Japanese mecha anime, Gundam.
For starters, you may want to consider these in-demand gaming routers:
1. ASUS RT-AX88U AX6000 Dual Band 802.11ax WIFI 6 Router with MU-MIMO 
This ASUS router exceeds expectations on all levels. The RT-AX88U is a 4×4 dual-band Wi-Fi router that boasts a 1.8GHz quad-core CPU – a new generation processor far more powerful than several desktop processors. Installing this router in your home or office means you get to enjoy up to 1Gbps of Internet speed (make sure to select a fast service provider) and 8 LAN ports. It is also equipped with 4 antennas, the latest Wi-Fi 6 standard and can be integrated with your Amazon Alexa and other Smart Home features. In addition to multiple device compatibility, you will not be able to tell the difference between a Wi-Fi and ethernet cable connection with the quality of speed this ASUS router brings to the table.
2. ASUS RT-AX82U GUNDAM Special Edition AX5400 Dual Band WiFi 6 Gaming Router
Gamers who are also fans of Japanese anime Gundam would find a lot to love here. Reinforced by its 4 antennas, the design is as avant-garde as a mobile robotic suit, clad in a white colour scheme and inspired by the RX-78-2 Gundam. Boasting a Earth Federation Space Force branding, you can play games under an ultra-fast Wi-Fi Internet connection of up to 5400 Mbps. This ASUS router comes with an app that allows you to optimise your device for minimise lag and latency for a smooth and lag-free mobile gaming. Commercial-grade home security features provide parental controls and protection against unwanted access or malware and virus attacks.
3. ASUS TUF-AX3000 AX3000 Dual Band Wi-Fi 6 Gaming Router U-MIMO OFDMA
Built with superior durability, stability and great value for gaming in mind, the AX3000 Asus router was one of the first Wi-Fi router products under the TUF Gaming line. The solid black body frame is flanked by 4 antennas and metal port protectors. It delivers an impressive Wi-Fi capacity and comes with the latest OFDMA and MU-MIMO technology, allowing for network speeds of 574 Mbps and 2404 Mbps for 2.4G and 5G bands respectively. Maximum bandwidth is 160 MHz but this router is almost 3x faster than 802.11ac dual-band routers. What sets this ASUS router apart from the rest is its Past Forwarding capabilities, which lets gamers open NAT using this device and team up with gamers in 3 quick steps without the hassles and complications of a manual configuration.
2) Multipurpose ASUS Routers
These routers from the ASUS brand serve a variety of purposes and can be used anywhere at home or in the office. They offer value for your money and are readily available in physical and e-commerce tech stores at reasonable prices. While fast Internet speeds are well-supported, make sure to get a high-speed plan from a trusted service provider.
Here is a list of multipurpose ASUS routers you may want to consider for your home, business or general network upgrade:
1. ASUS ZENWIFI XT8 AX6600 Wi-Fi 6 Tri-Band Whole-Home Mesh Routers
If you are looking for a total wireless connection of up to 6600 Mbps, this router product is a clear winner. Not only does it accommodate multiple devices connecting to the Internet at the same time, you can also enjoy faster and more stable speeds with the latest ZenWiFi AX technologies, OFDMA and MU-MIMO, plus the latest Wi-Fi 6 standards. Its tri-band mesh Wi-Fi system and antenna placement ensure whole-home coverage, while your network gets security protection for a lifetime courtesy of Trend Micro. The ZenWiFi AX system consists of two ASUS AX6600 WiFi 6 routers that cover an expanse of 510 square metres or more or less six rooms.
2. ASUS ZENWIFI MINI XD4 (B-3-PK) AX1800 Wi-Fi 6 Dual-Band Whole-Home Mesh Routers
Much like the XT8, the ASUS ZenWiFi Mini XD4 offers similar advantages and convenience that one would expect in a next-generation Wi-Fi dual-band mesh router. The twist? Its size. Comparably lightweight but with still the same features, this ASUS router provides whole-home coverage, commercial-grade security features, fast and stable connectivity, AiMesh technology, and the latest Wi-Fi 6 system. The ZenWiFi Mini can boost your Wi-Fi performance up to 1800 Mbps and lets you immerse in a true 8K streaming experience.
3. ASUS ZENWIFI CT8 AC3000 Tri-band Whole-Home Mesh Wi-Fi Routers
Another product from the ZenWiFi line, the CT8 wireless router is just as impressive when it comes to extensive coverage, Internet speed and stability, multiple device connectivity, lag reduction and more. Equipped with AiMesh technology, customisable settings and in-depth user controls, this ASUS router sports a sleek modern design and can be configured based on your requirements. It has 4x gigabit ports, 3 SSIDs, up-to-date protection and an area coverage of up to 4 rooms (5,400 square feet). Place it in your living room and it will fit in as nicely as any decor.
Buy an ASUS Router that Suits Your Needs
There are all kinds of ASUS routers for every budget, every need and every personal preference. After considering the price, specifications, design, and other applicable considerations, your next ASUS router should be able to meet your standards. Be it gaming, working in your home office, or streaming a conference, do not settle for less. Buy a router product that lets you do the most with your Internet.
For more information about router brands, products and accessories, explore the Wireless1 online tech store today! Free shipping for orders over $200.