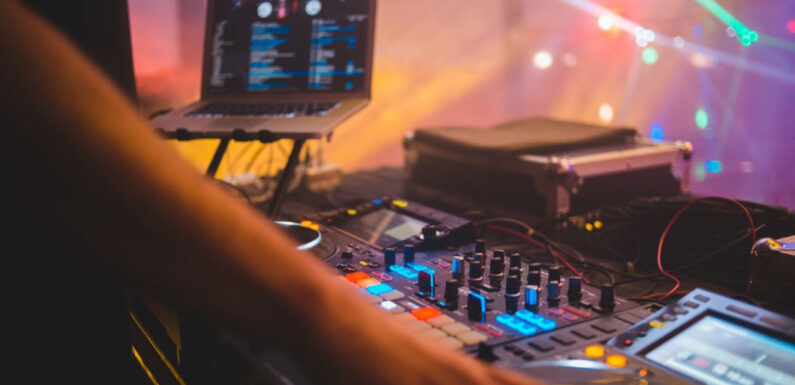 Often viewed as one and the same, DJ controllers and mixers are actually quite different. They have several interconnected capabilities and functions but are nonetheless entirely separate pieces of hardware.
The difference between the two is usually visible at a glance. One of which, i.e. the DJ controller, has an extensive arsenal of buttons, keys, controls and so on, usually accompanied by a couple of turntables. It's fairly close to an all-in-one system for putting on a performance, combining a whole bunch of essential features into one compact unit.
By contrast, a DJ mixer is a dedicated add-on that's designed to make the DJ's life easier while facilitating superior output. A mixer is used to combine all the various 'layers' of sound sent from external devices, in order to put out the most beautifully balanced and harmonious 'mix' as the final product.
With a mixer, you can connect a series of external devices or musical instruments – guitars, drums, microphones, decks and so on. The DJ then adjusts the levels in such a way as to ensure the resulting output is flawlessly balanced, in accordance with the sound they want to achieve.
Basically, you're looking at two equally important and versatile pieces of hardware, which serve similar yet slightly different purposes. The best way to put on a top-level performance is to combine the benefits of both – not to instinctively choose one over the other.
Is it Possible to Run a Controller Without a Mixer?
At the risk of contradicting the above, it is indeed perfectly possible to get by without a mixer. DJ controllers are designed to function independently of mixers where necessary, so you don't necessarily need one in your setup.
A few key points worth clearing up at this stage:
DJ controllers can be used with or without a separate mixer
You can use a DJ controller in place of a mixer
A mixer provides essential additional support for things like microphones and other instruments/equipment
Therefore, just because you don't need something doesn't mean you won't be better off with it. So again, combining the functions and benefits of both a controller and a mixer is the preferable option.
Which Are the Best Mixers and Controllers on the Market Right Now?
Picking up a comtroller and/or mixer means first establishing your objectives and assessing your budget. You can spend as little or as much as you like on either, but value for money is what matters most.
As things stand, the highest-rated mixers you can pick up right now in their respective price brackets are as follows:
Pioneer DJM-S9
Pioneer DJ DJM-V10
Pioneer DJ DJM-S11-SE
Yorkville PGM8
Reloop AMS-RMX90
Yorkville M1610-2
As for controllers, each of the following is a front-runner for the crown as of early 2022:
Pioneer DJ DDJ-1000
Pioneer DJ DDJ-SX3
Reloop Mixon 4
Pioneer DJ DDJ-SB3
Pioneer DJ DDJ-RB
Numark DJ2GO2
With some of the above having seen generous discounts since their debuts, there's never been a better time to find out what a quality controller and mixer can do when combined.