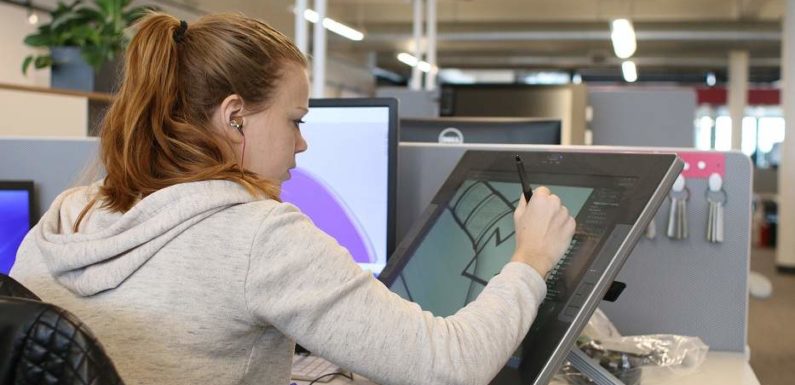 Dedicated products & digital transformation
Digital transformation has been a wave of the 21st-century encompassing Internet, the dire need for connectivity and higher productivity. The tech business industry has rapidly cruised towards quality driven product engineering services. The brimming enthusiasm of tech service and race of highly advanced technology has led to numerous explorations. It has brought out various dimensions in the technology business industry. This has been a major stealer of the limelight because it is speculated to be evaluated over $1 Trillion by 2021.
Product engineering services are important for MSMEs and corporates as they give them a chance to keep with the new trends of technology. New trends are extremely important for businesses to stay in the hunt for better sales growth and sustainability.
Why Product Engineering Services?
The complex requirements should be able to fulfill business goals without any compromises. It can be done with a help of a 360°, scalable and highly comprehensive product (it can be the end product of product engineering services). The product should help to overcome all the hurdles a business is facing. This is exactly how product engineering services work. Product engineering a set of techniques that let you build a complete product from scratch and the greatest differentiator between an ordinary on-the-shelf product and a newly engineered product is the how dedicatedly it is meant for a specific set of use cases and it solves the problems of the respective business. When used at optimum potential, such products generally cover all utilities and requirements exhaustively.
How do product engineering services impact your business?
Mitigate 360° risks
Technology business industry mainly focuses on a brisk upgrade and migration to newer options as per the trends. There is a huge problem of a drastic drop in the overall performance because of the compatibility issues and resource bottlenecks. A dedicatedly engineered product in the native business environment covers all such risks because it is a result of exact requirements and familiar tech stack of the company.
Thus, it becomes relatively safe to innovate and branch out with your own product instead of working on something pre-built. It will surely help you take care of the risks involved in building, migrating and initiating operations through newer, virgin technologies in your tech stack.
Generally, it is seen that the industry is driven by notions and people blindly follow the trend of new technologies but fail to gauge their requirement and consequent impact. Core product engineering services help you in the long term for quicker turnaround time and a shorter curve of maturity when new technologies are introduced.
Scale, Modify & Innovate
The core product engineering-based business enabler is leveraging scalability in its real sense. It is simply because of how perfectly it aligns with the business needs of the digital age. Such a product stands in a comfortable position to impact your business with the best third-party service integration, system interoperability and highly flexible business operations that motivate you to innovate on a date to day basis.
Embrace digital transformation
It is a great problem seldom realized by businesses that they are driven and lured by digital transformation but they fail to ensure complete effectiveness of digitalization of a business process. Generally, they tend to digitalize the most critical part of their business processes like customer experience, back-end operations, and the digital product but the overall impact is often not achieved. Well built, robust native business product ensures that it involves digitalization in every corner of your business process. It leaves no scope for further digitalization and helps you reap better business growth and stability.
Be more productive
There are several leaders of product engineering services who welcome projects of building businesses and firmware based products. There is an intelligent option for every millennial age entrepreneur to outsource their product engineering projects to IT consulting firms like Chapter247 Infotech and focus on leaner business process and fine execution.
Phases of a Project in Product Engineering Service
Product engineering projects have a large quantum of impact on every stakeholder and they end up being a little complex; if mishandled. It is advisable to look for an experienced company with an elaborated portfolio which can serve you against end-to-end requirements. This start from the first icebreaker meeting where the idea is established and goes up till the final delivery and future maintenance.
You may also like: How Can Product Engineering Services Benefit Your Organization
Here are the standard milestones in a quality product engineering project
#1 Ideation
It is one of the most critical and foundational parts of every product engineering project. The ultimate core idea of the project is expressed by the innovator to a potent IT consulting firm. This generally lasts from 1 to 3 meetings where information is exchanged and requirements are fixed along with the inputs from domain research by product analysts of the IT consulting firm. In this, the product engineering team focuses on conceptualization, documentation and finalizing requirements. It is also verified that the specific set of requirements is molded into a complete product.
Must do's: Double cross check that all the functional and non-functional requirements are being fulfilled by the product engineering project. Also, try to make use of software documentation methodologies like use case diagrams and state transition diagram for thinking from a multi-stakeholder perspective.
Don't: Avoid research and business analysis of the product engineering project. The efforts required and the possible outcome should be projected prior to initialize the operations. All the requirements, related time material costing, efforts and allocated budget should be clearly ready beforehand.  Also, it is advisable to reasonably predict the impact or performance measure the dedicated product should achieve. It will substantially help in impact & performance analysis of the product.
#2 Formulation (Designing)
It is a critical exercise where all the similar products or the ones maturing in the same spectrum are analyzed to build a foundational design. It has a proven potential with demonstrated examples in the business market. This is exactly where the product starts to take the initial shape and all the possibilities are explored for better problem-solving and building a sustainable product.
Must Do's: Perform in-depth analysis of pre-existing products and also profile competitors for a clear understanding of where innovation is needed and where do others lack the great problem-solving ability.
Don't: You should not avoid, underestimate design pattern analysis and product development. They form the basic structure of the final product and it gives the much-needed direction to the product engineering team for taking up small tasks.
#3 Product assembly & software development
It is the most talked about or limelight stealing phase of product development life-cycle where your product is assembled on a mass level and dedicated functionalities are developed, integrated into the hardware. Finally, a fertile firmware is ready for business perspective.
Must do's: Crosscheck fulfillment of all the quality standards and plan in such a manner that you are left with ample time for testing. Another major decision should be made in a direction to choose the right product development life-cycle model like waterfall, spiral or RAD..
Don't: Rush through the development phase and ensure complete performance and objective fulfillment
#4 Quality assurance
It is undoubtedly the most critical part of any product engineering project where the finished product is tested against a test suite for complete fulfillment of functional and non-functional requirements like functionality testing, scalability, interoperability, and resilience.
Must do's: Spend ample time designing test cases and hit the right mix of manual and automated testing
Don't: Forget to rigorously implement hardware integration testing or HIT. Avoid taking the testing phase of your product engineering project lightly and try unreasonably saving the time material cost by reducing the effort in testing the product.
#5 Launch
This is the time to build a proper launch pad in the business market and penetratingly publicize the new product and create relevant awareness. It should be accompanied by rigorous demonstrations and media involvement for a larger outreach and better business prospects.
Must do's: One should ensure end-to-end requirements fulfillment for proper objective achievement out of the project. This is the time for impact analysis and appraisal
Don't: Don't be reluctant in shelling out resources for PR, marketing and building a campaign that helps the target market understand the USPs and importance of the product. It will help them find persuasive reasons to buy the product and also stand satisfied in the long term.
#6 Continuous updating & maintenance
The leading product engineering service companies ensure never dipping performance for your product with a continuous engagement through regular updates. It is accompanied by progressive innovation on a consistent note. It is also helpful in ensuring the complete stability of the product in a heavy load business environment.
Must do's: Clarify the product maintenance and upgrade cost with the company
Don't: Ignore upgrades because they are the stepping stones for your never dipping performance.
Points to ponder about product engineering services
A. Engagement model
Choosing the right engagement model is a primary prerequisite for ensuring that your product (which is the end goal) exceeds the expectations of all stakeholders. While choosing an engagement model there are a few points which should be kept in mind:
What is the total turnaround time? Some models require a long curve of completion
Whether you have a team to simultaneously work out different phases of the product life cycle? Otherwise, choose a basic model like Waterfall. Taking up each step of product development, one by one.
Are the requirements fixed from the client's end? Otherwise, create different versions of a prototype, each having some more functionalities than the last one
B. Accelerators & Incubators
These are the potential enhancements which can help you fast track the progress and product development life-cycle for your engineering project. These are innovative business enablers which help you with a short-term and long-term perspective.
C. Efficient DevOps Solutions & Similarity with Product Engineering
Product engineering has numerous similarities with Product engineering. Both of them work in troubleshooting mode, they have new environments to excel, and a lot more. It is important to focus on immaculate execution of DevOps alongside the product engineering project. It helps in achieving better performance and also maximizes the efficiency of the live product in on-field circumstances.
D. The anchor of Product Engineering Projects: Product Engineer
Product engineers are highly versatile and talented IT professionals who have the ability to map business-driven use cases with functionalities. They are highly capable of mitigating risks and bring in true resilience for the product. The talented hands and innovative minds work in complete cohesion with the rest of the team including software developers, engineers, system analysts, QAs, testers and product managers. It is extremely important for them to perform and contribute in leaps and bounds. Only then, any project can meet crunch deadlines and achieve the objective behind the product.