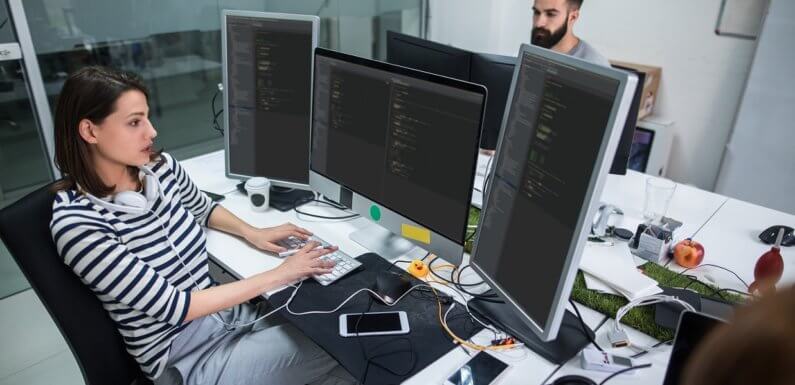 In today's advanced mobile app market, we are spoilt for choices. There is an app available for almost everything – from gaming and entertainment to learning and organizers. While the Google Play Store has around 2.8 million mobile apps, the Apple App Store has 1.8 million apps, per the recent Statista findings.
The world of mobile applications is consistently booming with endless opportunities and innovations unlocked by machine learning technology. If you've not already acquainted yourself with it, here are 8 ideas for machine learning on mobile apps that would make you embrace the technology right away.
However, just having a dedicated mobile app is not enough for businesses. You might succeed to make users download your mobile app at first but, to have them glued to it, you need to offer them a personalized experience. That can be achieved through machine learning.
A machine learning-based mobile app comes loaded with the ability to learn as well as respond to the user's behaviour in real-time. The result? Great user engagement and activity on the app. The best examples are Netflix and Google Maps that use machine learning optimally. 
So, let's explore some amazing ideas for the magic called machine learning on mobile apps.
Healthcare Mobile Apps
The technology of machine learning, when incorporated with a healthcare mobile app, can truly become users' health companion. Whether it is analyzing the symptoms or offering adequate measures, its smart algorithms can help manage the user's health conditions better. The ML-enriched app can also predict the possibility of a condition, such as headaches, and suggest ways to prevent it.
If combined with suitable sensors, some health and fitness apps can craft customized workout and diet regimes based on the analysis of the user's previous data and daily activity level.
Finance Mobile Apps
Managing finances is one of those most important tasks that are not at all easy. However, finance-based mobile apps can make it a breeze through machine learning integration.
By utilizing ML, finance apps can help users manage their income and expenses on the go by letting them link their credit/debit cards to their bank accounts. Keeping up with the bill payments and recurring charges also becomes seamless for users. In addition, these apps can perform analysis on the users' spending habits and transaction history to provide them with the most suitable deals.
E-commerce Mobile Apps
If you have your own eCommerce mobile app or planning to get one built, machine learning can make a world of difference to your business. Wondering how?
An e-commerce app with ML technology can provide more relevant search results when a user searches for a product on your app. It also makes it possible for your e-store to recommend appropriate products based on the users' data, purchase history, and behaviour. Moreover, ML will let you stay ahead in the league by making intelligent predictions on upcoming trends. E-commerce apps can also utilize ML-based chatbots that can establish a neural conversation with the customers to solve their queries in real-time. 
The best example of ML in an e-commerce app is Amazon that makes smart product recommendations.
Weather Forecasting Mobile Apps
Isn't it a great idea to know the slightest hint of change in the weather condition a bit in advance? Weather forecasting mobile app with integrated machine learning technology does exactly that.
You can build an application that makes accurate weather forecasts based on the users' current geographical location. For that, the technology considers the climate conditions in that particular region to give users the most precise weather insights possible with the help of artificial intelligence. The regular and trusted weather forecasts and alerts allow users to plan their day in a more satisfactory way.
Image Editing Mobile Apps
Today, we live in a virtual world where people love to document their lives through stunning, flawless pictures of themselves or the places they've visited on social media channels like Instagram. As a result, there are a plethora of mobile apps offering image editing tools. So, how do you stand out from the crowd? Simple, by using ML and AI technologies in your image editing app.
From a variety of layouts to cool filters, ML-based photo editing apps can enhance your images in a way that makes them look more elegant and picture-perfect yet real. ML's smart algorithms respond to every image uniquely depending on its content.
Travel Mobile Apps
When machine learning is used in building a travel app, it can become the users' personal travel assistant. In simple words, the app allows users to plan their trips more wisely as it already has an understanding of their preferences as well as previous travel data. Furthermore, it also lets users ask questions regarding their trips, for instance, flights and hotel bookings, and replies accordingly, providing a more fulfilled user experience. At the same time, it notes the user's response to future suggestions.
Restaurant & Food Delivery Mobile Apps
All of us have different food choices, hence, it makes sense for a restaurant app to offer consumers personalized recommendations from the menu. That is achievable when the app integrates ML. Additionally, it can also take orders, resolve user queries, and offer a tailor-made deal.
When integrated into a food delivery app, ML can offer users estimated time of delivery of their meal by accurately analyzing the real-time traffic.
Transportation Mobile Apps
Considering the importance of time and the increasing traffic issues, a transportation app with machine learning will help users plan the ride effectively. Not only the ML algorithms can predict the arrival time, but it can also provide the estimated cost. To top it all, it offers map tracking in real-time, making it all the more convenient.
Ending Thoughts
Impressed with what machine learning can bring to the table? Then it's time for you to embrace the machine learning integrated mobile app for your business. It can open new avenues and help you stead the ground in the future.