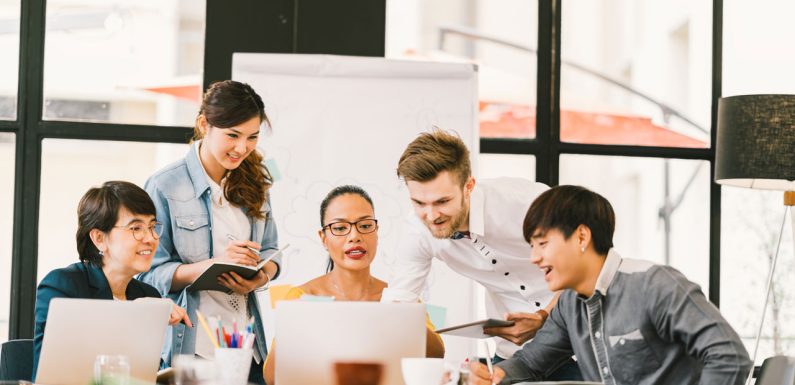 "Build something 100 people love, not something 1 million people kind of like." – Brian Chesky
The exact shift content marketing has experienced over a decade, that's from product-focused (For improving product awareness) to customer-focused (To impress target users by solving their pain points). The game of content marketing is evolving every year to keep the content relevant to market trends and step in with changing search engine algorithms. Otherwise, the business is lost in lanes.
Especially, in the digital landscape, where advanced technologies such as artificial intelligence, cloud computing, cybersecurity, automation, and augmented reality taking the center stage, it's essential to stay on current trends to get ahead of the pack. There are a lot of trends that are insignificant or fleeting, which makes it difficult to decide- which one you should opt for.
In this guide, the top 10 content marketing trends outlined that are touted as trendy and content marketing agencies are using them as an integral part of strategy. Experiment with these trends to boost your business marketing performance outcomes.
Top 8 content marketing trends you need to know
Content marketing strategy always needs an upgrade to continuously engage the users, promote the brand, and leapfrog the competition. We expected to see these 8 content marketing trends dominating the marketing world.
1. User-focused content
Gone are the days when publishing a lot of content on social channels and the internet helps in improving search engine ranking and thus business visibility. In 2023, creating content in quantity rather than quality content won't bring effective results at all. The product-focused content won't help brands connect with customers digitally. Creating user-focused content is a need of the hour that helps brands to attract targeted customers and makes them feel attached to the brand.
The content should not be like a sales pitch. The content voice should be natural and aligned with the brand's voice which makes customers feel the human touch. Partnering with influencers or brand ambassadors also helps in appealing to the customers and making them support the brand genuinely.
2. Well-researched, quality content
46% of B2B marketers found that research report brings the best results for efforts and time invested in content marketing. It means businesses should favor conducting surveys or writing insights-driven white papers that target customers' trust. It's very important because people are not at all interested in information or stories that are misleading. They look for figures and data-driven content.
This is the reason infographics creation is now preferred, which precisely showcases well-researched content that catches users' attention. It's alright for businesses to add another company's research to the content, but creating research content with the help of in-house resources makes the content unique and qualitative. When your research is linked to other sites as a source, it adds authority to the website and improves SERP.
3. Maintain consistency in content
Putting all the eggs in a basket is not a smart decision. When you pour all the resources, time, and effort into quality content creation, it's wrong because you also have to make the content work for the best results. You need to set up a schedule for publishing content, say one quality content in a day for getting good results. This is termed as consistency that users are looking at the businesses a lot.
Regular content creation and constant publishing bring consistency to content marketing. It makes customers look for your brand at expected intervals, which encourages them to revisit the website. Besides, it helps in staying on the top of the users' minds, but don't forget to strike the balance.
4. Short-form video
Let's accept it: the attention span of users is getting shorter, say 10 to 30 seconds. The time spent on watching video content is increased to 19 hours per week and is expected to surge in the years to come. Hubspot marketing report state that short form of video content initiated by TikTok and then Instagram bring high ROI to the businesses as opposed to other media formats.
It's great for businesses as more targeted content is generated in reduced time and results in better engagement. Content marketing agencies keep the practice of creating video content to 5 minutes, but reducing it to 1 minute improves the number of views and drives unmatched results.
5. AI influence will continue
The influence of AI is visible in every industry vertical. The flood of AI avatars has boosted the popularity of apps say Instagram, Snapchat, and more. Google's algorithm also leverages AI technology to sort the search results and provide the best match to the users. Content markets can smartly use AI tools to plan content creation and other activities at speed.
For instance, AI-generated content can be used as inspiration for more ideas when you are sitting as if looking at a blank screen. Wordtune and Grammarly like AI-based tools help with error-free content delivery. Marketmuse-like tool help with improving content search ranking with keyword research, content planning, competition analysis, and more. The leading content marketing agencies are leveraging AI tools at scale.
6. Make it SEO-optimized
No one other than content marketers knows that SEO-optimized content creation doesn't mean keyword addition or meta description. It's a dedicated process wherein more than 200 variables are considered for the content ranking. However, Google gives priority to content that's user-optimized.
SEO-optimized content speaks about services/products that solve users' problems and add value to the users. Ensure content includes simple and short sentences that users generally search for. Instead of creating keyword-dense content that won't engage the users. Build authority on the topic and Google will automatically raise the high-quality, relevant content to the top.
7. Ensure data privacy
Artificial intelligence, augmented reality, virtual reality, and other forms of content are generating a lot of data which businesses are using intelligently to make data-driven decisions instantly. however, the users feel unsafe when the information is collected due to increasing cases of cybercrimes, intrusive marketing pitches, and privacy invasion. That's why users expect the brands to collect data ethically.
Leading nations have rolled out regulations for protecting users' data privacy. Adhering to regulations and data collection standards, businesses ensure that content marketing informs the users before data collection, the collected data remain secure and private, and not shared with anyone unless the user provides consent for the same.
8. Enable voice search
Google Assistant, Siri, and Microsoft's Cortana are the popular voice search assistants that mobile users use at scale for the convenience of speaking rather than typing. Voice assistants are the by-product of digitalization and becoming a must-have for brands. If your content is not voice-search optimized, you lose an optimal number of users.
Make your content have a conversational tone with questions and long-tail keywords that sets it up for voice-based searches.
Conclusion
The up-to-date content marketing plan helps marketers surf the nasty waves and let businesses thrive with winning results. The business should renew its focus on content marketing by understanding and implementing these 8 trends that sync with its marketing plan. Do research, leverage insights out of data, use AI, VR, AR, and voice search intelligently, keep data private, and create content consistently.
Keeping up with the latest trends improves content marketing strategies which allow businesses to connect with the customers they want and stay competitive. The leading content marketing agencies that are using advanced technologies and the latest content marketing trends can also help you fill the void and capture huge market share.
Remember, customer experience is the essence of all the trends that aim to deliver wow experiences for the most precious asset of the businesses. So, stay current to stay ahead of customer expectations.