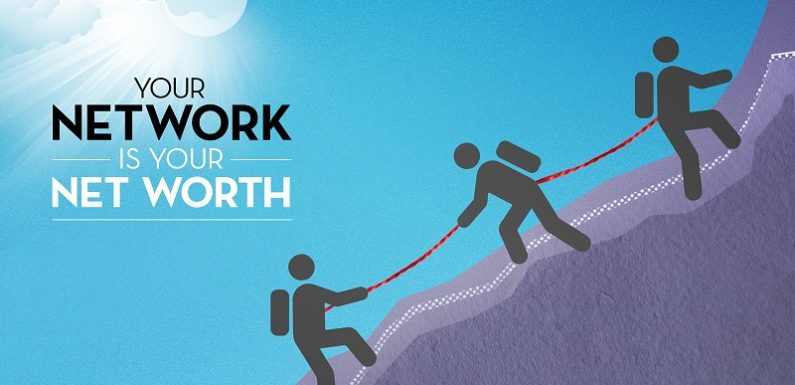 In a world full of opportunities from different avenues, sometimes, waiting for vacancies, walk-in-interviews and applying for a job online is not enough. For the very reason that the bigger job positions do not even get posted; not announced usually. Biggest multinational companies in the world prefer taking recommendations from their employees before posting a job ad for hiring someone. Hence, gradually though it has been widely acknowledged that the opposite of networking is not working.
Ernst & Young can be taken as an example, they are progressively utilizing their own workers to suggest them new hires, and noticeably it saves their time and money nonetheless broadening the odds for job seekers without connections, specifically amongs't the long-term unemployed.
Experts also believe that this trend has been intensified after the end of the recession due to the constricted job market. On top of that, another reason is; by employee networks on LinkedIn and Facebook, which is helping employers finding the right candidates much more rapidly and with the benefit of bypassing piles of job applications from several sources.
Globalization, regardless of all the progressive changes and new opportunities brought uncertain economy which made tens of millions of corporate positions unpredictable and comparatively less secure.
When I was growing up, I think it applies to everybody, so when we all were growing up, our parents, older siblings, they all are very protective and apprehensive about our friends' circle and who are we hanging out with. We all have read this quotation: "You are an average of the 7 people you hang out with." And "Show me your friends, I will show you your future" over and over again, and without any apology or hesitation, I shall say these are absolutely true.
They are protective of us getting involved in malicious habits or maybe crimes while when it comes to networking it is all about elevation – better connections than yesterday. Only if we could see the byproduct of what we have become from the influences we took in the last couple of years have made us who we are today.
If some of you are working for the same position, same company with the same exact routine. I have something very thought-provoking for you to say which might awake a part of you. These are the sayings by the most successful, motivational speakers, psychological and career counselors in the world, repeatedly.
"If you are the smartest person in the room, you need to change the room".
"The worst word I can ever hear from someone is 'no' or that it can't be done. There is always a way to get things done. You have to find a place where 'no' doesn't exist in your circles or in your personality."
"Do what you love, and don't look back. Take risks, work for free to get in the door, and only keep friends and romantic partners who bring you love, support, energy, and positivity".
#1. Job Security
By the end of this decade, millions of workers around the world, including half of the Americans, who are at the risk of losing their jobs to robots, rest of the Americans are not satisfied with their jobs. Also, according to the latest reports, only 25 percent people are happy with their jobs. In a survey conducted by Deloitte, back in 2010, half of the workers showed lack of trust in their employers.
Jobs are not secure anymore because of the competition sometimes; almost everybody is replaceable and companies are not building the trust within the organizations. There are solutions to avoid such unfortunate incidents, therefore, one should always be driven enough to find better opportunities within the organization or somewhere outside.
#2. Be Strategic
Do not just rush into people. Like some people add random strangers, at times by just accepting the friend's request on Facebook or LinkedIn, ending up having hundreds of people they have no clue about – making themselves feel awkward eventually. Similarly, people in real life meet people, stay in touch, and invest their energy, time, money in people that are not leading them anywhere.
We have seen such drastic examples in movies when someone's bad influence get an innocent person involves in criminal activities like mugging, hacking, stealing or fatal addictions like drugs, reckless partying in such situations, usually the consequential scenes are shot in jails, rehabs, lost in streets or all of these.
I know it is a bit exaggerated in movies, however, the picture they try to paint is correct. Remember your network is your net worth? You are depreciating your value, by all means, if you are keeping such companies and vice versa if you are growing with your connections, not just the number of connections.
#3. Connections Bring Joy
Unless you are an introvert and someone who cannot get along with anyone and have 2-3 people in their comfort zone. This may not be for you and you might face challenges in your career for being introvert. We are not talking about the typical relationships, surrounded by politically right and meeting at their convenience sort of connections.
Here we are emphasizing the significance of networking, where you meet people from a certain background and belonging to a particular market; these are the people you should be connected to. The easiest way is to get their contact number because a business card is not enough until you save their number in your phone-book.
Add them on LinkedIn which is the most convenient and most appropriate in the majority of the situations depending on the situation you met someone.
#4. Tech-Based Connections
In the world full of apps, where for relationships we have Facebook, Twitter for following celebrities and both for expressing our views on any social issues or commenting on political, SMS and all the instant messaging apps have taken a back seat after being brutally replaced by WhatsApp. For all the professional contacts we have LinkedIn, however, if we notice, these constant and complete tech-based connections have overshadowed the real connections.
We should ponder upon the fact that these social networking sites, all the numbers in our contact lists, all the email addresses and if profiles in case you keep adding people aimlessly assuming they are building your networking might give you a raise in the count only. Identify your network by knowing your limitations – do not be an opportunist. Be a person with worth, who can also be a helpful resource for the people you are getting in touch – add value, not just headcount.
#5. Diverse Network
If you are working for a bank, you are not restricted to build your network within that particular field only. Explore and make your network diverse by meeting and adding people from various professions. They might need you some time to work or recommend you to someone who can help you with something in future. If not anything, they will add value and would ultimately increase your net worth.
#6. Look For Internal Rather Than Looking Outside
Again, people work for decades staying loyal to their company or one particular career and there comes a time when they realize that the same company or market, they have sacrificed so much for; can replace them in a day. Consequently, it is good to nurture your hobbies, interest, health, social life, if you give time to other activities – there are high chances you will meet people with similar interests and other professions ultimately adding into your network.
Since the day I got Xfinity Internet a couple of months ago, I have been searching and watching countless interviews, talk shows, and motivational speakers. This is something I learned from there and I wanted to share with you all. It is also my general observation that most of the sports players, actors, singers, millionaires, even though they had the potential and everything but got their talent identifications from different circles while public recognition and entry from another totally different network.
Some people do not do networking on purpose – they just get lucky. Whereas, some of us learn at the time, however, It is never too late to start something good.
#7. Nurture Your Old Connections
Become pro at networking, meeting people, making connections with them, adding diverse people in your circles, getting socially active is absolutely what you need to do for increasing your worth in the market. On the contrary, every school of thought encourages not forgetting your roots, therefore, always stay in touch with your old colleagues, bosses, alums, seniors, juniors from your schools – if you are on right track you would always keep them with you from the beginning by just getting in touch for whatever reason after a couple of months or week.