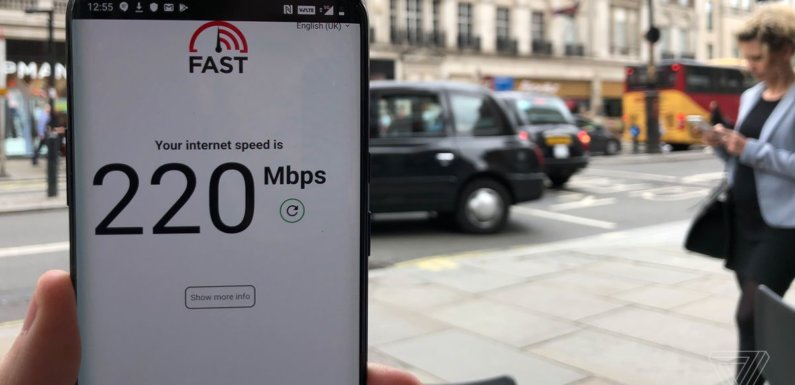 Introduction about 4G
4G connectivity has been a revolutionary trend in the telecom sector, which has been developed for replacing the 3G connectivity. The 4G mobile network is responsible for facilitating reliable connections offering high-speed data transfers. 4G LTE (4th Generation-Long Term Evolution) is responsible for providing a fast connection for a mobile internet experience and is estimated to be ten times faster than the 3G technology.
The connectivity in 4G is governed by various technologies such as LTE-Frequency Duplex Division (LTE-FDD), LTE- Time Duplex Division (LTE-TDD), WiMax, and HSPA+. All of these technologies are driven by the spectrum band, offering the end-user with better internet connectivity and browsing capabilities.
The accelerated adoption of the in-expensive smart devices and increased demand for better connectivity to enhance the customer experience are some of the key drivers for this technology over the period. The constant review of regulation policies, which govern spectrum standards and exposure to harmful radiations are some of the factors which can stagnate the growth of 4G markets.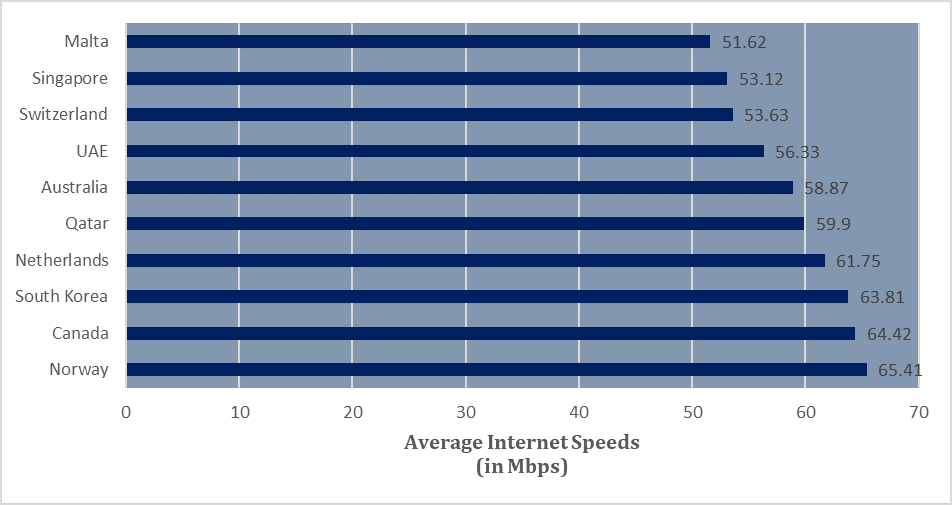 Average Internet Speeds of Top-10 Countries (as of April 2019)
(Source: https://www.statista.com/statistics/896768/countries-fastest-average-mobile-internet-speeds/)
Global 4G Markets
Global 4G LTE Market Value is expected to reach approximately $322.77 bn with a CAGR of 38% during the forecasted period of 2017-2023.
The Global 4G LTE market is divided into 4 regions- North America, Asia Pacific, Europe and the Rest of the World. It is presumed that the North American region is going to witness significant growth in the 4G LTE Market. Leading countries of the region include- the US and Canada. The market growth is due to the advanced spectrum efficiency, which has allowed the repurposing of broadcast spectrum for broadband. Asia Pacific region is also expected to be the fastest growing region in the 4G LTE Market over the forecasted period of 2018-2023. Countries including- South Korea, India, Japan, and China are the leading countries in the 4G LTE Market. The growth in these regions is due to a rapid increase in the demand for high-speed connectivity.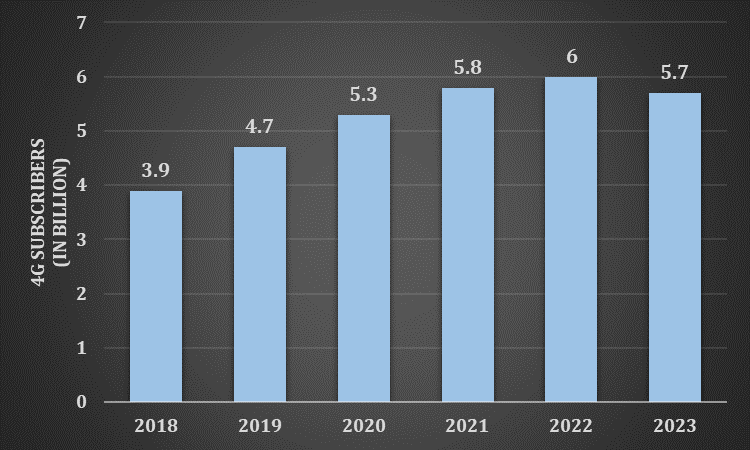 4G Subscribers Globally
(Source: https://www.statista.com/statistics/206615/forecast-of-the-number-of-global-hspa-lte-subscriptions-up-to-2014/)
What is 5G?
The 4th Generation (4G) LTE wireless technology has laid the foundation of today's 5G technology. 5G wireless signals are going to be transmitted by a large number of small cell stations located placed in places such as light poles or roofs. Using small cells is necessary as the millimeter wave spectrum. It has a band spectrum between 30 GHz and 300 GHz, on which 5G relies for generating high speeds and can travel over short distances and is subjected to noises from weather and physical obstacles.
Some key features of 5G wireless include-
Estimated 10 Gbps broadband speeds with peak speed reaching up to 20 Gbps
It may automate several network behaviors
Offering platform-enabled services for vertical markets
Accelerated service delivery at lower costs'
Use of network slicing for deploying multiple virtual 5G networks on a common infrastructure
Adopting 5G
Based on insight from CCS, the adoption of 5G is going to take place faster than 4G. It is estimated that the number of 5G mobile connections will surpass 1 billion in the year 2022 and by the year 2025, it is estimated there would be 2.8 billion 5G subscribers globally.
The initial adoption would be slow as less than 10 million 5G smartphones are projected to be sold in the current year, 2019. The fact behind the less selling of 5G smartphones is governed by two major factors- high retail prices and limited support of the frequency bands being offered in the 5G segment. The report further states that in the year 2020, the adoption of 5G will be high as all the major Android manufacturers would have 5G devices in the market and even Apple is expected to have a 5G-enabled iPhone by the next year, post-settlement of the legal issues with Qualcomm.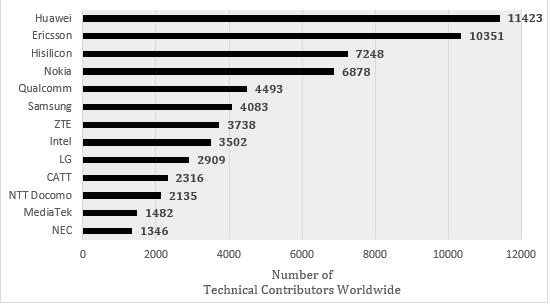 Developing 5G Globally
(Source: https://www.statista.com/chart/17536/mobile-network-standards/)
 Global 5G Markets
In terms of 5G technology development, the telecom industry still lies in a nascent stage. This disruptive technology holds a promising economic value which could lead to a society that is "hyper-connected", wherein the mobiles will play a crucial role in the lives of people. For some time now, many government initiatives and investments from telecom companies have led to shaping the development of 5G.
A rise in demand in mobile broadband, ever-growing use of smartphones and smart wearable devices, bundled with surging demand of mobile video adoption are the key drivers of 5G technology over the period 2019-2025. During this period, the market is expected to reach $277 billion with a CAGR of 111%.
The governments of Japan, China, South Korea, along with the US, have been active in pushing the rollout of 5G technology by the end of this year.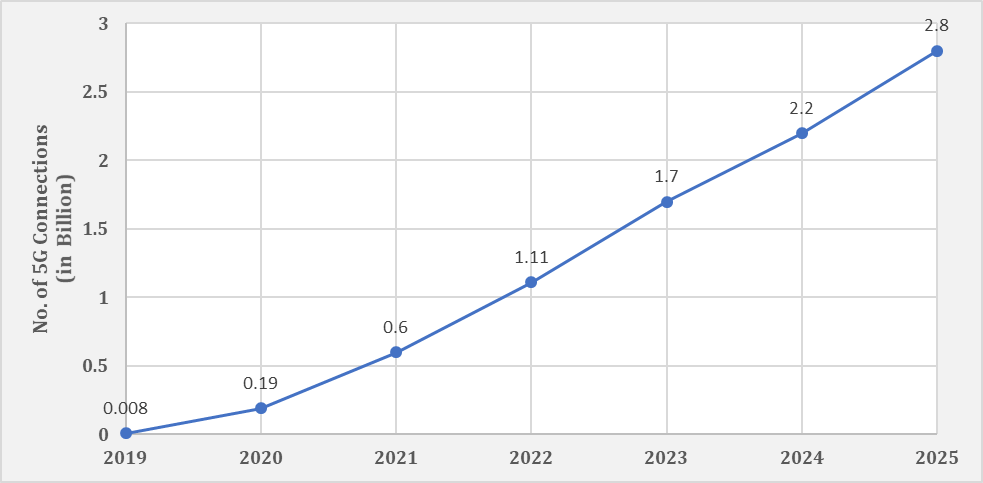 Predicted 5G Connections
(Source: https://www.mobilenewscwp.co.uk/2019/04/26/5g-adoption-quicker-than-4g-ccs/)
 Why 4G to 5G Transition?
The 5th Generation Wireless System uses an additional spectrum of the existing LTE frequency range for building on the capabilities of 4G, which sometimes is often interchangeably used with 4G LTE by the telecom marketers. LTE stands for Long Term Evolution. By a combination of high speeds, massive bandwidth, and low latency will give space to improvements in AR, VR, robotics, and many more industries. Following are some ways in which 5G could change the marketing landscape in contrast to its predecessors-
#1 Improved Precision
5G technology uses a unique set of radio frequencies that are higher and more directional than the ones used by 4G. Directionality plays a vital role in 5G because the 4G towers transmit data all over, wasting power and energy, which ultimately leads to weakened access to the Internet. The 4G networks use frequencies that are below 6 GHz, whereas 5G is going to use the much higher frequencies ranging between 30 GHz to 300 GHz. The larger frequency gives the more exceptional ability to support high-speed data without any interference from other wireless signals.
5G uses shorter wavelengths as compared to 4G; thus, antennas can be shorter without any interference with the direction of wavelengths. 5G can support nearly 1000 more devices per unit meter as compared to 4G. With 5G, more data will move quickly to a large number of people with lesser latency and disruption to meet the surging demands of data.
#2 Low Latency and More Bandwidth
By using 5G, less time would be taken for the signal to travel, leading to lower levels of latency. The pages will be loaded much faster, which would allow for a significantly immersive experience, especially in the fields of Virtual Reality and Augmented Reality. Video sharing on social media channels bloomed upon the arrival of 4G/LTE and will continue to rise across all the apps and services with the arrival of 5G.
Ultra-low latency applications are going to provide endless opportunities and change the way consumers shop. The autonomous cars are going to use live maps for real-time navigation on 5G, which is an essential component for their efficacy and can eliminate some of the problems that are currently being faced with the self-driving cars.
#3 High Download Speeds
5G holds the potential to be at least 20-times faster than 4G, allowing the user to download things 20 times faster. 5G can reach a peak speed of 20GB/s. It is sporadic for things to work at their peak speeds; thus, it becomes essential to consider the average speeds also. As 5G has not yet come into the picture, it is quite hard to commit on how fast 5G is going to operate than 4G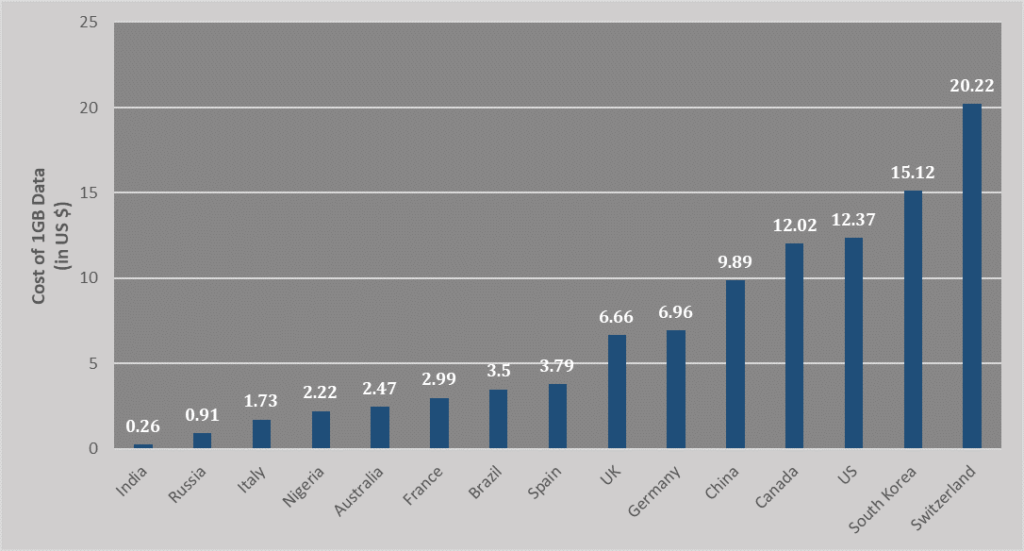 Cost of 1GB Data (in 2019)
(Source: https://www.statista.com/chart/17247/the-average-cost-of-mobile-data-in-selected-countries/)
5G Integrating with Emerging Technologies
#1 5G and Autonomous Cars (IoT)
5G wireless technology is expected to connect almost everything around us at an ultra-fast, highly reliable and fully responsive network. 5G will allow the leveraging of the full potential of advanced technologies which includes- artificial intelligence, Virtual Reality, and the Internet of Things.
The self-driving cars use hundreds of sensors for making the vehicles faster as well as smarter. These sensors generate vast volumes of data. Handling, processing, and analyzing such a large amount of data would require a much faster network. The autonomous cars and systems require tremendous data processing capabilities and speeds to mimic the human reflexes timings. Companies such as Intel and Qualcomm are creating chips that can turn autonomous vehicles into mobile data centers, thus allowing driverless cars to make real-time based complex decisions. It is predicted that when 5G is adapted to its full potential, it is going to offer Internet speed, which can be 100 times faster than 4G. It can present exciting possibilities to be used in the automobile industry for vehicle-to-vehicle (V2V) and vehicle-to-everything (V2X) connectivity. The technology's low latency is going to make the vehicles safe and reliable on roads.
#2 5G and Big Data
The download of massive data over a short period directly refers to Big Data. This implies that a tremendous amount of mobile traffic would be present and to accommodate this traffic, the companies are looking to incorporate massive communication, caching and computing resources. This considerable traffic leads to creating back-haul congestion, and to mitigate it, special measures need to be taken. Thus, the concept of latency also arises. Specific cloud computing techniques will be soon integrated with mobile technologies to facilitate computing intensive technologies like Augmented Reality and interactive gaming. So, it can be said that 5G is going to revolutionize the handling of Big Data and will significantly improve the communications, caching along with the computing capabilities.
5G wireless technology is also going to play a significant role in Big Data pre-processing because it is 24×7 available and the impact that it is going to have on the network storage capacities and computing capabilities. 5G wireless networks can transport data at fast rates to different centers for analysis of data, and finally, these centers will analyze the data based on their needs.
Thus, it is evident that 5G is going to act as a bridge between the data sources and data centers as the data will be transported from the source at very faster rates.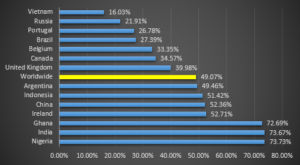 The Ratio of Mobile Internet to Global Internet Traffic
(Source: https://www.statista.com/statistics/430830/share-of-mobile-internet-traffic-countries/)
 5G in India
Greater spread of optical fiber is needed to make 5G a reality in India. The stretched telecom companies need to invest at least Rs. 1 lakh crore to lay the fiber networks across the country in the next three years. The estimate of putting 5G excludes the cost of acquiring the frequency spectrum, and it has been set at a high price. Currently, the spread of optical fiber stands at below 30%, in contrast to 70% as per the requirement for 5G technology.
According to a Crisil report, the significant challenges lying in setting up of 5G in India include- the high land costs and the way of approvals to make the fiberization cost rising to 1 crore/km in metros. The report further stated that the addition of telecom companies would restrict 5G to metro areas initially, where the data consumption is very high. The cost of spectrum acquisition has also been high as compared to the UK and South Korea.
In India, Reliance Jio is working to bring in the 5G technology to make it available to 250 million plus subscribers. Besides, mobile networks, Jio is also working to bring the market devices to operate on technologies such as VR/AR in the coming years. The current infrastructure of Jio mostly comprises of components such as chipsets, peripherals. At the recently held Indian Mobile Congress, Reliance Jio partnered with Ericsson to showcase a live demo of what 5G technology would bring to its users.
Thus, it is conclusive that Jio shall bring the 5G technology to its users sooner the later and the work-related to improvements in infrastructure has already begun.
5G technology is an upcoming technology in the telecom industry with a very high bandwidth faster data transfer rates. Globally, some countries are still using 4G technology, but shortly, 5G will be used for serving the emerging technologies such as big data, IoT.