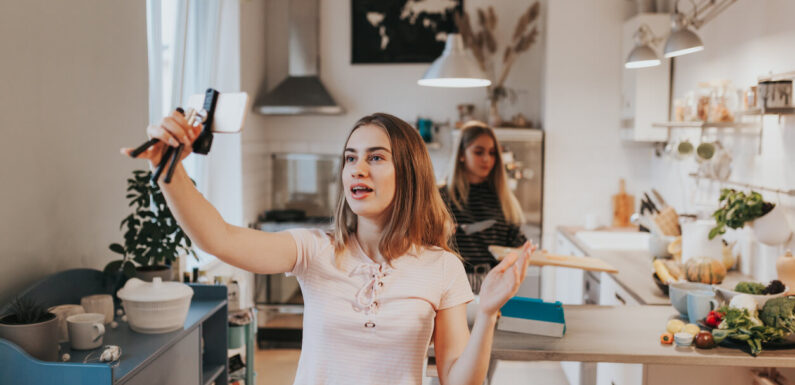 Let's talk first about what tiktok is and how it works.
TikTok is a social network that allows you to shoot music videos, broadcast live and exchange messages with people. This video platform is the leader in the Chinese market and quickly captures other countries. The global audience of TikTok is about 500 million people (Datareportal, 2019), the number of active users of the Chinese version of the Douyin app in January 2020 exceeded 400 million. According to GlobalWebIndex, 41% of TikTokers are people aged 16 to 24. 55.6% of users are men, 44.4% are women.
In early 2019, TikTok was the third most downloaded app in the world. It was downloaded 33 million times from the App Store alone (Sensor Tower, 2019), far exceeding the download rates of YouTube, Instagram, WhatsApp and Facebook Messenger.
Videos on TikTok are vertical, and users play a lot of filters, animations, masks and other special effects. One of my favourite pastimes is making music videos with lip-syncing (this is lip-syncing with sound). It works like this: a fragment of a song is selected from the application database, which can be integrated into the video. TikTok users also dance, joke, play sports, or just record snippets from life. In general, you can find quite diverse content here.
Another trick of TikTok is hashtag challenges – thematic tasks that inspire users to shoot creative content.
Trends on TikTok, like any social network, change pretty quickly. Both the bloggers themselves and the official representatives of the company ask them here, launching challenges and other activities.
"To get into the trend, you need to react quickly to the challenges on the start page, they are updated every week. For the same, there are special chats for bloggers in which new challenges are constantly being thrown, their rules and music that need to be used.
Now let's talk about the scalability of your marketing.
Here Are 5 Ways To Unleash The Potential Of Influential Marketing On TikTok
1. Use a referral strategy to influencers.
Every TikTok user has an impact to some extent. The TikTok algorithm works by further promoting the most innovative and interesting, regardless of the number of subscribers. We can call the platform TikTok the place where the "influencers" are gathered, runs the platform. It's important to remember that users care about people and don't pay attention to faceless brands.
So when you advertise in an app without using influencers, you immediately lose. You lose money, you lose your audience and, in principle, the chance that you will be noticed. The goal is to look like a peer to the consumer, not just a faceless ad. Otherwise, there will be no interest in you.
You can solve this problem by using influencer marketing so that your brand will naturally flow into the world of TikTok. In this way, they can create an affinity for your brand so you can increase conversions and accelerate your campaign.
Helps you get closer to your audience and delivers results,
2. Create narrative content.
The young audience is moving away from linear television to social television. Because of this platform, like Youtube and TikTok are starting to replace the TV function. You need to create engaging content by getting users to connect with your brand and build long-term, long-term ones.
What's more, those who understand the inner workings of TikTok will continue to be Gen Z winners, and you will never be the first.
So, remember these important words: content on TikTok is discovered using hashtags that use the ability to observe the content for a certain amount of time. It's like a series, for the final episode of which we revise everything and delve into the plot.
3. Apply force to the platform.
There are many topics in the application that people watch and even learn something, it can be cooking, handicraft or drawing chips, any creativity: clay modeling, singing, painting things and shoes, playing computer games; anecdotes and funny stories from life, which are shared by the authors of the video.
There are cases when the number of fans increased from 500 to 50,000 in a week. Later. The things that you never expected them to glorify you, went viral. TikTok helps people of all ages around the world and creates more and more content than ever before, so new trends are popping up every day, and marketers should use this as an opportunity to become part of the community.
4 Going into trends.
Users are very actively watching videos from recommendations. There are algorithms for outputting video to trends (the main tape, which turns on when you just turn on the application). It includes audience activity, interactions with the video (these can be comments, reposts of your video), and so on. In general, the recommendation system is built perfectly – no worse than that of YouTube, which means that, as politicians say, "social ladders" function and allow you to become popular without money, due to ideal content.
If we talk about what can diversify your content, these are branded masks: as in Instagram, there is an opportunity to make your own masks (for example, they can be with the symbols or products of the company), and this is a tribute to the ability of users to use them in their videos. Accordingly, those who watch it, interested in the mask, will go to the page of its creator, and this, at least, will increase your reach and the likelihood of hitting trends.
You can use the ICOholder so that you have the funds to create high-quality content, which is equally important: you need a beautiful picture, light and even props. Yes, videos that are incompatible of good quality can get into trends, but the activity on them, accordingly, will be lower.
5 Official advertisement.
Yes, and there is such a thing, although it appeared quite recently. There are several formats of videos and photos that are shown in different placements (for example, in the user's feed). Such a video lasts about 15 seconds, there you can attach the link you need, hashtags that will take the consumer where you need it. The main formats are product placement (product insertion into content), fits (joint videos with opinion leaders), announcements, participation in hashtag challenges.
Conclusion:
Unleash the creativity of your product with TikTok. Use the most engaging ad formats, be creative and interesting.
Don't blindly do marketing on TikTok – you need to take the time to understand all the nuances of the platform so you can conquer it. So, if you are a brand using our promotional ideas – get ready for success. TikTok offers great opportunities for brands right now, and it's just waiting for you to start promoting on it. Many media personalities use the application, because there you can promote your music.For example, Will Smith has an @willsmith account on TikTok. Do you understand what we mean?
No matter how small or large your business is, no matter what you create or sell, your business deserves more people to know about it. Be on trend and be successful. We wish you good luck !