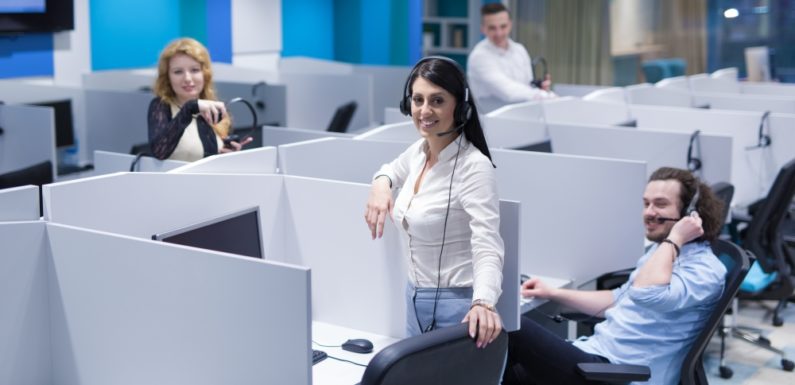 The Forrester 2018 predictions confirmed what we suspected all along: Customer Experience will continue to be this year's great differentiator. All eyes are on the ammunition needed to win the CX wars.  Is Speech Analysis System the latest tool your call center can add to its arsenal? Let's weigh in.
What is Speech Analytics?

Speech Analytics or SA essentially scans every single one of your calls for agent performance and customer happiness. And no, this doesn't mean more feedback surveys to annoy your customer with. The ever-alert SA system will meticulously scan conversations and "intelligently" judge customer mood at the beginning and end of every single call.
How does it work?
In its current form, SA starts its work by converting voice to text. Accurate transcriptions are created in seconds. Next, it gives a near-instant analysis for any parameter you set: a keyword search, customer mood or agent performance.
Since a lot of SA's "intelligence"—such as sentiment analysis—has been tried and tested in social listening apps for decades, results are extremely accurate. In the near future, as SA integrates voice analysis—analyzing tone, pitch and silences between conversations— the implications are explosive.
5 Current Uses:
Although there is no limit to the analysis you can achieve with SA, here are 5 immediate CX benefits you can get with SA:
#1 Judge agents' performance and politeness, instantly:
Nothing affects CX more than the human being your customer interacts with. SA helps keep a tab on agent performance and scope for improvement. Did your agent greet the customer correctly? Did they listen carefully, without interrupting? How many times did they have to use the word "sorry"?
To expect a (human) QA team to continue monitoring for such basic parameters is now wasteful allocation of time and money. SA is advanced enough to easily handle these queries. Not only is it more objective than a human, it requires 15x less time that your QA team would require.
You can tweak how your Speech analysis system gives you the results. It can give immediate feedback to agents, seconds after the call. And give you weekly, monthly or quarterly reports based on your needs.
#2 Uncover customer sentiments by carefully studying each word:
Customers may not tell you exactly how they feel after a call. Not everyone fills out survey forms. And there are many dissatisfied customer lurking between those "resolved" calls. SA's Sentiment analysis system helps uncover positive, negative and neutral sentiments, objectively and thoroughly.
These sentiments can be compared at the beginning and end of the call to uncover the truth behind customer interaction. It can help discover star performers: agents who can convert negative sentiments to positive, and eventually even automate call diverts and barge-ins to them.
After the first layer of sentiment analysis is done, the positive and negative results can also be analyzed separately to get more results on product defects, emerging trends and even customer profiles and marketing preferences.
#3 Use every single call recording:
We know that even a 5% increase in customer retention increases profits by 25% – 95%. This means that every customer interaction counts. Your call recordings are a gold mine of data, to help you keep a tab on these interactions.
But are you tapping its full potential? It's humanly impossible to go through every call recording (unless your QA team is larger than the number of agents you employ- see picture). Luckily, SA isn't human, which means you can now scan every call recording, and aim for the elusive 100% customer satisfaction mark.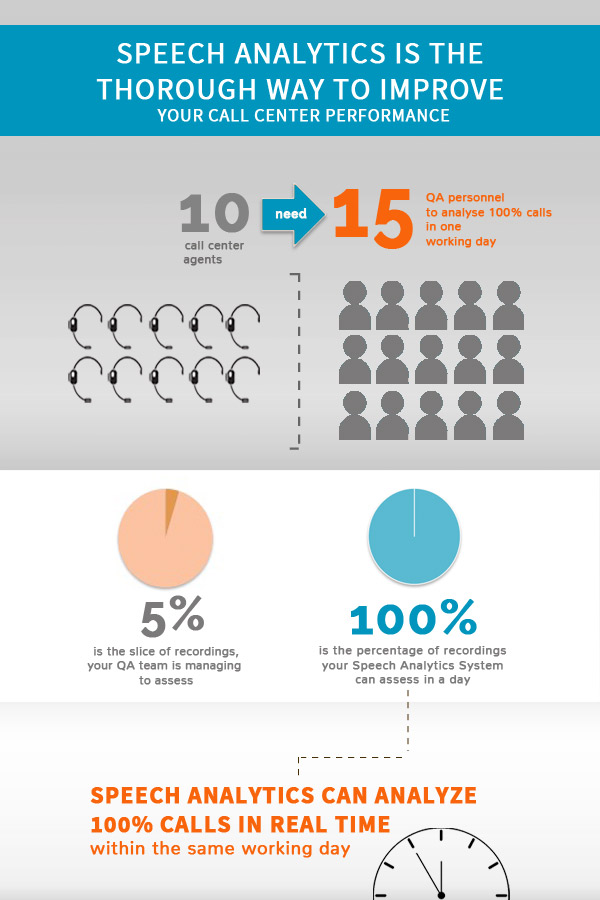 #4 Continue to reduce ACW & increase agent efficiency:
All cloud telephony tools aim to improve agent efficiency. SA also works towards reducing ACW, so your agents can concentrate on increasing customer satisfaction. Get any customer interaction data directly from your SA results. The best part? Results can appear on your agent's dashboard just seconds after they hang up.
#5 Have every call transcribed for future use:
Although sentiment analysis and social listening have been around since the nineties, use cases in call centers are only just being explored. Once your text is transcribed, it isn't just easier to store (TBs of call recordings can be reduced to KBs in minutes). You can go back and analyze your data with new API's each time to unveil insights into customer experience, marketing and even product strategy.
As individuals, as well as organizations, we hear only what we pay attention to.  Speech Analytics gives you the ears to listen to millions of customers.  How you decide to use this tool; what you decide to pay attention to —depends upon your intentions, focus and your creativity.
For now, data has effectively and automatically been laid out for you like a spreadsheet, what filters you apply are up to you. For now, the sky's the limit.