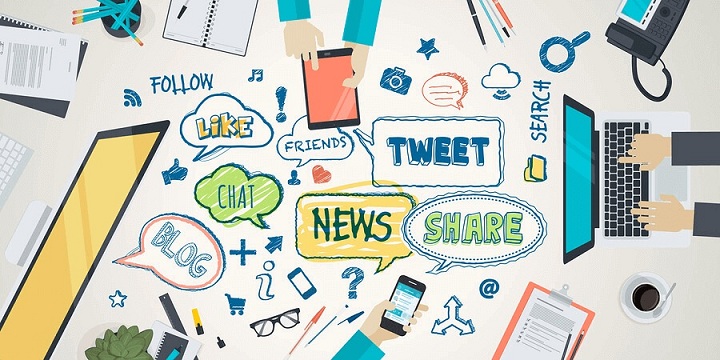 You might be wondering how to promote social media, since social media itself is a great network to promote your brand. In this article, five parent spectacular traffic sources have been enlisted with their sub-categories. These sources are an excellent way to promote your social media presence, and ultimately, spread awareness about your brand.
Promote your Social Media Presence with the help of these Spectacular Traffic Sources
1. Social media platforms
The easiest way to promote your social media presence and social media efforts is to boost your following on popular platforms. There are end numbers of social media networks, and most of the marketers prefer to have their profiles on all. But, practically, having a profile everywhere doesn't help to achieve your goal of marketing. Rather, have an active presence on the network that is popular among your target audience.
Based on the statistics, the most powerful social media marketing networks are Facebook, YouTube, Twitter, Instagram, and LinkedIn among others.
All social media marketers very well know how to utilize these platforms, how to maximize engagement and how to provide value to followers. However, if you know some interesting and recent stats, you might be able to optimize your efforts on respective platforms.

YouTube – Searches of "how to" videos on YouTube are growing 70% year-over-year. And, among Millennials, on YouTube accounts for more than 65% of the premium online video watched across all devices. Be active on YouTube and see how magically your social media would get promoted.
Twitter – As of August 2017, the percentage of Twitter users on mobile is 80%. And, 54% of Twitter users earn more than $50,000 a year at least. Its 140 character limit makes it unique and rapid medium of communication.
Instagram – Instagram works best when you share outstanding images and visual assets. 70.7% of US Businesses are using Instagram in 2017. Instagram posts with location get nearly 80% more engagement.
LinkedIn – LinkedIn, one of the challenging social media marketing platforms, also has its own beauty. Believe or not, 80% of the B2B leads come from LinkedIn. And, 44% of LinkedIn users earn more than $75,000 in a year.
Facebook – According to Forbes, Facebook post at 7 PM will result in more clicks on average than posting at 8 PM. Also, the highest traffic occurs in the midweek between 1 PM and 3 PM.
2. Forums
To promote your social media, you need to build an online community. And, expanding the base of your community is very difficult if you cannot let people know about your online presence. Well, this can be easily done by participating in online forums and group discussions of your niche. Participate in Facebook groups and LinkedIn groups and provide value to the ongoing discussions.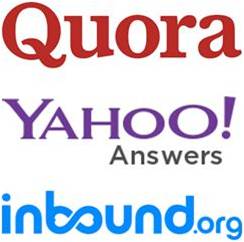 Your presence on forums (like Quora, Yahoo answers, Inbound.org) also indirectly boosts your SEO. This is because search engines are finding where the real knowledge is shared and exchanged and it is sparkling to the top of their results.
Quora: the name Quora is assumed to be originated from the phrase "Question or Answer" starts with 'Q' (question) and ends with 'A' (answer). Quora serves the purpose of connecting people, their emotions, and their thoughts. Quora is not the exact form of a forum. But it can be called a replica of a forum. Here also you can ask questions and share your knowledge on others' questions.
Yahoo Answers: Yahoo answers also help users discover and discuss interesting questions; here also, you can learn new facts and find interesting questions, everyday! Interestingly, consistently Yahoo Answers is overlooked at a reliable source of targeted traffic.
When it comes to driving website traffic, internet marketers are always on the lookout for creative ways to attract attention to their website. Yahoo answers might be your answer if you're looking to add a new traffic generation tactic to your strategy.
Inbound: HubSpot owns Inbound.org. It is an online hub where good marketers come to get better. Anyone here can login and share their marketing ideas. You can even wither post or find a job on this platform. Anyone who is passionate to connect, interact, comment, & learn will find this community as a right place.  Nearly 2.5 lakhs marketers have joined this community till date.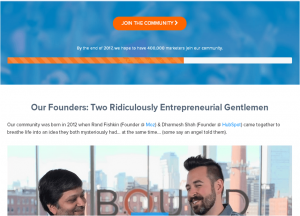 If you yet not have explored inbound.org as a source of traffic that promotes your social media presence, NOW is the time to start with it. Share your own blog, share others' blogs, participate in their discussions and grow your online presence.
3. Magazine sites
Magazine sites usually have a very high number of subscribers, and they do experience tons of website traffic. Promoting yourself on news sites will boost your social media presence too. You can start with commenting on their articles/news they publish. Alternatively, you can propose them to do a guest blogging there.
Two of the most popular magazine sites are enlisted here:
Forbes: Forbes is a leading source for reliable news and updated analysis on Business. Read the breaking Business coverage and top headlines on Forbes.com. The philosophy of Forbes is to "follow the success".  It is the 76th most-visited website in the U.S.
Everyone from startup entrepreneurs to seasoned CEOs prefer to surf Forbes for business-related advices.  Apart from business, it has a good articles, podcasts, videos, and advises on leadership, lifestyle, technology, investment, entrepreneurship, and others.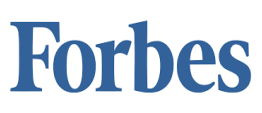 Business Insider: Once can get the latest news through Business Insider on tech, finance, politics, strategy, life, and entertainment. People of all genres visit this, and it is one of the most popular news sites. Business Insider also runs compelling profiles. It can be turned out as an opportunity for you if you tell your personal story to tell fascinatingly.

4. News Sites
Similar to magazine sites, news sites are also a rich traffic source of promoting your social media presence. Here, we present the most popular and high traffic news sites.
HuffingtonPost: The estimated unique monthly visitors on Huffington Post are around 110,000,000. The number itself is sufficient to tell its popularity. One can read here the latest headlines, news stories, and opinion from politics, entertainment, lifestyle, blogs, and more. Huffington takes care of all sort of interests. So, your active presence on HuffingtonPost will undeniably promote your social media.

SiteProNews: SiteProNews.com is a newsletter cum resource site for Webmasters. It is updated on a daily basis. SiteProNews team is dedicated to meet the needs of beginner and professional webmasters. It aims to meet needs by providing the best collection of software tools, general resources, and articles from influencers and industry experts available on the Web today. Do not miss out on this if you want to fuel your social media presence.
5. High Traffic Websites
Last but not the least – visiting high traffic websites and posting your content/comments thereon will drastically pump up your social media presence. Among many, here we present the topmost TWO high traffic sites:
Reddit: Reddit is an American social news aggregation, web content rating, and discussion website. The registered members of Reddit can submit content such as text posts or direct links. When it comes to universal traffic patterns, there is no reason to believe that Reddit is any different from the rest of the internet. There are approx 250 million Reddit users. One can get the latest and fresh content here.
Reddit is based in the US and primarily driven by US traffic, so the best time to get new content mainly depends on US time zones. Quite a good variety of topics are available on Reddit comprising science, news, science, movies, gaming, books, music, food, fitness, image-sharing, and much more.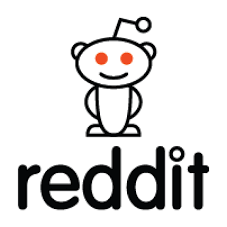 Stumble Upon:
Stumble upon helps bloggers to generate massive blog traffic. According to 2017 statistics, Stumble Upon is used by 0.4% of all websites. It is one of the best social networking channels to generate traffic and promote social media with least investment.
Furthermore, it provides organic traffic that can help in building the PageRank. Your content marketing strategy on Stumble Upon can amazingly drive referral traffic too. Start following other content contributors and let them follow you.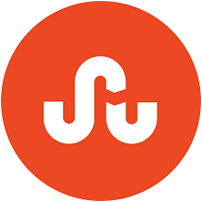 At last!!!
Following these tactics and having an active presence on these 5 spectacular traffic sources will surely promote your social media. If you haven't tried any of these yet, start now. As a digital marketer, you deserve to get noticed in a noisy social media world. We wish you all the best. Do drop in your words in the comment section if you want to add anything!