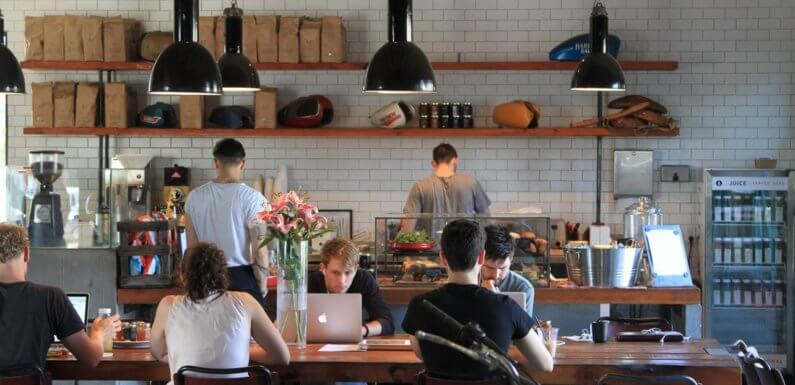 One of our favorite beverages in the world and perhaps the most frequently-used excuse to ask someone out on a date has a very long history and a very rich contemporary life. Coffee is certainly known as the energy-preserving sip that helps us get through the day, but few of us understand just how the coffee-selling industry has flourished around the globe. In the USA alone, 60% of coffee lovers visit a coffee shop at least once a month, while the average person in America will consume 3.1 cups of coffee on a daily basis, making this a lucrative, yet competitive business to be in.
While these numbers are limited to the US, we can safely say that other countries, especially the well-developed ones are equally in love with their brew. So, running a coffee shop entails so many challenges, from satisfying such a wide array of clients, all the way to embracing innovation to advance. To give your shop the edge it needs to thrive, you should definitely look to tech-based solutions, and the following four should be at the very top of your list for improving your shop's presence.
Diversifying your payment options
How many times has someone left your store disappointed that they couldn't pay with a certain credit card or via their phone? In this day and age, a business is as advanced as its ability to recognize new opportunities and use them to increase engagement with customers every day, and it's no different with your payment models. If they cannot pay for your service in a way that suits them best, they will likely move across the street to the next cafe in line – because that's how many of them exist.
Today, in addition to the classic cash-or-credit card options, you can look into how you can help customers pay via their phones, while Google and Apple Pay can also be excellent options for your busy customers.
Adding a POS system
Point-of-sale systems are no news to many modern cafes, but in case your cafe is lagging behind, this is perhaps the most relevant tech-based investment you'll benefit from immediately. Among so many perks that implementing a cafe pos system brings, some of the most relevant include reducing errors when customers make orders, greater ordering flexibility, and endless bounds of customer data to help you understand their preferences better.
When you have a loyalty program in place, these systems integrate perfectly well with such schemes and allow each of your customers to feel appreciated when they make an order. The software can also help you customize your menu and your offer to a great extent, which further empowers your employees, saves them time, and reduces the chance of errors when your coffee shop is packed with customers – and fewer errors also means happier customers, not just happier staff.
Use a CRM tool to grow loyalty
Coffee shops might be numerous, but customers who come to your shop are even more so, and they are aware of not being "special" to your business. That is, unless you make sure that is precisely how they feel. If you serve exquisite coffee and your customer service is stellar, chances are that your customers will keep coming back even without this extra mile, but you should still go a little further with your efforts to enhance the one factor that ensures brand relevance: loyalty.
Today, you can amplify the effect of your loyalty programs with the help of a CRM system, which stands for customer relationship management, and it helps you keep track of who visits your shop regularly, who spends the most in your cafe, and what kinds of beverages earn the most attention. It also allows you to surprise them with a free cup of their favorite brew from time to time or a free croissant (which you'll know to do if they've made such a purchase before).
Simplify reservations with digital tools
Yes, coffee dates are still a thing, even more than ever before. If your customer wants to take someone to your establishment without fearing that all their favorite tables will be taken, then having a reservation tool available would make the process much simpler. It also increases the chances of people coming more frequently to your cafe, knowing that there's a seat waiting for them when they need to get their morning energy boost and get all those emails answered.
Although many restaurant and bar owners already use this technology to their advantage, not too many coffee shop owners have implemented the practice. Offering such a solution on your website also helps you prevent double-booking and helps your staff manage your cafe space during the busiest times of the day.

The competitive nature of running a coffee shop can take a serious toll on your business, but only if you're not prepared to keep up with the pace of development that can empower your growth. Use these tech solutions to truly fire up your growth, build stronger relationships with your customers, and above all, establish your business presence among so many other cafes in your area. Tech is by far your best bet to achieve all of these goals, and to continuously preserve your brand relevance for years to come.