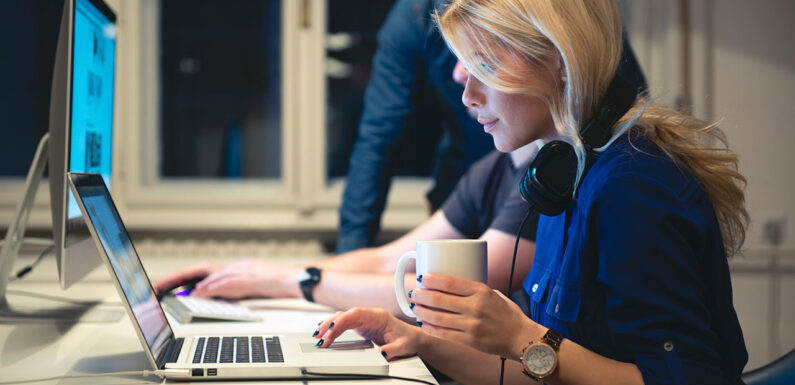 Let's face it. In 2021, there isn't a hand in sight without a smartphone in it. In fact, 96 percent of 18 to 26-year old Americans own a smartphone. Between social media apps, texting, entertainment, and the internet, the entire digital world is right at your fingertips.
That's why creating a mobile-optimized website is more important than ever. Because so many consumers are constantly on their phones, having a mobile-friendly website is essential for the promotion and success of your business. But how do you create a mobile-optimized website? Here, we've pared down how to create a mobile-optimized website in as easy as 1-2-3.
#1 Choose a theme
In website design, the theme is the overarching appearance of your website. This covers everything from font type and font size, to accent colors. Choosing the overall look of your website is extremely important when it comes to branding your business and creating a site that's pleasing to the eye. This is even more important when you're creating a mobile-friendly website, since it will be viewed on a smaller screen.
Text
When designing your mobile-friendly site, be sure to pick fonts that are easy to read. The optimal font size should be at least 16 pixels for mobile devices; anything smaller can cause reading issues, especially for visually impaired people.
Colors
As for the colors, try to avoid anything that is too vibrant or harsh since this can also cause problems with readability. Small accents of color can add a pop of fun and create a visually pleasing aspect to your site.
Adaptability
Finally, whenever you're designing your website, it's important to take into account the various interfaces where your website will be viewed. To ensure the consistency of your site, you can program a responsive HTML code that adapts according to the device size and orientation for anything from a desktop to a smartphone.
#2 Prioritize UX
Once your website looks perfect, one of the most important aspects to review is user experience. Since 77 percent of smartphone users are more likely to buy from companies whose mobile sites or apps allow them to make purchases quickly, it's safe to say that consumers want a seamless, hassle-free experience on the web. This comes down to making sure that your website runs quickly and efficiently.
Here, we've highlight two simple ways to maintain the speed of your website.:
Compress images
While using high-quality images on your website is extremely important, files that are too heavy will slow down your website. When embedding assets into your site, be sure to compress these images to not only speed up your website, but also clear space in your internet cache.
HTML 5 is a software programming language that's extremely valuable for speeding up the performance of your site. As the new standard for programming, HTML5 can be accessed on any device to ensure the mobile-optimized ability of your site. After all, once Pfizer's Media Lab began prioritizing website speed, their bounce rate dropped 20 percent. So, maybe it's time to catch up.
#3 Test and analyze mobile-friendliness
The most important thing when it comes to building your mobile-friendly site is making sure the site is actually mobile-friendly. Luckily, there are many tools available to help you test whether your site is optimized for mobile and, if it is, just how optimized it is.
Test My Site
Through tools like Google's Test My Site, you are able to get a full mobile usability report of your site. Test My Site also gives you custom recommendations on how to further optimize and speed up your website. And, if you're working with a developer, these recommendations can be shared to improve performance.
SEO tools
Did you know that almost 25 percent of companies invest in mobile optimization as a top SEO tactic? SEO is a crucial process to track when it comes to your website. Programs such as SEMrush and Ahrefs can give you an idea of where your website ranks and how it is performing.
So, as you continue the task of creating a mobile-optimized site in 2021, it's essential to keep a few things in mind: design a mobile-friendly theme, program for UX, and consistently make sure that all of these tactics are actually working. With the world becoming more mobile-friendly, it's time your website does the same!