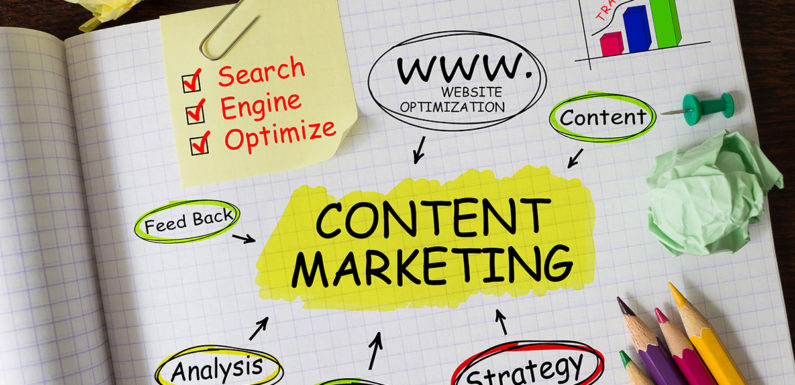 Content marketing is a perfectly formulated marketing approach based on creating and allocating unique material in the form of content to attract and retain the large chunk of the audience and, ultimately, to drive profitable customer action leading to high scale gains in business.
It has some very unique and peculiar features that make it the best possible option for a person trying to promote his business.
Among these many are:
Economical Approach

Upward Thrust of Sales
But all this could only be attained if the content provided has some sort of reliability and effectiveness in terms of customer satisfaction. In short, it is just about driving customers towards your business. Without catchy content marketing getting people to latch onto your presence online is somewhat impossible. No matter what type of marketing tactics one puts to use, content marketing should be part of your process, not something separate. Quality is the most important parameter which is to be focused upon.
Let us now take a brief overview of content marketing and of all those parameters upon which it is based upon. But be reminded of the fact that for effective content marketing, a strategy must be followed.
Content marketing strategy -> It lays emphasis over the term "why". Why content is to be created, who is going to be benefited by it, the rate of success in terms of benefit, the rate of effectiveness of benefit in comparison to the other available options to the customer? The result obtained by this help the organizations in terms of better clients, more revenue or cheaper costs of advertisements.
Quality with respect to content -> Anything which would add utility or efficacy to the reader is quality content. It in a way increases rather enhances the understanding capacity of the reader. Making it easier for him to comprehend the things and draw a healthy and clear-cut idea with no chaos in mind.
Buyer persona-> you can simply call it customized process meant for the sake of team to meet the challenges and opportunities.
Visualize your ideal customer: This is the person who is to be put into the focus. To build a picture of who he /she is, give that person a name and fill in the most critical characteristics relevant to your business. This sketch will give you the foundation of persona.
Consider all sorts of objectives, difficulties, and responsibilities she is going to meet throughout the cycle.
For example:
What all he/she needs to achieve to be successful on the job.
What would be the most frustrating things during his job?

Things he/she is going to do to minimize that frustration.

Try to characterize her role with respect to your business's buying cycle.
Another way is to find day-in-the-life scenarios and they can be helpful in the manner that they provide a clearer view of your persona's relationships to other members of the "buying committee".
Personal communication preferences are to be filled: Your persona should not only include the insights with respect to her job but also with respect to her personal life such as her interests, her platforms, favourite social channels etc. Chalk out your insights to your defined goals. This would help your team to form such ideas which would straight away match with your persona's needs.
Social media: This is one among the five top-ranking tactics of content marketing. The foundings are based on the results obtained by the 93% of B2B marketers that underwent a research. It is just as good as the transport which drives you to your destination with ease. It is being used as a tool for targeting specific content and building brand awareness.  Social media success requires consistency, curiosity, and some practice.
Just maintaining a social media presence won't do much for your brand. As a content marketer, you need to ensure that you're using social media to achieve larger goals and reach up to the target set in your mind with precision. In addition to this one needs to keep a check on the number of times to post per day, per network. The icing on the cake would be just not to underestimate the power of images. Well, images do matter, especially when we are talking about the social media. It is worthwhile to remember captivating image is key for a high-performing social media post.
Real-time results have proved that images, info graphs and GIF'S lead to better performance on social media. The rate of visual content sharing is 40 times more than any other content. Image type as well matters with respect to rating eye-catching images are most highly rated.
Quality content: Well quality is always a good metric to consider than the quantity. As it would determine the response of people/audience towards you and towards your brand. People would only accept that content which would be worth to be dealt with.
ACTIVE e-mail: Active email is a must for content marketing. It would lead to better results with respect to business gains.
Blogging:  It would simply lead to the addition of customers if put bluntly. A blog is an online publication that seeks to inform its readers with high quality, ethical, and valuable insights published on a consistent basis by authors qualified to communicate them. By blogging customers have an excess to check the products while relaxing at home.
Use of social sharing buttons: Well when we talk about the social sharing buttons and their importance, they have a direct relationship with that of improvement of SEO. It encourages the reader to share website content drives relevant traffic to the website. As these shares are re-shared by social media connections.
With an increase in the number of positive readers, more opportunities for natural links arise, as these readers straight away mention that content on their blogs and websites.
One should always keep in mind to place these social sharing buttons on top or bottom of the content. As the keen reader would always opt for best to be shared.

Share buttons are not even to be overdone by doing this impact gets affected badly which is not considered to be a good move.