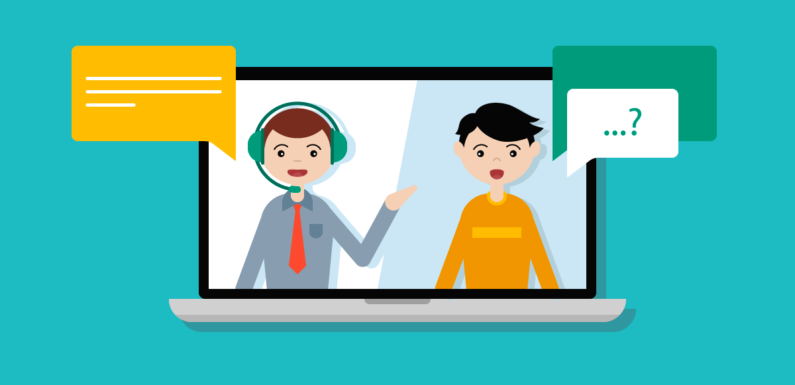 Every company seeks to keep the customers satisfied and for this resorting to various means becomes necessary. To ensure the customers are satisfied and a positive brand image can be built, it is necessary to offer excellent customer support. This is true for companies belonging to all sectors. Traditionally, companies relied on means like telephone for offering support to the customers and email was adopted by them later.
However, technological advancements have widened the horizon for business in this regard and Live chat support is what more companies are opting for nowadays. From ecommerce giants like Amazon to technology behemoths like Apple, several bigwigs have embraced live chat to ensure optimum satisfaction for their customers.
Why Live chat should be there in your company website
Live chat is not exactly new and people use such software for socializing over the web. The applications like Facebook messenger and Whatsapp are nothing but varying forms of personal chat applications. However, live chat applications can be integrated in business websites too. It is important that you know the benefits of live chat integration in company website. The benefits are numerous and they include cost reduction, enhanced workforce efficiency, improved customer satisfaction level and flexibility of workflow etc.
Below listed are the chief reasons for deploying live chat software in your brand website:
Hassle free query resolution-
A section of customers contacting the brand's customer care section may have different types of grievances. However, that is not the case with others. The number of customers contacting to get their queries answered is not insignificant. Now, answering customer queries using e mail is not a fast solution and telephonic support has its drawbacks.
For example, congestion in phone lines can occur sometimes. On the contrary, live chat is hassle free and customer queries can be answered without delay and complications. What the agents type get conveyed to the customers instantly without risk of misunderstanding.
Drawing attention of website visitors-
Everyday, several new visitors come to your website. Some of them may find the website from online searches, while others may have reached the site from social media platforms. Such visitors are often curious about the service and products but it is also important to draw their attention. The live chat software can be utilized to draw attention of such first time site visitors. If the chat agents can engage the visitors and inform them about exciting offers and promotions, the visitors may even end up buying products.
Flexible for the customers-
Most of the customers contacting your company's customer care section are likely to be busy. Some of them may be at home handling several chores while others may be at the workplace. Live chat is a better option for customers who have to multitask often. When they talk over the phone, they cannot focus on other things. However, they can use live chat while doing other tasks, whether at home or workplace.
One of the best chat software trending these days is Kayako, which is an effortless customer service software that's used by over 131,000 support pros among intercom competitors to be more productive and grow customer loyalty.
Ideal for customers with no penchant for extended calls-
Not everyone is fond of talking for a long time over the phone. This can be true for some of your company's customers as well! For these customers, live chat is ideal.
Efficiency for the agents-
The customer support staffs or agents can be more efficient when using live chat software compared to using other means of support. For example, a support agent can speak to only one caller/ customers at a time. However, a skilled agent can chat with several customers using live chat simultaneously. So, this way the agents can handle more customers at the same time using live chat. It eventually leads to enhanced efficiency.
Cost saving option-
As the company owner, you have to think of operational cost at all times. This is also applicable to the customer care service related expenses. Using live chat is way more cost effective compared to traditional telephone-based support. In the case of live chat, you just need software that can be run on most types of computers. There is no need to buy several telephone devices and spend after setting up networking in the office etc. Both buying and assistance cost can come down if you use live chat service to offer customer support over the phone.
Better for assessing service quality and customer needs-
When live chat is used on your brand website, assessing performance of support agents and understanding customer preferences become easier. The chat logs can be saved for each customer session. Later, the logs can be assessed and this helps agents understand the preferences of customers. The time logs indicate time taken for resolving each such issue.
Making the customers feel valued-
Everyone loves feeling privileged and the same is true about your customers! The live chat apps have database integration features. So, when an existing customer pings, the agents can retrieve his or her data from CRM database instantly and they can greet the customer accordingly. This makes the concerned customer feel good. Besides, the agents can learn about purchase history of such customers from the database.
No unwanted delay for the customers-
The last thing a customer contacting your company's customer support team wants is waiting for a long duration. Whether it is a query about upcoming festive promotion or an issue about a product bought recently, the customer wants an instant response from the customer support team. When the customer uses a phone line, issues like congestion in a network or too many customers calling at the same time may leave him/her irritated. In a live chat, the session is started fast and soon a support agent reverts to the ping. So, the customer does not have to wait for long and his/her issues are addressed promptly.
Easy troubleshooting for the customers-
A section of customers like to troubleshoot issues or products while taking guidance from the customer support team. Guiding the customers is easier in live chat than over the phone. In phone, mishearing the words can be a problem. Sometimes, an agent may find it hard to explain technical things over the phone. In live chat, explaining things become easier to the customer. The agents may also use explanatory diagrams and screenshot to elucidate what should be done.
Comprehending what the customer wants-Sometimes, an understanding exact need of the customer can be difficult over the phone. Some customers may pronounce words faster and some of them may have accents that make things harder to understand for the agents. This can lead to miscommunication and the customers can get irate. In live chat, such situations can be largely evaded. The agents and customer get to see what the other party is typing. So, the agents can comprehend the requirements of the customers well.
Where it leads to?
So, you can see using live chat software can be beneficial for your business in several ways. However, you have to pick a suitable chat application for using in the website of your brand. The Live chat application should have enough customization options and robust database integration capability. It should be cross-platform compatible and have a low system footprint. Additional features like support for several languages and chatbot integration are always desirable in such software.