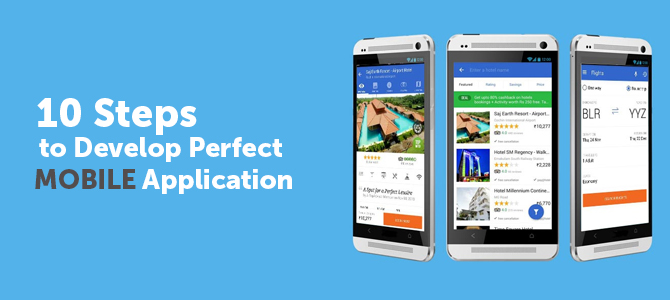 The Mobile Apps market is expanding at a swift pace, and its demand is continually increasing as time is passing. For increasing our App visibility, we have to keep many points in our minds that affect our Application. For developing a systematic App, we should count many factors that are playing a beneficial approach to improve our Application so; we can serve our services in the best manner.
Mobile Application is most demanded services in IT world after web because we know that with time number of mobile phones is increasing and in all mobile phones 70% are smartphones, and for that we need Applications. After website, Application has become an excellent platform for introducing your services online. To implement your business online, we need Apps, and for developing App, we need an App developer that can design and build our Apps as we want it. For Applications, we have many platforms for Android, Windows, IOS, Blackberry and many more, but mostly Android and IOS is used by people because they have best services.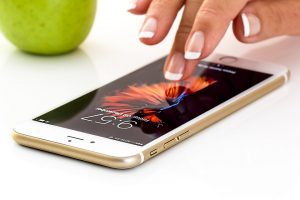 Here, we will discuss top 10 factors that can make our App best App and we can introduce our App as best Application.
# IMAGINATION
Imagination is the first thing that we should keep in our mind because a perfect vision can lead us to a great App. We should decide that what kinds of features we are going to introduce into it and how our App can be a helpful approach to others and how people will take benefit from us. Imagination and feature both are the key factors that decide the fortune of our Application. Our idea must be unique because a unique service demands more than anything else. So, we should lead our App for a unique services provider. We should pay more heed to improve our features so, more user can take help of our Application.
# IDENTIFICATION
Before implementing out App, we should identify our users, our services, and revenue model so we can perfectly run our Application and can serve efficient services. Our App future depends on its users so, when we are going to develop our App, then at first, we should target our user that who will be our user and they will reach for us.
We should also identify our platform that on which platform we are going to develop it. First, we should know that which platform can give us more users and how it will be profitable for us to improve our user base and which platform is providing us extra services that can make us more imminent. We should keep one thing in mind that our App will be supported by which platforms, devices, and operating system. So, all factors should be counted before releasing our Apps.
For successfully running our Apps, we should know that how we will generate revenue from our Apps. There are many ways for revenue like advertising, subscription, premium App and pay per download and many other ways. Before App development, we should know that which medium will pay us more and according to that our Apps must be developed.
So, identification is counted in the best factor that makes our Application successful.
# DESIGN
The design is the first thing that user face when the user interacts with our Apps. App developers should focus on the impressive user interface to make it better, multi-touch gesture, effective graphics and design template and many more factors that can make it more users friendly. Our design must be eye-catching so it can attract the user, and the user can show more interest in our services. UI plays a crucial role in App development process because it is the most effective part and if out UI is not perfect, and then the user will not like it. So, our primary focus must be on Design factor.
# PLATFORM
Before starting development of our Application, we should define our operating system that in which OS we are going to develop our Application like native, hybrid and web.For this factor, we should do research that which OS is using more and how we will get more user form this and which OS can serve us best features. Our all services should be implemented in easy Approach. Platform plays a vital role in the Application development process.
Hybrid, Native and Web are an available platform to develop our Apps. Each platform is having own specification and features that you will not get on another platform. We should choose best that suit best for our services and can play an important factor in our Application prosperity.
# PROTOTYPE
Prototype helps us a lot to represent our imagination and ideas in the Application. Prototype makes our work easier to sell our unique services and ideas. The Prototype must be perfect because it plays an ideal role to get a license, attracting investor and to improve our manufacturers work. The prototype is incomplete versions of our Applications when we are developing our software Application. So, we should maintain all major and minor factors that can affect us our Application.
# ANALYTICS TOOL
There are many analytics tools by using that we can know how many visitors are coming to our App, which pages they are visiting more and what is a source to access our Apps. There are many analytics tools, and some of them are free and paid like Google analytics is free. For checking our Application progress and improve it, we should use analytical tools. It will help us remove issue and we can develop our Apps search presence.
# TESTING
Beta testing is the first process to know your service response. It is very important to improve our visibility in the App store. It reduces our risk and tells us that where we are lacking and how we can improve it. It will show us all our errors, and we will solve them according to that.
In this, we can define target customers, eliminate bugs and identify goals and many more issues. Beta testing is significant steps in Application development because, in this level, we know that how our Application is working and what kinds of issues are occurring in it. So, we should pass our Application from these steps.
# MAKE YOUR APP LIVE
After following all above steps, we should make live our Apps, and for this, we need a plan, schedule, control of Application and live environment. So, we should count these factors.
# GET PERFECT METRICS
As we know that App market is on the boom and everyday new Application are launched. So, for making our App more effective and user-demanded, we should collect all information that is enhancing our App market.
Major factor that should keep in our mind like:-
Use Social media platform to get user attention
Funnel Analysis
Demographic data with user behavior
Capture your user base
Track time and location of your App
So, all steps must be followed by us.
# UPDATE
After following our matrices, we should implement our entire drawback with advanced features. We must add innovative specifications. When we update our App with advanced features, then it will surely rank in the App store, and we can increase the number of downloads of our Apps. After analyzing all steps of development if we lack some essential features, then we should develop them and update our App with latest features. It will surely help us to improve our App in App store and more user engagement we will see. We must do updating with time, and according to demand of market we should add new features so, we can run with time.
So, these types we can quickly develop and introduce our Application by following All above-given steps. We can introduce our Application by the help of the App developer easily.