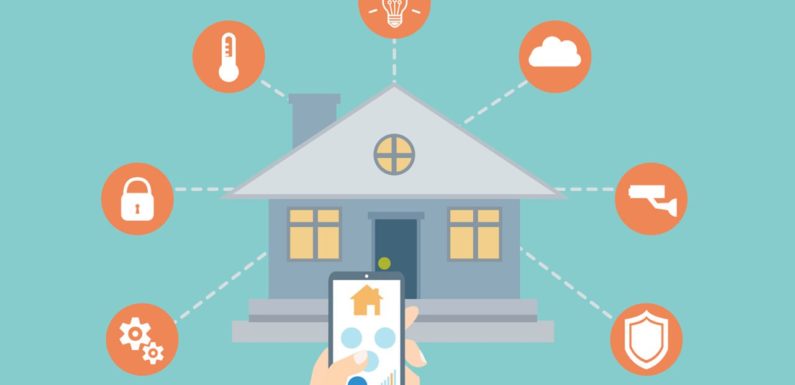 Technology is embedded into the fabric of society. Everywhere you go, you see some form of technology blending ease and convenience into human life. People no longer have to undergo strenuous journeys on foot when they can easily ride in air-conditioned bullet trains. Similarly, if you gaze up while standing in the middle of a busy metropolis, you'll find fifty-story skyscrapers being quickly built using smart construction machinery.
In the medical field, surgical operations and the creation of new medications is much more efficient with advanced tech-tools. Just think, heartbeats are streamlined by pacemakers and missing limbs are replaced with prosthetic, most deficiencies are met with aids and supplements. Thus, technology offers speedy solutions to complex problems.
But, let's take a look at what technology offers the house. The four-walled personalized wonder. A space where you feel most at ease. How can you optimize your living space to the max? How can you modernize and bring your home into the future? How can you eliminate common household hurdles? How can you smarten it up with technological additions? Check out the following do-it-yourself tech hacks which can be easily implemented to make your house more advanced. No need for professional intervention. Save your money and build your reputation as a tech-savvy house owner with these impressive hacks.
Multi-Functional Lighting:
The lighting in your house matters a lot. Old school bulbs burn out before their time and eat into your monthly budget. Not only that, they depend on a switch to be turned on and off. How tacky and inconvenient, right? Well, upgrade the lights in your house by purchasing Philips smart bulbs. Installation is simple and you can sync them with your smartphone. These smart lights can easily detect your presence and turn on automatically. You can change the light's hue to suit your mood right from your phone. Choose a softer lighting for those romantic candle-light dinners or brighter lighting for warding off burglars. There's even a tropical hue for experiencing the best of Caribbean at home.
Patterned Wi-Fi:
It is universally acknowledged that our lives literally run on the internet these days. No two minutes pass before we feel the compulsion to check our smartphones for any new notifications. And in this, the in-house wireless network plays a vital role in enabling the virtual connection. This network is supposed to be password protected so it doesn't get hacked. But even word-based passwords like 'appleby10' are easy to predict for expert hackers. Why don't you amp up the security factor by converting your password into a QR code, displayed only to the inhabitants of the house? This technological modification will not only impress your guests but make you look totally cool.
Home Theatre:
If you don't feel like going to the cinema, you can always arrange a wonderful movie experience at home to watch alongside your family on your Mediacom cable TV. If you want you can create a separate entertainment room in your house for this purpose. Pad it up for a better theatre-like experience. Get your hands on tallboy speakers from Sony for wonderful sound quality. If you're feeling adventurous and thrifty, you can even convert your smartphone into a projector with a simple hack using household objects. A tech-upgrade of this manner in your home entertainment is bound to make your movie sessions absolutely amazing!
USB Outlet:
You're watching the latest season on Netflix on your smartphone and right in the middle of a critical scene, the battery dies. No one wants to get out of their warm and comfy bed to go all the way in the other room and fetch the charger. This issue is resolved by USB port hosting power outlets that are available from SnapPower and they're easy to install. This little tech-update will allow you to charge your phone instantly by simply connecting the cable to the port. Efficiency unlocked!
Temp-Regulation:
The bills have skyrocketed this month, dropping your jaw to the floor in shock. The need to conserve energy seems to be the only solution. How to manage it alongside your busy schedule? Install an automated thermostat in your house to regulate the indoor temperature. Ecobee 4 is the latest in the line of smart thermostats to emerge in 2018. With its machine learning capacity, it can sense human presence/absence in the house and automatically adjust the temperature to save energy and money. It operates over Wi-Fi without any wire hassle and can be installed DIY. It can also be remotely controlled via your smartphone. Cool, right?
Solar-Harness:
If you live in an area where there's an abundance of sunlight, then why don't you take advantage of it by installing super-sleek solar panels in your house and harnessing solar power for your own? Not only is this energy-friendly but also bill-friendly. All you'll have to do is purchase a reliable solar system, like the one offered by SunPower and LG Solar, install it in your home using your trusty toolbox, sync the smart features to your smartphone and you're good to go. This tech-hack is super-cool. Trust me.
Pool Control:
Technologically modify your pool by installing a smart maintenance system around it, which you can operate remotely from your smartphone. This system will take care of the decorative lights and it can control the temperature of the water while keeping it clean with pump controls. Raspberry Pi can serve this purpose very well.
Doorbell Greetings:
A bell rings, you ask who it is and then answer the door. What a boring routine, isn't it? Spice this up in a technological way by installing a smart doorbell, like the popular one offered by Vivint. With this, you can impress your guests by greeting them through the two-way audio system, seeing them through the smart camera, and opening the door remotely from your smartphone. Works like magic! This feature also promises to increase the security factor around your house.
DIY Camera:
Need to keep an eye on the new nanny? Check up on the children? Watch over your property when no one's home? Get the latest home security cameras. But be warned, they do not come cheap. If you're trying to save money yet hoping to amp up the technological factor around your house, then you can use the DIY camera trick. Have an old smartphone nearby? Convert it into a video recorder using an app, like the Alfred Home Security app, and watch the feed live on your current, new smartphone from anywhere at anytime.
Smart Gardening:
You love your gardenias and your herb garden, but you don't get the time to properly tend to it. Because of this neglect, they are browning on the edges and you're crying because you can't help it. But wait, you can. Yes, by technologically rendering your garden, you can make sure that no evergreen withers ever again. Smart sensors, easily injected in your soil and synced to your smartphone, can measure the moisture level of the soil and let you know via push notifications when exactly the plant needs to be watered. Smart gardening, achieved!
So, by making the following technological upgrades to your house, you can surely make it smarter and futuristic living space.