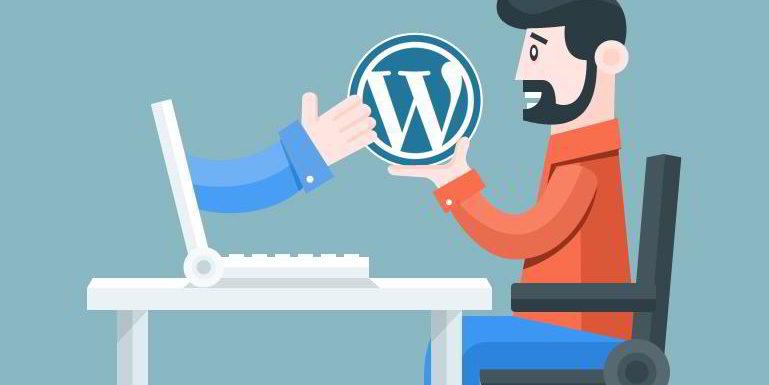 You might have heard the fact which says, WordPress runs 30% of internet. Is it just that? Nope. There's more…
WordPress is the fastest growing CMS, with roughly 500+ new sites being built daily in the top 10 million websites on the web.
17 posts are published every second on WordPress sites around the world.
More than 19,500,000 websites on the entire web use WordPress.
37 million global Google searches for "WordPress" are made per month.
409 million+ people view more than 21.3 billion pages each month.
8% of the top 100 blogs according to Technorati are managed with WordPress.
WordPress is used by many industry giants like Sony Music, The Walt Disney Company, TechCrunch, The New Yorker and the list goes on. So far, WordPress is the most popular CMS system across the globe. However, there are yet many folks seeking to create a website and are puzzled yet in a dilemma,  thinking if WordPress is good for business websites or if they should use WordPress or not. And some are confused if WordPress is good for a professional website or not. Here are the reasons to free all those folks from dilemma.
The Limitless Freedom:
When it comes to WordPress, there are no limits to what you can create! With the freedom it provides, you can create anything of your imagination. Being open source, WordPress allows its user to customize pretty much everything. The freedom that WordPress gives its users is priceless, yet free!
Easy to Install; Easier to Use:
Managing WordPress is no rocket science. Anyone with basic knowledge of how it works can manage WordPress efficiently. It has the most simplified user interface and can deliver the most luxurious user experience to your end user.
There's a Plethora of Themes Available Out There:
Building a website becomes even easier when you have more than enough options to choose from. WordPress has an opulent repository of thousands of themes available for free to create your website. This doesn't end there. Apart from free themes, you can also choose from thousands of premium themes which can make your website look exceptional.
WordPress is SEO Friendly:
Let me tell you a secret: Matt Mullenweg (CEO, Automattic) & Sundar Pichai (CEO, Google Inc.) are best friends. Hence, WordPress is SEO friendly. Just Kidding!
As the matter of fact, WordPress is written using standard compliance high quality code and produces semantic markup which makes your site very attractive to search engines. If you are creating your website with WordPress, you don't have to worry about SEO anymore. With some premium/free SEO plugins, you can optimize your website to reach the right audience.
What if You Mess Anything Up?
While learning something new and experimenting – a subconscious fear that always stings people is, "What if I mess anything up while developing my first web project?" Yes, there are high chances of you messing anything up while developing your first web project. However, the good news is, you don't have to worry at all – just in case something goes wrong. There is a giant army of thousands of WordPress experts – ready to help you out with your concern.
Moreover, if you don't prefer to rely on community support, you can simply hire a WordPress Development Agency to help you out with your problems.
You Can Create Anything Out of It!
Yes. You heard it right. WordPress allows you to create whatever your heart desires. If you are seeking to open a web store, WooCommerce would be the plugin that you should be looking for. There are numerous plugins and extensions, premium and free available for you to craft what your heart desires.
Securing WordPress Is Easier Than You Think:
If you are concerned about your website's security, WordPress can save you from a lot of vulnerabilities out there. By integrating necessary plugins like WordFence & iThemes Security can help you make your WordPress website bullet proof and unbreachable.
WordPress is Nature
WordPress is over 13 years old. During the past thirteen years, WordPress has been refined, tested, and enhanced. Just like the quality of impermanence in nature, it keeps changing. In the process, it has evolved into a world-class web publishing system.
Easily Fits in Mobile Devices:
If you assume your customers are visiting your website from a full-sized computer, think again. Mobile website usage is exploding. If your site doesn't look great and work well on a smartphone or tablet, your customers will skip your site and go somewhere else.
Today, most of the WordPress themes are responsive. So no matter on which device you access your website, it will look and feel same across all devices.
Regular Free Updates & Upgrades:
If you are building your website with WordPress, you are in safe hands. WordPress Developer team is constantly striving to create better user experiences and improvising WordPress framework to make things better for the good. You will receive regular updates and upgrades with cool and awesome features to extend your website's functionality.
23% of The Top 10k Sites Use WordPress:
Let's dive back into stats for one second because this one is interesting. While WordPress has a dominant overall market share, it's also used by a hefty chunk of top-tier sites as well. 23%, a plurality, of the top 10,000 most-trafficked sites in the world run on WordPress. No other content management system comes close.
WordPress is helping more and more businesses to thrive online. Everyday, 500+ sites are powered by WordPress. More than 17 posts are published each second on WordPress across the globe. With more than 19,500,000 WordPress websites across the globe – when will you be establishing your brand online?
WordPress Development is becoming easier as the days pass. If you are already doing a good business, what's wrong in doing it better by establishing yourself online? Dealing with the "development stuff" isn't your cup of tea, there are many WordPress Website Development companies out there to help you out with your most amazing project.