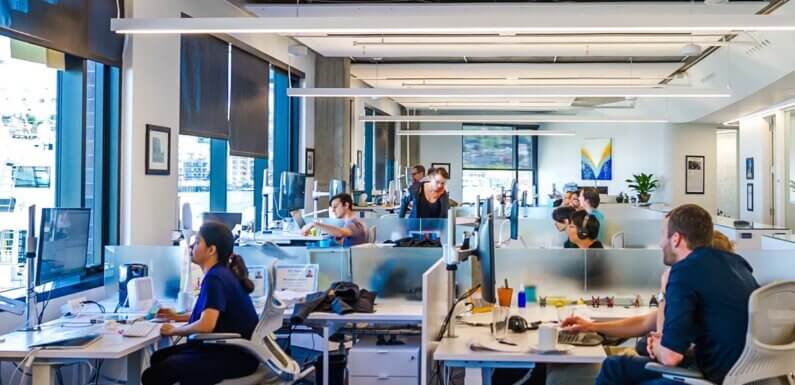 Canada is moving toward AI supremacy. In 2018, the Canadian AI companies have raised more than $660 million of funding in 98 rounds. Many government programs and community programs are also boosting the research and development in AI and AI adoption at ground level.
Jaw-Dropping Statistics
In 2018, the Canadian AI companies' annual revenue rose by 65% than the previous year.
From $288 million through 58 deals in 2017, the Canadian AI startups seized $660 million from 98 deals in 2018.
According to the 2019 Global AI Talent Report, Canada is in the top 5 for the best AI researchers and AI-related job openings.
AI software solution Canadian market size has increased slowly but steadily from $20 billion in 2017 to $22 million in 2018.
After knowing these numbers, you must be wondering what are those Canada-based AI startups and where do they use AI technology. Let's discuss it.
Top Canada-based AI Companies and Where Do They Use AI
#1 COVEO 
Introduction:
Coveo is the Quebec-city based Software-as-a-service (SaaS) company that provides a platform for intelligent enterprise search and predictive insights. It provides an AI platform for eCommerce, customer service, and workforce proficiency.
Company Insights:
Founders: Laurent Simoneau, Marc Sanfacon, Richard Tessier
Founded Year: 2015
Total Funding Amount: $339.4 Million
Lead Investors: OMERS Growth Equity, Evergreen Coast Capital
Where do they use AI?
Covio uses AI as an enterprise search and recommendation technology to fulfil customers' intent. Using AI, Covio's platform understands customer behaviour and helps businesses provide the right information to customers at the right time to increase sales.
#2 Element AI 
Introduction:
Element AI is one of the most successful AI companies in Canada. It in fact received a fund up to CAD$5 million from the government of Canada to create new jobs in Canada. In its series A funding round only, it has raised more than $100 million.
Company Insights:
Founders: Anne Martel, Gabriel Duford, Jean-Francois Gagne, Jean-Sebastian Cournoyer, Nicolas Chapados, Philippe Beaudoin, Yoshua Bengio
Founded Year: 2016
Total Funding Amount: $257.5 Million
Lead Investors: Canadian Government, Caisse de Dépôt et Placement du Québec
Where do they use AI?
Element AI owns 3 products working on AI technologies.
Knowledge Scout: It uses AI to transfer data into actionable insights and allows users to know those actionable insights by typing simple queries. The AI understands the queries typed in a straightforward manner!
Document Intelligence: It uses AI for automatic document processing such as extracting data from multiple documents and making another single document.
Access Governor: It uses AI to automate access provisioning to reduce access delays for joiners and movers.
#3 Crypto Numerics
Introduction:
CryptoNumerics is a Toronto-based enterprise software startup that has been recently acquired by a California-based cloud-focused startup, Snowflake. CryptoNumerics was founded in 2018 with a goal to use datasets for data science without compromising data privacy.
Company Insights:
Founders: Ashfaq Munshi, Hassan Bhatti, Jimmy Fan, Monica Holboke, Roberto Cervantes
Founded Year: 2018
Total Funding Amount: $3.3 Million
Lead Investor: 11.2 Capital
Acquired By: Snowflake
Where do they use AI?
CryptoNumerics uses AI to enable people to create privacy-protected datasets addressing all data security-related guidelines imposed under HIPAA and GDPR laws. It also allows companies to create machine learning models to protect PII.
#4 Hopper 
Introduction:
Hopper is the travel booking platform providing company. It provides an app that works on the AI and thus, revolutionizes the travel booking experience of the users. It is the Montreal-based company, co-founded by a formal Expedia executive. The valuation of Hopper is around CAD$1 billion.
Company Insights:
Founders: Frederic Lalonde, Joost Ouwerkerk
Founded Date: 2007
Total Funding Amount: $253.4 Million
Lead Investor: WestCap
Where do they use AI?
Hopper uses AI to predict flight and hotel prices. It also leverages AI to provide personalized recommendations about optimal booking time and alternative travel options. Unlike other travel booking apps, Hopper aims to save users' money by suggesting to them the most suitable time to book flights and hotels.
#5 OTTO Motors 
Introduction:
OTTO Motors is the Ontario-based robotics company that has developed a series of smart fully autonomous robots useful in the manufacturing and supply chain industry for heavy lifting and material movement.
Company Insights:
Founders: Bryan Webb, Matt Rendall, Ryan Gariepy
Founded Year: 2015
Total Funding Amount: $70.1 Million
Lead Investors: Inovia Capital, Kensington Capital Partners Limited
Where do they use AI?
The smart machines developed by OTTO Motors work on AI technology. AI helps those autonomous machines with a dynamic interaction and obstacle avoidance. With AI, the machine understands the physician and logistics data pattern and achieves more productivity without any error.
#6 Wysdom 
Introduction:
Wysdom is the Toronto-based company which is actualizing conversational AI. It is providing many products working on AI technology. These products include Virtual Assistant, Smart Talk, Cognitive Search, and Conversational IVR. One can easily integrate its AI solutions with Facebook Messenger, Twitter, Whatsapp, Amazon Alexa, Slack, Skype, WeChat etc.
Company Insights:
Founders: Ian Collins, Jeff Brunet, Karen Chan
Founded Year: 2012
Total Funding Amount: $12 Million
Lead Investors: ScaleUp Ventures, Extreme Venture Partners, Mantella Venture Partners
Where do they use AI?
Wysdom's virtual assistant uses AI to learn from data input and become better at predicting the users' needs. Its cognitive search platform also uses AI to pull the exact answer of search queries from unstructured data based on user intent to convert more visitors into buyers.
#7 MindBridge 
Introduction:
MindBridge is the Ottawa-based AI startup that is applying risk-based approaches to let companies get insights out of data. It helps individuals and organizations to avoid financial blunders by automatically identifying and calculating the risks. The startup works with Bank of England, Payments Canada and a major North American Commercial Bank.
Company Insights:
Founders: Eli Fathi, Solon Angel
Founded Year: 2016
Total Funding Amount: $43.3 Million
Lead Investors: SIF, Real Ventures, Peakspan Capital
Where do they use AI?
MindBridge's AI Auditor platform works on AI technology. With AI, the AI Auditor Platform discovers new insights, identifies risks, redefines reasonable assurance, and detects error & anomaly.
#8 Atomic Reach 
Atomic Reach is a Toronto-based startup which is providing a content optimization platform. Using Atomic Reach's content optimization platform, marketers or copywriters can generate high-quality content that can engage the readers. Users can even integrate it painlessly with Google Analytics, Mailchimp, Hubspot, WordPress and more.
Company Insights:
Founders: Bradley Silver
Founded Year: 2010
Total Funding Amount: $9.6 Million
Lead Investors: Fidelity, Genwealth Venture Partners
Where do they use AI?
Atomic Reach uses AI to calculate the readability score and measure the impact of the content in certain languages on marketing communications. Using advanced mathematics, linguistic analysis, it provides real-time feedback or suggestions on the content type, structure, style according to the needs of different audiences. For instance, if you are trying to target people who love to read about technology, the Atomic Reach suggests tech-related words, content style, and language to drive readers' interest.
In the Nutshell:

AI is not only just a trend, but it is the future. Any mobile app, website or software which aims to improve customer satisfaction, customer service, customer engagement, customer retention and customer outcome should be developed with AI in the core. The great ability to provide personalized user experience is what makes AI the true winner. In this blog, I have shared companies that are leveraging the AI. But to provide you with important and useful information, I have shared where they actually use AI as all know what is AI but many are still wondering the business processes where one can apply AI.