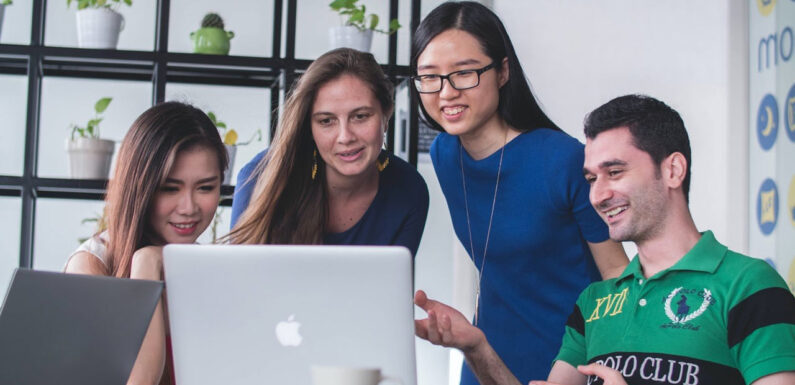 If you are a digital marketer, it is needless to say that you want to see your products or service on top Google search results. Therefore, Google has the smartest solutions to enhance your knowledge and boost your business. Learning the fundamentals of Google Ads is the easiest way to succeed with Google platforms.
However, It may sound a bit complex, but Google has a lot to offer in its domain. Google has outlined well-planned courses which anyone can learn via Google Skillshop – a digital learning platform. In addition, you will get certification from Google after successfully completing the courses. Sounds Intriguing, right?
Continue reading this post to discover what Google Skillshop is and all you need to know about it. As a result, you can level up your digital marketing skills and put your business in the spotlight.
What is Google Skillshop?
Google Skillshop is formerly known as Academy for Ads or AdWords academy. It is a comprehensive platform to learn how to use and master Google's professional tools and solutions. Besides, professional Google employees provide robust learning materials in the skillshop.
After signing up at Skillshop, you will get access to a vast library of online courses. The exciting part is, these courses are specially designed by Google product experts. Besides, you can complete these courses gradually at your convenience.
After completing the courses in different solutions such as Ads, Youtube, and more, you will get certifications. As a result, it will portray your competency in certain areas of Google marketing will. You must pass the assessment to earn the certification of a specific topic that the skillshop offers.
What Can I Gain from Google Skillshop?
The current era of the digital market is full of competition where you must have enough skills to gain success. As a result, Google has launched the Skillshop, where you can learn all there is to know about Google Shopping Ads and many other areas.
You don't need to pay a single penny to complete the courses & get the certifications in Skillshop. Open an account in Skillshop account, access the materials, pass the assessment, and get the certifications. Yes, it's that simple!
Google Academy for Ads was revamped to Skillshop, and this free learning platform has a lot to offer. As a result, from this digital learning platform, you are gaining a lot:
You are getting state-of-the-art training to use numerous Google products and services to their full potential.
The courses include a variety of marketing strategies and product-related tactics. Moreover, it includes real-world case studies to face common business scenarios. Therefore, you will be able to evolve your marketing strategies and execute a more actionable approach.
The professional staffs of Google provide the courses in Skillshop. As a result, you can rely on the credibility of these courses and certification to demonstrate your competence everywhere.
The certification provided by Google Skillshop is to evolve your skillset to thrive in the job market. Obviously, any company that requires digital marketing will accept your certification.
Google Marketing Platform is gigantic, and it includes amazing tools to enhance the output of any business campaign. Thus, you are getting an opportunity to update your knowledge on numerous tools offered by Google. So, apart from getting certification, update your marketing skills through one of the biggest platforms out there.
What are the Courses & Certifications Available in Skillshop?
If you visit the official website of Google Skillshop, you'll notice that they have offered numerous topics to explore. We have enlisted the topics and certifications below that you can get on this unique platform:
Main Topic
Subtopic
Certifications
Google Ads
- Google Ads Search
- Google Ads Display
- Google Ads Measurement
- Google Ads Video
- Google Ads Shopping
- Google Ads Apps
- Google Ads Discovery
- Google Academy on Air
- Shopping Ads
- Smart Campaigns
- Mobile
- Privacy

- Google Ads Display Certification
- Google Ads Search Certification
- Google Ads - Measurement Certification
- Google Ads Video Certification
- Shopping ads Certification
- Google Ads Apps Certification
Google Marketing Platofrm
- Analytics Academy
- Display & Video 360
- Search Ads 360
- Campaign Manager 360
- Creatives
- Google Web Designer
- Programmatic Concepts
- Mobile Experience
- Privacy

- Display & Video 360 Certification
- Search Ads 360 Certification
- Campaign Manager Certification
- Creative Certification
- Mobile Experience Certification

Analytics Academy
n/a
n/a
Google My Business
n/a
n/a
Google Ad Manager
n/a
n/a
Google AdMob
n/a
n/a
Authorized Buyers
n/a
n/a
Waze
n/a
Waze Ads Fundamentals
How can I Get a Google Skillshop Certification?
Getting access to Skillshop, learning the topics, and earning the certifications is a simple process. We are presenting the step-by-step approach that you need should follow to get any skillshop certification.
Step 1- Logging in & Registering on Skillshop
First of all, you need to sign up for Skillshop after getting into their official website. For this process, you can use your personal Gmail account or create a new Gmail account.
You can also click the Get Started button to see what Skillshop has to offer and then sign in. Now, you'll have to agree to the terms & conditions to proceed further. Once you agree, you will be taken to a page – Create Your Profile.
On the Create Your Profile page, you will need to fill up some information to move on to the next step. You can't change your name and email address, but you can include the Country, Company name, and Company email.
As you can see from the above image, you can connect the skillshop account with :
Google Ads account,
YouTube account,
personal Gmail account
Now, if you scroll down a bit, you will see an option to select the courses you want to learn about. After selecting your courses, you need to set your Timezone & Prefered Language and finally click Continue.
Followed by your profile creation process, you should familiarize yourself with various options of this learning platform. Therefore, we will move on to the next step and see what it has to offer.
Step 2 – Exploring the Skillshop
To view the courses that Skillshop offers, click the Browse Icon, which is available in the navigation bar. We've pointed out the icon for your convenience in the image below. After clicking the icon, the courses offered by Google will appear below. This page shows the topics that Google Skillshop offers.
Click on Google Ads > Google Ads Certifications. Now, you will get a list of Certification programs available for the Google Ads course. Each certification program is displayed with the required time to complete the course, review ratings, and skill level. You don't need to maintain any order to complete the courses. Therefore, you can choose any certification topic and complete that according to your order.
For this example, we have selected the Google Ads Display Certification. By clicking on the chosen program, you will be taken to the main page of that course. The main page of the Google Ads Display Certificate contains a detailed preview of the courses. Additionally, it indicates what you will learn after completing the course and the time required to finish each topic.
There are three sections below the Get Started button:
Prepare for the Certification – It's an optional assessment that helps you get ready for your certification program. You can select this option and get a self-assessment before starting the course.
Pass the exam to get your certificate – After completing the curriculum of this course, you can proceed with this option.
Study Google Ads Display – This section contains a list of learning materials related to this course. You need to go through these courses to earn the certificate for this topic finally.
Step 3 – Preparing for the Exam
Each certification course includes a list of lessons that you can study and complete your exam preparation. The courses are simple to understand and are developed with evaluation in mind. Additionally, it includes texts, interactive features such as flashcards, and questions.
From the Google Ads Display Certification course, we've selected the first topic. If you select Grow Your Business with Google Ads, the platform will take you to that topic-related page.
Each session includes fast review questions as well as a knowledge check at the conclusion. Google will indicate that you have completed the training if you pass the knowledge check part.
On the main page of the certification courses, you will be able to track the progress of your lessons. A blue checkmark will appear next to that lesson upon completing all the learning materials and passing the knowledge checks. Review the learning materials after finishing them once to get ready for the exam.
Another great idea is to complete the knowledge check assessment that comes with multiple-choice questions. You can see your score and the list of incorrect answers after completing the practice assessment.
Step 4 – Taking the Exam
You can take the assessment for each certification directly via the Skillshop platform. The exam format on this platform follows the traditional exam format consisting of multiple-choice questions. For each certification assessment, the number of questions ranges between 46 to 50.
You have to complete the exam with a time restriction of 75 minutes. But the timeframe of the assessment is generous compared to the total number of questions. Most of the participants commented that it took half of the assigned time to complete the exam. After answering a question, you won't be able to go back or edit your answers.
Most of the certification program requires you to get 80% or better marks to pass the exam. But the only exception is the Google Ads apps certification program, where you can pass by scoring 70% marks. In Skillshop, you can take an assessment multiple times, but you must wait 24 hours to retake in case if you fail.
Exam Progression
There is a link to the assessment under the headline – Pass the assessment and earn a certification. You can click and start your assessment right away after completing your course materials.
The next page prompts a disclaimer that you can read before starting the exam. If you follow the image below, you can see the number of questions and some instructions for the exam are available.
After clicking the Launch button, the exam will start, and the first question will appear on your screen. On the top right corner of your browser, you will get your exam's progress status and time limit. You are not allowed to close the browser. Otherwise, it will automatically count as a failure. As a result, you will have to wait for the next 24 hours to retake the exam.
Once you pass the exam, Google will redirect you to a page that displays whether you passed or failed. In addition, you will get an email from Skillshop including the details about your exam.
After closing the previous page, the Skillshop will display your certificate upon passing the exam. Besides, your certification will be available on the My Profile page right away.
From the example below, you can notice that the certification is valid for one year from your passing date. Hence, you can update your certification by retaking and passing the exam after one year. The certificate renewal is essential to ensure that you are up to date with the latest functionalities of Google Marketing.
Final Thoughts
So, that's all!
Now you know how to further your digital marketing career via Google Skillshop. The process from opening an account to earning a certificate on a specific topic is straightforward.
You can obtain certification in several areas of Google marketing and demonstrate your expertise in the field. As a result, your career will flourish, and you can use the knowledge for your own business as well. Furthermore, a considerable plus-point of google skillshop is – getting free certifications by taking the exam. Your effort and time are the only investment that you need to spend to finish the learning materials.