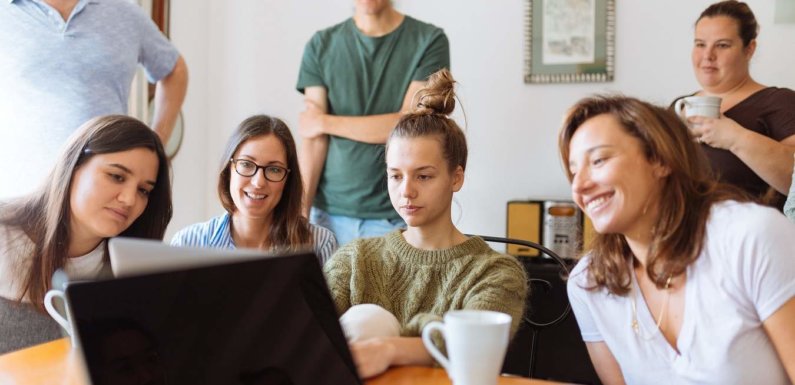 A study by Adobe found that 38% of people won't like to engage with a website if its content/layout is unattractive, and 39% will stop engaging if images won't load or take too long to load.
In a nutshell, a web design is significant and no less than a game-changer if you have a plan to turn on the flow of profit. The best thing is that you can easily make or break the best impression through a web design.
If you're new to a website, this article is likely to help you a lot in understanding how you can make an overwhelming profit with it.
So, let's get started and find out how you can make it a cash cow.
Profit-Making Web Design Ideas in Terms of its Layout
A. Clear and Concise Navigation
Navigation is a big concern because users have the intention to explore what you serve. If they have to struggle in moving up or down or right or left, it can be troublesome. They won't stay there for a long time and hence, bounce out. This situation will be a clear loss, which you can reverse by selecting a design that has smooth and easy navigation. A clear and concise navigation bar can help users to engage and explore more. And then, you never know if sales can happen if they find everything smooth, transitioning. Simply put, making sales without any hassles requires smooth and simple navigation.
B. Responsive Design
In this world of digitization, mobile usage is common and steadily rising. People often switch to their handsets if they want to explore anything online. To ensure that your website grab their eyeballs, a responsive layout is a must. In simple terms, a responsive web design automatically fits the screen size and offers a smooth experience to users.
It looks similar and best-fit to different screen sizes. Moreover, its functions work well on mobile phones, tablets, laptops, or desktops. It's obvious if the browsing experience is smooth, the user can easily visit and access whatever he or she is willing to.
C. User-Friendly Interface
The interface of any website should be intuitive and easy to use so that even first-time visitors would love to come over and over there. This kind of impression can be made through memorable logos, icons, and design elements. Additionally, a clear and concise copy of content complements a well-organized layout. If it's user-friendly, your chances of getting overwhelming engagement and leads would be greater than ever.
D. Visual Appeal
An eye-catchy web layout does its charm and attracts countless visitors to come and stay there while navigating from one page to another. To make it attractive, the role of high-quality images and videos is undeniable. The colour should look good and resonate with the niche, brand, or industry type. An appealing website often attracts more sales and repeat users.
E. Speed Optimization
Optimization or search engine optimization is typically concerned with defining the user experience. This ultimately leads to more profits.
This can happen if the web design, including all images, videos, and even content is optimized in accordance with the guidelines of Google. It is typically known as on-page search engine optimization, which improves search engine rankings. This is how you can have as much organic traffic and sales as you want.
The aforementioned points are a few significant features that can define the best user experience. From the perspective of earning profit, these online business ideas can help you. A web design and development expert can help you to make it easier. Once defined your web presence, profit starts coming your way.
Let's catch up with these ideas.
1. Blog
Blogs deliver information. If its layout is visually appealing and user-friendly, visitors love to get back more frequently. People prefer a well-organized and beautiful design that provides readability and easy navigation. This certainly encourages users to come, explore, and even share what they find interesting and valuable.
Resources such as WordPress, Wix, and Squarespace come up with an exhaustive range of customizable templates and designs for blogging. So, you can invest less and get more out of putting effort into a blog website design and development. As per a study by Stanford University, 46.1% of people confirm that web design comes foremost when it comes to determining its credibility
2. Forum Website
Forum website design is crucial if you want to create an engaging and user-friendly platform for online discussions. As per a study by Invision, 88% of users are less likely to get back to a website after a bad user experience. So, you need a well-designed forum website to keep users engaged and retained. It results in increased user activities and growth in the community. Likewise, features such as intuitive navigation, clear categorization, and responsive design are crucial if you want to make visitors happy. There are a few platforms like Discourse and Vanilla, which you may use to create customizable forum templates.
3. Education Website
Beginning with an education-based website can be a big boost to your dream of getting more money plus satisfaction. A study by Stanford University states that 75% of users conclude that the website is credible or not on the basis of its design.
You may try platforms like Blackboard and Canvas to get your own education website templates customized to help in selecting an effective design.
4. eCommerce Website
To make online sales easier, the seller needs to reach out to an overwhelming audience. This is where an eCommerce website comes into play. A study by Bayard Institute states that 69% of online shopping carts are abandoned because of flawed design.
Considering this fact, an online retailer or distributor should have all the aforementioned features to attract visibility and ranking in Google or other search engines. However, platforms like Shopify and WooCommerce are there offering customizable templates to help those who can be the least knowledgeable about an effective eCommerce design. A little investment in these marketplaces can help in boosting sales via a web design, which can be eventually profitable.
5. Portfolio Website
A portfolio defines all about your creative work, which you certainly require to showcase to prospects. This is obviously vital for winning opportunities via leads or sales.
There is another study by The Creative Group, states that an impressive online portfolio of a candidate influences 80% of hiring managers and recruiters. This is just an example. A company or brand may also have it to show to potential customers and come in a win-win situation.
But, this needs an appealing layout or innovative web design ideas to create it. Later on, it should have fully optimized pages to increase its responsiveness. Ensure that it has all such necessary features, smooth navigation, high-quality visuals, etc. to introduce a positive impact. However, there are online spaces like Squarespace and Behance that have such templates that are customizable.
Conclusion
An entrepreneur can turn on the flow of profit for his or her business through an impressive, responsive and SEO-friendly web design. Eventually, it's the user experience that attracts customers to invest and stay together for a long time. If so happens, you can integrate SEO-guided features to create a portfolio, eCommerce, education, forum, and blogging web design.