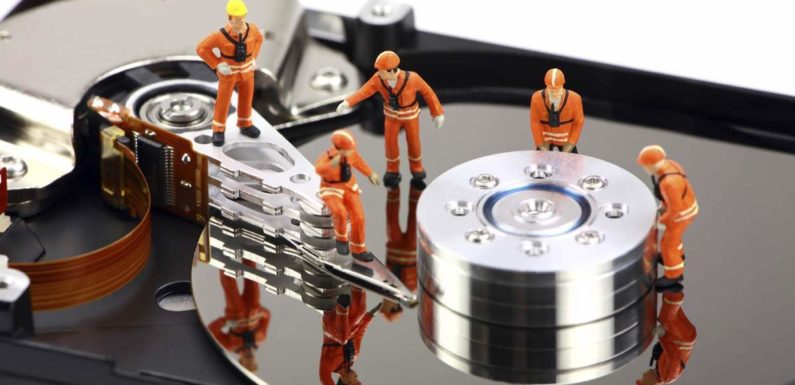 With the evolution of the digital world, it is beyond our imagination that how much data we deal with every day. For example, we take pictures and videos with our mobile phones or digital cameras. We save attachments from emails on our computers. We create new Office documents like Word, PowerPoint, and Excel for work. You name it.
The possibility of losing data increases too. The important data saved either on the computer hard drive or a removable disk contains a person's memories and opportunities for self and career growth. Losing them is hard to bear and might throw a person over the edge.
That is the aspiration for data recovery – there is no better thing than get back what you believe you have lost.
What is data recovery?
Data recovery is the process to restore or recover data from storage media such as computer hard drives, USB flash drives, SD cards, memory sticks, and external hard drives. It can be applied to many data loss situations such as accidental deletion, mistaken formatting, disk corruption, hardware issues, virus infection, software malfunction, power failure, etc.
There are three common ways to achieve data recovery – restore data from backups, recover data with data recovery software, recover data with the help of a data recovery lab. Data recovery lab usually is the last step of data recovery unless data recovery software doesn't work. If data recovery software is unable to recover data from the disk, the files are probably seriously corrupted or overwritten. Even worse, it is very likely that the disk is physically damaged and needs to be replaced.
Why is data recovery possible?
To make things understandable, you can take a disk as a book. The table of contents is the information of files including file name, file size, file format, creation date, locations, etc. The pages are the real contents of files. Fortunately, most data loss situations like accidental deletion and disk corruption (sometimes disk corruption will cause permanent data loss) only make changes to the information of files, not real files. The real files will be held on the disk until new data write them over. As long as the real files are intact, they could be recovered.
Therefore, stop using the disk or device right away to cut down write operations as much as possible to avoid data overwriting. If the original files are overwritten, it is impossible to recover data without data backups. The sooner you conduct data recovery, the higher the success rate will be.
However, data recovery is a complicated process and the results vary depending on different circumstances, file systems, and even different storage devices. No data recovery software can guarantee that your files are 100% recoverable.
How to use data recovery software to recover files?
A lot of data recovery software available in the market for your choice. Most of them are easy to install and use. I take iBoysoft Data Recovery for Mac as an example.
About iBoysoft Data Recovery for Mac
iBoysoft Data Recovery for Mac is a professional and reliable data recovery software for Mac desktops and laptops. It has a Windows version called iBoysoft Data Recovery.
iBoysoft Data Recovery for Mac is the best APFS data recovery software in the market. It is the only data recovery tool for Mac that can recover data from encrypted APFS partitions or drives.
It can recover various data such as pictures, videos, documents and more from APFS-formatted partitions. Data recovery is possible from formatted/unmountable/unreadable/corrupted APFS partitions as well. Furthermore, it can recover deleted or lost files from lost APFS partitions by clicking on the "Find Lost APFS Partitions" in the program interface.
Other key features are listed below:
It can recover almost all types of files including photos, videos, music, audio, documents, email files, and archive files, etc.
It can recover data from computer internal hard drives, USB flash drives, SD cards, memory sticks, and external hard drives.
It can recover data from corrupted/unmounted/unreadable/formatted drives or partitions.
It can create a bootable drive to recover data from a crashed Mac.
It has Quick scan and Deep scan modes to scan for files.
It is fully compatible with macOS 10.14/10.13/10.12 and Mac OS X 10.11/10.10/10.9/10.8/10.7.
Your deleted or lost files are only 5 steps away:
Step 1: Download, install and launch iBoysoft Data Recovery for Mac. The process is the same as you install any other software on your Mac.
Step 2: Select the drive or partition where you deleted or lost data from.
Step 3: Make sure the Deep scan is unchecked and click Next to start scanning for files. It is recommended to run Quick scan first to see if you find your desired files. If not, go back to the home window to check Deep scan and click on Next again. Deep scan will take a much longer time but will find more files for you.
Step 4: Preview the scanning results by double-clicking it or hitting the tab key. Pre-recovery preview can help you find your desired files fast and know if they are recoverable.
Step 5: Select the files you want to recover and click on the "Recover" button to recover them. Be sure to save the recovered files to another location.
Conclusion
Data is valuable not only for individuals but for businesses. The best way to prevent data loss is to develop a good habit of backing up important data frequently either manually or using Time Machine on Mac. If you don't have the habit to back up the files, data recovery software will help you out in various data loss circumstances.