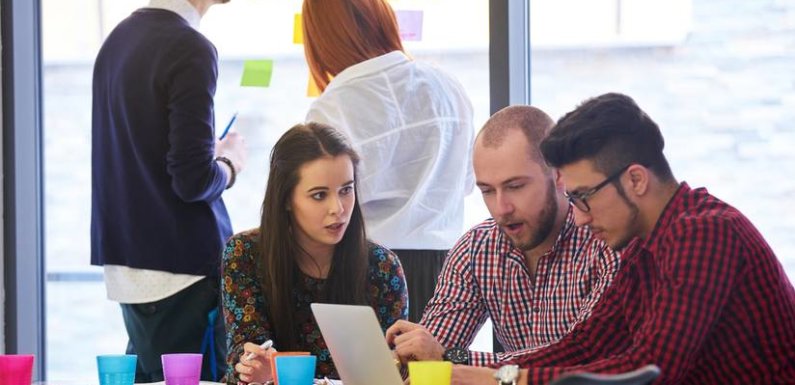 A tool or an application which has really come forward, out of the odds and beaten the blues in the world of web page testing is Comaprium App. Like many others, I have been an avid user of this tested application, and one thing what I have learnt from here is for sure, web page testing has never been easier, more efficient, and simplified.
For my company, it was important to have a web test done. With so many benefits of the internet, and everyone coming online, it is like a checkpoint, one must tick. It is important to fix the issues which would in turn improve user experience, check whether your website is accessible from various browsers or not, and also, web testing is beneficial for your SEO, conversion rates, and site performance.
And guess what, this might seem a really daunting, hard earned and difficult thing to get through with, but in reality isn't. This is what I learnt when I first used Comparium for my company. It has helped me and my company to monetize the website traffic and has with ease performed cross browser testing.
The reason we put emphasis on cross browser testing is, because in reality it is not possible to get complete alignment of all the parameters across the same OS, but with cross browser testing, you make sure that your entire content is easily accessible to anyone who wants and perform all the basic functions on your company's app or website without any interferences and glitches.
While our tenure with Comparium, which is still going on, we learnt a few things about the application, mentioned below.
Customer and Detail Oriented
One thing as a user we wanted and expected was that our web test application should be easy to use, should cover all the aspects, and moreover, not bother us much. And I am really happy to say that Comparium has stood well above our expectations. It couldn't be easier, as all you need to do is submit the website's address you want to check, and guess what, that's it. All you need to do next is waiting for a couple of minutes, because that's all it takes to check and bring you the results. If you love or are a believer in statistics, then you need to know that Comparium has over 2 million satisfied users, which you would know is no minor feat to achieve. This is what got us going on using Comparium.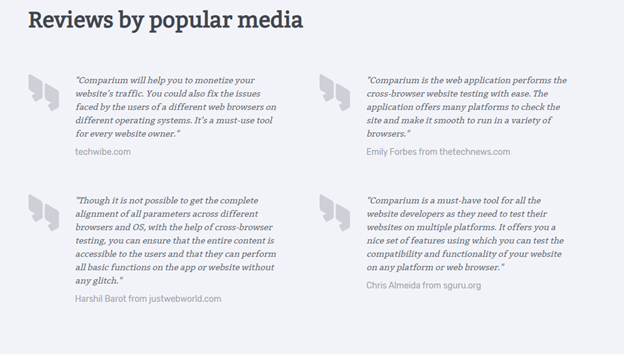 Support System
In a few words, Comparium supports all the possible browser versions. Yes, it is one of those rare platforms, which comes with all of this. If we had to name a few, we have seen, used and complied with, Microsoft Internet Explorer 11.0, 8.0, Google Chrome 75.0, 74.0, 73.0, Mozilla Firefox 68.0, 67.0, and Safari 11.0. Also, there is more to it. It doesn't end at just website versions, but also computer operating software too. Windows 10, 7, Mac OS X Mojave, High Sierra, and Linux, are some of the OS it is very much compatible with.
Database which works offline
Like we said, Comparium is really customer oriented, so it very much understands one's busy schedules and cooperates with that too. All you can do for testing is send in your official mail address along with the Website URL you want to check. And then, you can get your offline web reports and test results. It is so cooperative and easy to go with. Also, the report you get will include website screenshots and issued detailing.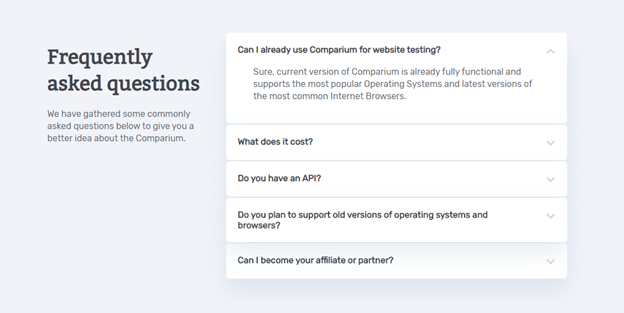 If you check upon Comparium's website, which again is highly recommended from our side, you will see that there are a few versions of this app. We have discussed them in brief below.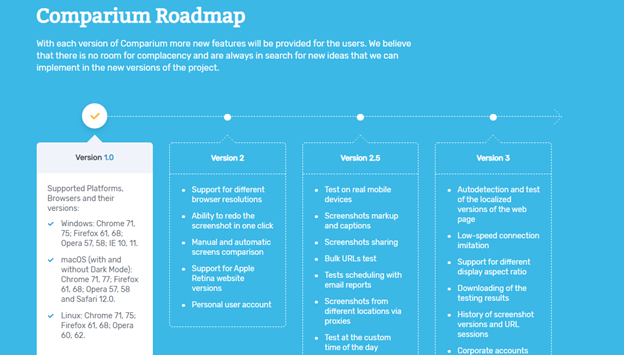 Version 1.0
Caters all the platforms and browsers, this version began as their first priority once. Highly supportive in quick testing and targeting large customer base. What we in our tenure found the best part about this was that this version is for everyone, meaning is free for all the users. So we here, tested with this once, and updated according to our needs.
Version 2.0
The next version has additional features added to its kitty. The features are here to understand the basic trend. With manual and automated testing, you get access to screen comparisons. You also have a personal account which builds long term relationships. Not just that, you have a support system for apple retina website versions too.
Version 2.5
This version was launched for the excessive new demands, so you can understand that this feature would be blessed with new features. It allowed us multiple and bulk testing, had an offline database, test feature for mobiles and you can conduct tests at your customized timings.
Version 3.0
The latest of all, this version would allow you different aspect ratios and Selenium Scripts. Also, there are quality check and proxies on the internet. This version has adjusted to the new version of virtual desktop and allows real life testing.
There are a very few apps and tools which impress us, and Comparium was one of those apps which did with its amazing features and thirst to learn and grow. No wonder, we were extremely satisfied with the same.