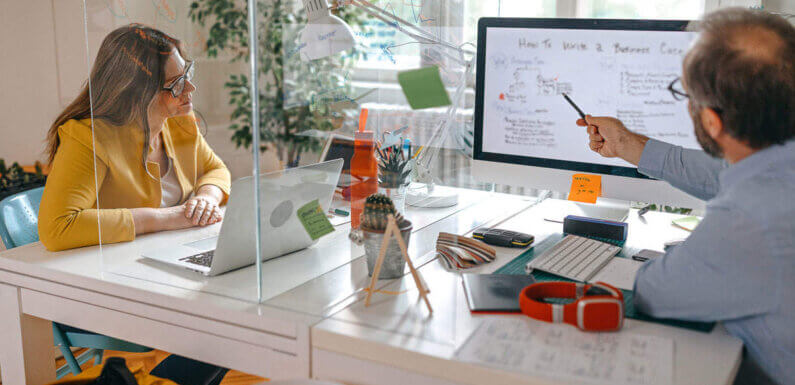 Key Components For Improving Seo Ranking
The navigation structure of the website
what should it look like, and where should you put the links should you have? These are all different questions that I got a lot and the main answer I usually come back to the most is you want your site navigation to be clear and concise. You don't want to overload people with a bunch of different options. I find that the more clear and easy to follow your menu people will stick on your website and buy things and interact and convert for what you were trying to give them the more you have a bunch of clutter and links everywhere and URLs that are not clear the more people are going to be confused and leave here. 
Your site navigation is clear but it's also about having a URL structure that makes sense based on what people are clicking on and site navigation isn't just about the menu items it's also about what's actually on your website maybe you need a search bar so people can search maybe you need to add content that people are asking about Maybe people are looking for a certain type of thing on your website and they can't find it but ideally you don't want your website to be filled with clutter and be confusing to operate you want your pages to tell people exactly what they're getting and why they're getting.
The '404' page
When a user tries to access a page that is not there on our website, they are directed to a 404 page, often known as an error page. It is the page that your server shows when it cannot locate the URL that the user has requested.
Although there has been much study and discussion on how to manage 404 errors and their effect on SEO, the reality is that they are almost impossible to eliminate. Although it may be tempting to just redirect all 404 errors to the home page, you should really be doing the opposite.
A user's experience is negatively impacted by directing to the homepage for a few reasons:
Users who clicked a link to a different page will be confused as to how they ended up on the homepage.
Users won't understand why they won't be able to obtain the information they were promised.
Your users may get on a website that has nothing to do with the link they initially clicked.
Using 404 Pages for Good
The fundamental goal of a 404 page is to transform the potentially bad user experience of running into an error into a good one. 404 errors may be annoying for users.
Links are the key to this.
Links on 404 pages are essential because they provide users with an option to leave the error page. The user can locate useful and perhaps useful materials on another page rather than closing the window or leaving your site.
The following URLs should be included in your 404 pages:
Obviously, your home page.
A few of your best-known blog posts.
Product or category pages with the most traffic or value.
A mechanism by which people may report a faulty link or contact form.
A sitemap HTML.
The loading speed of a website
So how does SEO impact page speed?
In July 2018, according to Google, page loading time started to directly affect search results for mobile devices. When Google introduces its Core Web Vitals upgrade in June 2021, it will start affecting all pages' rankings. Search engines like Google focus on ranking websites that offer a positive user experience.
The user experience is greatly impacted by SEO page speed. Visitors can explore your website more easily when your pages load quickly.
It's essential to mobile-optimize your website for mobile searches. Because mobile page performance is now one of the elements used by search engines to determine search ranking, don't ignore this.
Other reasons why speeding up page load time is important include the following:
Reduces bounce rate.
Increases page views.
Improves conversion rate.
Helps your ranking in organic search.
How to Make Your Website Faster
Activate browser caching.
Minify resources.
Enable image compression.
Implement a content delivery network (CDN).
Optimize media files.
Minimize HTTP requests.
Use the right web host.
Images, image size, and alt text
Images not only give an article alive, but they also help your website's SEO. Over the years several studies have shown that web pages with one image tend to rank higher than pages with no images. Let's look at the most important SEO benefits of using images in your content. First and foremost they make your content more interesting and this means visitors are likely to actually read your article.
It is not a surprise that content with relevant images gets 94 percent more views than content without your readers are more likely to share a page with images on social media. The shared post has more chance of getting more attention than plain text posts. It's another easy way to make your SEO stronger by giving search engines the right signals on what your content is about through image alt text your images can rank higher on search engines and get more traffic to your website. Now let's see how to best optimize your images for search engines the name of the image is the first thing to optimize even before uploading to the Website. Image size also plays a vital role in good SEO, Size of the image is not so high and not so low. If your image size is very high then it affects your website speed. So always use compressed images in your content. 
Pop-ups
As soon as a search engine user gets on a website, pop-ups frequently appear. It's bad to do it for two reasons:
You become less credible. While you are displaying advertising and pop-ups, that person is browsing for information.
Second, the visitor can become irritated and leave your website immediately away after seeing the pop-up right away. This tells Google that visitors might not be satisfied with your website's placement on the search engine results page. Google will probably demote your website in the SERPs if it is not a great fit for that term, as this negative signal shows.
Limit the usage of pop-up windows. Consider using an exit-intent pop-up that only shows when the visitor is ready to leave the website if you need to advertise an event or a free lead magnet.
Reading experience
While designers may emphasize non-text parts of your site, it is critical that they select fonts and sizes that are simple for your visitors to read.
Your designer should be aware to provide enough room for content unless the body copy is being taken from an existing site (or has been pre-written) and is part of your design specifications. To rank highly, you'll need to have a ton of relevant, optimized content, and your SEO will suffer if your design only works with a few words of text.
Increased Organic Traffic
Any unpaid traffic to your website, such as site visits from search engines, is considered organic traffic. These are those that searched on Google and looked through the top results before landing on your website.
More specifically, 25% of all clicks are directed to the first search result, 15% are directed to the second, and the number of clicks rapidly drops off after that.
It is reasonable to state that any organic traffic outside the first page is bad given that just 2.5% of clicks travel to the 10th result. You must optimize your website as much as you can if you want to increase your chances of appearing higher in SERPs.
How to optimize your design for SEO
Mobile-friendliness: A flexible website not only improves your search engine optimization but also makes it simpler for your audience to view your material from both a computer and a mobile device.
Site speed: Your website's speed is taken into account by Google's algorithm. It seems sensible that Google would try not to display pages that take a long time to load. Nobody wants to deal with that.
Sitemap: The pages, files, videos, and other components of a website are listed in sitemaps. These are helpful for websites with several pages, particularly if none of them are linked to one another. Google will be able to identify and crawl all of your web pages if you have a sitemap, allowing them to all be rated. It's simple: if Google cannot discover a website, it cannot direct organic traffic to that website.
URL Structure: Every page and post of your website has to have a URL that accurately conveys the information it contains. You can add a few essential keywords and should use hyphens, NOT underscores, to separate your text.
It would be simpler for site visitors to remember and search engines to comprehend your sites if your URLs contain descriptive words rather than just random numbers and characters.
Meta Tags: Utilizing the target keyword for your website or article in the title tag and meta description can help your SEO. Remember that your meta description may be up to 160 characters, while your title tag can be up to 60 characters.
Conclusion
Web design and SEO have often been two different aspects of an online brand. The boundaries have, however, become a little hazier recently.
It is necessary to fill the gap between web creation and search engine optimization to create a well-designed, SEO-friendly website. As a team, encourage everyone to collaborate right away to make sure your website is thoroughly optimized for both SEO and usability.
Remember that giving your consumers value is the greatest method to rank in search engines. Your search results are certain to increase if you optimize the above elements, provide high-quality content, and develop exceptional user experiences.