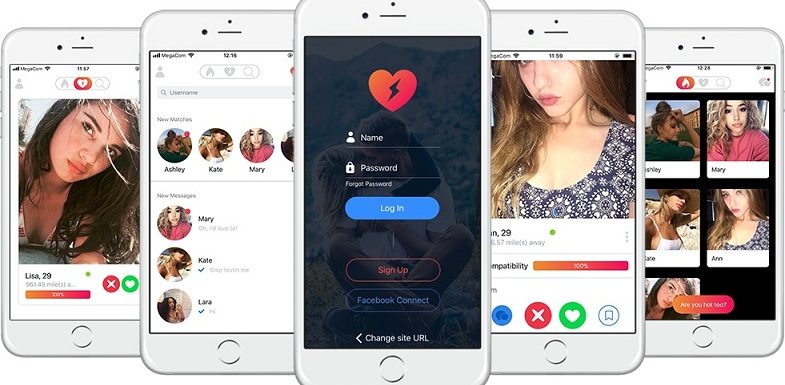 Tinder is one of the most popular and preferred dating applications in today's online world. And the reason behind this is because of its iconic swiping feature. After being launched in the year 2012, nearly 2 billion people between age 18 to 35 have found their perfect life partner and that is 1 billion matches.
And it didn't take much time for other entrepreneurs to understand that the online dating industry would achieve so much success and that is why more and more entrepreneurs and businesses are interested in learning the costs and expenses that would involve in building a dating app like Tinder.
How does a dating app work?
Well, most of the dating applications are free for both iOS and Android users. Just like location-based mobile applications, dating apps such as Tinder, completely rely on geographical proximity as their primary feature and thus, making it simpler and faster to find people who are looking for the right partner. Especially, tinder makes it much easier for its users to find the perfect match by swiping it left (No) or right (Yes).
By utilizing social media networking platforms like Facebook and Instagram, the dating applications analyze the user's information and provides right matches that are typically based on mutual interests, common friends, and geographical location. Mutual swipes by users will end in seeing in person. Users can set priorities and preferences such as gender, age, etc. for a better matching requirement and once the app finds suitable matches then it will alert its users in their geographical area.
Any app can truly become popular by keeping the visuals and UX simple and attractive enough. Keeping the registration process every time the user wants to log in will only make them bored. Keeping it plain and simple by allowing the users to log in with social media networking platforms like Facebook and Instagram will not only make it easy for the users but also the app can pull desired information from there.
Dating app features
When it comes to the cost and expenses in building a dating app like Tinder and Happn can directly depend on the kind of app you are trying to build and its features. Other than Tinder which uses the geographical location for the perfect match, there are apps who provide such dating services based on the user surveys and conventional personal information too. However, just to get a clear idea and better understanding, let's take a look at the basic features of a dating app.
Registration and login procedure
Unlike a long registration and login process, a user should be able to log in by using Facebook or Instagram account. Once the user finishes his or her login process, then the personal profile can be made and gather basic info for matching. Based on their preferences and choices, users will set certain settings to search matches within the criteria. Then the app should offer the suitable matches and should leave the user to make the final decision.
Private chat
Once the user finds his or her perfect match, a private chat should be made available to the users so that they can communicate with each other. Also, there should be push notifications to alert the users about new person's interests, messages, etc.
Other features
You can include some extra features like video call within the app, change of location preference, and much more to keep your users engaged all the time. For more such features to include in your app, you can always refer to Tinder and Happn. Other extra features that you can take into consideration are:
User anonymity
In-app purchases
Social media integration
Safety and protection from adult content and Abuse
Costs and expenses to build a dating app like Tinder
Get ready for the numbers part. Because they are going to be heavier and bigger than you thought. A dating application like Tinder needs difficult architecture and involves lengthy procedure. You might be thinking that development for one platform shouldn't take much time but even for a basic version for either iOS or Android platform will take nearly 1000 working hours.
The main and biggest cost elements to create a dating app:
App development for one OS almost takes up to 1000 hours
Backend, nevertheless, 200 hours
UX — 100 hours
A/B testing and pre-launch — 100 hours
There is another primary concern that you need to worry about in the cost and expenses part is that the hourly rate your development team charge you. Regardless of the application, a basic dating app developer charges from $25 to $150 per hour. Even if we assume that the hourly rate would be as low as $50, basic 1500 hours can make up to $75,000. Let's say that you opt for a mobile app development company just speed things up, a basic app development team for building a dating app would involve:
1 project manager
1 designer
2 iOS app developers
2 Android app developers
2 backend developers
1 tester
In order to build a dating app, there are 3 primary components: design, OS (iOS, Android, or both), and the last one API. If you really want to serve quick data transfer then you should choose a RESTful API. It acts as a connection between web-based client application to a server.
Regardless of the platform you choose, there are certain important features that you should include in the app: Login, user profile, messaging, geographical location, and matching the architecture. These features might vary from app to app, however, you can include few additional features in your dating application to make it stand out from the crowd.