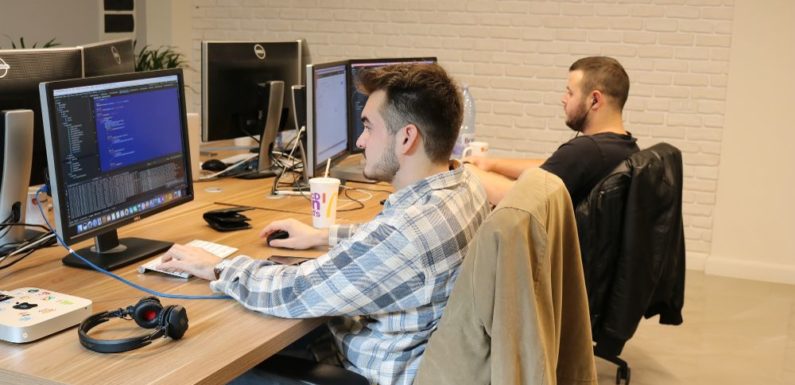 Year by year, Android OS has maintained its dominance with over 74% market share worldwide. As an open source platform, Android offers flexibility, scalability, and various customization options for developing next-gen business apps. Over the years, the platform has introduced many enterprise-friendly features in its updated versions, and perhaps this is one of the major reasons why enterprises are adopting this OS.
If you are planning to come up with a feature-rich mobile app for your company, and want to know which platform is better to enter in the thriving mobile world, then here are top ten factors to show that Android should be your choice in 2019. We have covered almost all the relevant aspects of Android application development services in these points. Let's go through them one after another.
It's evolving
Every year, Google brings an updated version for Android to address the user's requirements, business challenges, and growing threats of hackers. Various noteworthy phone makers like Samsung and  Huawei are quick to embrace these changes, and as a result, Android phones have users in almost every part of the world. All you get is a chance to reach a huge audience globally with ease.
It offers high-end functionality
Android OS is highly customizable and you can readily get tailored Android apps for your target audiences. Whether you want to address a niche audience or general users, Android OS never let you down. You can hire Android developers for developing or modifying apps as and when necessary. What's more, the high-end functionality of Android platform enables developers to come up with innovative app solutions.
It's easy to integrate
Android is flexible enough to integrate advancements of futuristic technologies like IoT, AR, VR, and AI (Artificial Intelligence). When it comes to coming up with advanced app solutions in line with your business model, Android presents a better option. Also, Android apps are developed using Java, which one of the most popular programming languages in the world. In other words, you can readily find the developers to modify the existing Android app in the future.
It's open
The Android SDK is an open source framework to create customized business apps. A huge community of Android app developers remains active for a 24/7 basis. App modification remains quick and cost-effective for Android apps. In a way, the Android app for your business can offer you an edge over your peers with increased revenue and higher sales.
It provides customized UI
Attractive UI and flawless UX are essential for excellent user experience. Android can offer customization feature for the user interface. You can keep the business app updated with the latest features while attracting many users. It is possible with Android OS to target users and business requirements effectively. Future enhancements and necessary modifications can be done easily in a custom Android app.
It is robust
Android is a robust platform to manage multiple activities at once. As the businesses have diverse requirements and complex operations on a daily basis, the Android app development solution can remain handy in simplifying the process. The feature-rich Android app can benefit management and customers alike. Also, the Android app can be run across a broad range of devices while addressing different requirements.
It is scalable
It is easy to add, delete, or modify features in an Android app as per changing business needs and intensifying competition. An Android app is a robust and scalable marketing tool that enables you to promote business in a cost-effective and efficient way. It can act as a powerful representative of your company on the mobile platform.
It brings positive feedback
As mentioned above, an enterprise Android app can reach a wide range of audiences. It can enable you to get valuable feedback from the customers. It can help you bring necessary changes to attract and retain the app users. You can bring newer versions of a business app on the basis of feedback and suggestions.
It's quick to promote
What should you do to beat the online competition? Well, the reduced TTM (Time to Market) is one of the effective ways. Android app development tools can make the development time shorter and facilitate the app's integration with the existing business system. When you assign your app project to the top Android app development company, it takes care of every aspect from development to deployment and management to the marketing of your app. Quicker launch, rapid promotion, and vast reach can help you get increased ROI.
It has security enhancements
In recent years, Android has integrated many security-related features in its versions. Android for Enterprise is a dedicated mobility platform for industries that offers a secure and flexible mobility experience. It combines devices, apps, and management. Android developers relentlessly work on removing bugs and close the loopholes. The Android platform is now more powerful against hacking attempts and offers more data security.
That's not all. A reliable Android app developer can give you more insight i the Android app's advantages for your business.
It is a notion that Android app development is costlier than iOS app development. It is because an Android app requires extensive testing procedures across different devices. But then, in a longer run, Android apps can enable you to spread business in a larger part and make the most of a thriving mobile platform. You can easily implement enterprise mobility and BYOD (Bring Your Own Device) with the help of Android apps because most of your employees use Android devices.
There is no exaggeration in mentioning that the customized Android app development solution offers many benefits to your business. It is easy to get a higher revenue and increased sales in a short time with a seamlessly performing Android app. Android OS can help your business to go to the next level, and therefore, you should go for Android app development for developing your first business application.
As a leading Android app development company, Solution Analysts has developed many enterprise-grade Android apps with customized features. Our team of experienced Android app developers is capable of working on any-size app project across different industry verticals.