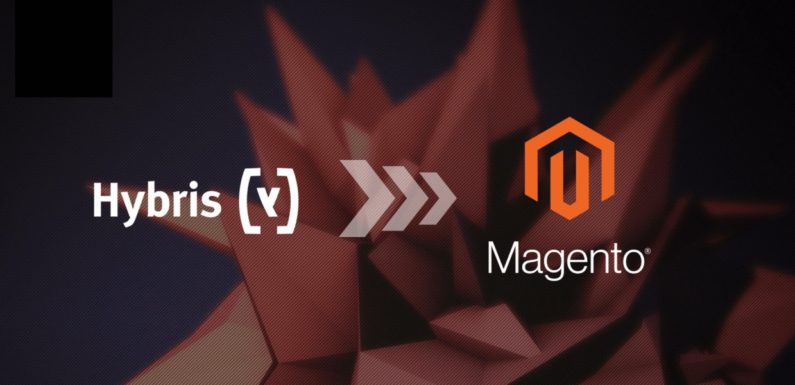 The marketplace for B2B software platforms is more crowded than ever, with a wide variety of solutions offered to small and large corporations. If you're still trying to figure out which platform suits your company best, or if you are unhappy with your current software platform, you may want to consider a migration or upgrade to either Hybris or Magento 2, the current giants of the software platform arena.
Below are some considerations which might help you to decide which of the two is more suitable for your company.
Total Cost of Ownership
When considering the total cost of ownership, and the return a company might expect on its software investment, it's hard to dispute the fact that Magento 2 pretty much rules the roost. It is far less expensive to implement Magento 2 at a corporation than almost any other kind of platform, including Hybris. For companies seeking flexibility in their software, Magento 2 is hard to beat, especially for its considerably lower price.
Since the statistics bear out the fact that Magento 2 corporations grow nearly three times more quickly than corporations on rival platforms, it's easy to see why many of Magento 2's corporate followers have come from former Hybris users. For the lovers of statistics, total cost of ownership of a Magento 2 platform generally runs about 50% less than any other platform.
Availability of Developers
It is well-known that Magento 2 has one of the biggest community of developers among any of the major platforms. The fact that it's an open source platform contributes strongly to this situation, and it's estimated that there are in excess of a quarter million Magento 2 developers currently active.
What this means to a business owner is that developers are relatively easy to find, and that there is a healthy competition among them, so the cost of your development project will not likely exceed your budget.
By contrast, there are far fewer Hybris developers situated around the globe, and this has been an obstacle in the past to getting major projects implemented in Hybris, which is a situation likely to remain in effect at least for the foreseeable future.
Difference between Magento 2 and Hybris
Hybris seems to have the biggest appeal among huge corporations in the markets of telecommunications, insurance, and finance. This is largely due to the fact that Hybris provides a very manageable platform for business, and also extends to clients a solution for multi-channel e-commerce, which incorporates a number of useful tools that have been powerfully integrated into the software.
Magento 2 on the other hand, offers clients a very diverse range of digital marketing tools, which are essential for integrating customers into the purchasing cycle and progressing them through its various phases. Compared to Hybris, Magento 2 has a better suite of analytics, with a virtually unlimited capacity for adding extensions.
It also allows for far greater customization, so that it can be more tightly adapted to specific businesses, thereby providing increased functionality.
Magento 2 Vs. Hybris Usage Prospects
There is no denying that both of these software giants have a devoted following among the big corporations in America and elsewhere, and it cannot be accurately stated that either one of the software companies has truly dominated in the marketplace.
Hybris for instance, has appeal beyond the shores of the US with Reitman's of Canada, among other corporations. Usage of Hybris has appeal with both wholesalers and retailers, although retail corporations have statistically outnumbered wholesalers by approximately a two to one ratio in the past.
On the other hand, Magento 2 also has an impressive following of corporate support including Coca-Cola, Ford, and Nike. It is estimated that Magento 2 currently is used by at least one quarter of the available marketplace, and its prospects for usage seem to be gradually but steadily increasing.
Usage Statistics of Magento 2 and Hybris in 2017-2018
Statistics compiled throughout 2017 and in the early months of 2018 reveal that there are in excess of 4,000 actual locations within the US making use of Hybris, with Germany being a somewhat distant second, having around 800 physical locations using the software.
In total, there is approximately 10,000 physical locations worldwide making use of Hybris software. By contrast, Magento 2 is currently being used at more than 20,000 physical locations in the United States and around the globe, with a little over 1,000 businesses being located domestically.
Who Chooses Magento 2 and Hybris?
While most of Magento 2 customers are based in the United States (a full 60%), most clients who use the software are former users of Lengow, WooCommerce, or Shopify. After the United States, the biggest users of Magento 2 software are, in order, Great Britain, the Netherlands, Germany, Australia, Canada, France, Italy, and Spain.
Businesses using Hybris tend to get their customers from former users of Magento 2 and Oracle Commerce, with a full 40% being US customers, where the majority of the Hybris marketplace resides. The biggest users by country of Hybris software are Germany, Great Britain, France, Australia, the Netherlands, Canada, Spain, and Japan.
Hybris vs Magento 2: What Suits Your Enterprise? 
There are undoubtedly pros and cons to owning any kind of software platform, and there are obviously dedicated followers of both Hybris and Magento 2 all around the globe. Generally speaking, the specific platform selected for supporting a business enterprise will depend on how well it integrates and supports the business itself, so it's easy to understand why either of these two capable software platforms might be chosen.
However, as a general rule, there's just no denying that Magento 2 provides far greater flexibility and opportunity for customization, if those are important to your corporation. Either for very small companies or for very large companies, there are just a great many more developers, more extensions and add-ons, and more opportunities to adapt the Magento 2 software to your specific business for maximum effectiveness.