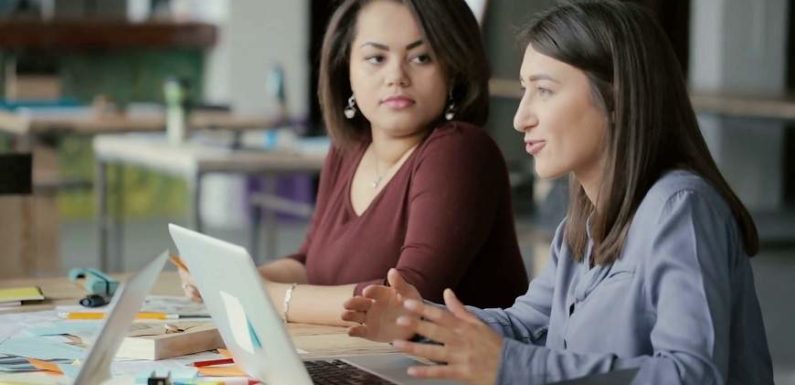 The rules of the marketing game are changing. No billboards or posters anymore. It is all about marketing automation. Marketing is no less than 'fashion trends' of the digital industry. You have to constantly adapt to the changing marketing trends to be in the win-win position. This does not mean that traditional marketing strategies like email marketing, content, and others have a backfoot. Rather, all these traditional marketing methods are integrated with automation for enhanced results. However, why do we use marketing automation, and what is expected out of it? The bottom line of implementation of all these strategies and tactics filters down to getting conversions. 
What is marketing automation?
In simple terms, marketing automation is automating the manual marketing tasks, for simpler, efficient, and faster processes and conversions. The goals of marketing automation include:
Generation of qualified sales leads
Conversion of sales leads to customers
Customer retention to increase the brand value
Why automation for conversions?
According to the statistics, the first time visitor conversion rate is just 2.4%. What about the remaining 97.6%? The reasons why most people won't turn into conversions at the first go are:
If you are exposed to a brand or name only once, chances are that you might forget it too soon. 
The customer cannot intake all the brand values and services in a single visit.
The most important factor among all this is trust. The brand needs to build up trust and relationship with the audience before they finally land on a decision.
You might have a perfectly organized and optimized website. But, why are you not getting the same conversions as the competent website? For this, you need to understand the buyer's journey and conversion process well.
Buyer's journey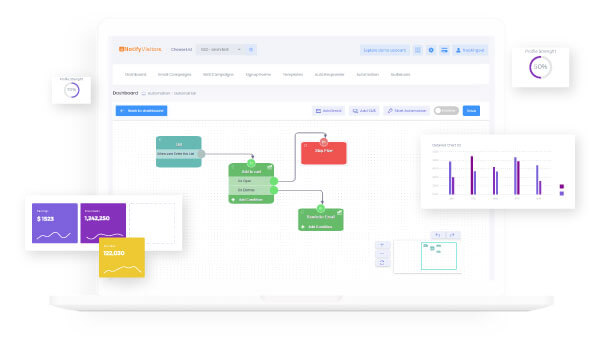 For every business, the major target is customer satisfaction and reaching the right audience. Reaching the target audience is also a part of the buyer journey, which includes the following three stages:
Awareness: This is the first stage when the customers become aware of your brand presence. This can happen while they are scrolling through a social media page, a website advertisement, word-of-mouth, email, and many others. Under this, the audience knows that there is such a brand, and if they are inquisitive enough, they would search and learn more about the brand.
Consideration: Once the audience is aware of the brand, they will consider it as an option along with other brands catering to their requirements. This is a crucial phase as it helps them understand how and why your brand can have an edge over the others. However, under this phase, you have the lead in hand.
Decision: This is the final stage of the buyer's journey when the lead gets converted into sales or customers. If you are a perfect fit, you'll get the customer. It is surely important as you do not want the customer to turn away at the last moment.
Do you think the journey ends here? No. A lot more is still left. What about the conversions? What next after the sales? Along with the buyer's journey, it is equally important to focus on the conversion process.
Conversion process
For the development of a marketing automation strategy, the conversion process also involves three steps. These include:
Pre-conversion: It involves brand awareness strategies.
Engagement: It involves being in constant contact with the audience and offering them content in their areas of interest.
Post-conversion: It is about customer retention and encouraging repetition in purchases.
Ways to use marketing automation to improve conversions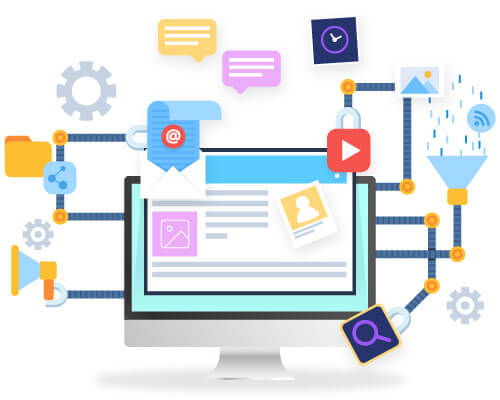 Once you are well aware of the buyer's journey and website optimization, you need to focus on conversions. Marketing automation plays an important role in this. You can use the industry-leading marketing automation tools to improve the conversion rates systematically and strategically. Here are all the ways to put marketing automation to the right use:
Do not leave the users too soon- Encourage future conversions: With targeted and personalized emails using marketing automation tools, you can expect great returns. With this, you can increase sales by up to 20%. For conversion rates, sending out emails are a quick shot-in-the-arm. And you do not want to miss out on a chance. During personalization, they are mainly two questions you should focus on:

The interest of the lead
Are they ready to buy the product?


Know when to pass off the leads to sales: There is no sense in sending off and engaging with unripened leads. With marketing automation, you can constantly watch the site behavior and understand whether the customer is fit and engaged.
To understand the 'fit' criteria, ask these questions:
Does the customer need the product?
Can they afford it?
To understand the 'engaged' criteria, ask these questions:
Does the customer have site engagement and how often?
Are they consuming any content about a specific product?


Tag the interest of your leads with behavior triggered marketing: There are many marketing automation tools available out there that help you understand user behavior and their interaction with the site. Tag the interests of the leads, and check on them accordingly. Heatmaps, Google Analytics are just to name a few automation tools. Notice what gains traction to add fuel to the marketing strategies. Consider an example, a customer likes a pair of shoes. Automation helps you instantly catch that and send notifications or emails to engage with the customer for that product.


Integrate multiple platforms: Marketing automation provides a great opportunity to integrate all the platforms and engage in omnichannel marketing including email marketing, social media marketing, etc. This approach helps in providing a seamless and streamlined experience to the users. Here are some of the automation ways to integrate multiple platforms:



Newsletters and email campaigns: It is a quintessential tool for timely communications and sending out relevant information. As fundamental as it is, it is used by about 70% of the marketers.


Integration of CRM system: It helps in the centralization of customer data, making it easy to sort and keep a track of all details for better customer relationship management.


 Integration of social media platforms: Social media has a good reach. All you need to know is how to implement it effectively. With social media marketing strategies, you can have an omnichannel presence, and influence the target audience across all platforms.


Integration of website with other landing pages: With marketing automation, you have the leverage to integrate both websites and other pages for bringing in more traffic.



Workflow creation: Automating the workflow allows you to plan and sort out the customer journey well. It helps you to weave things together and carry out a series of actions. The workflows help you in lead nurturing, content workflow management, customer relationships, and all other procedures.


Tracking the success with marketing automation tools: To enhance conversions, it is essential to know where you are excelling and where you are lacking. Align automation with tools to keep a track of what works the best for you, and constantly keep improvising and working for the same.


Metrics of marketing: Some of metrics to keep a note of for better and improved conversions include the following:

Lead conversion rate
Cost per lead
Sales conversion rate
Revenue growth
Average order value
Cost per acquisition
Customer retention rate
Lifetime value per customer
Developing your strategy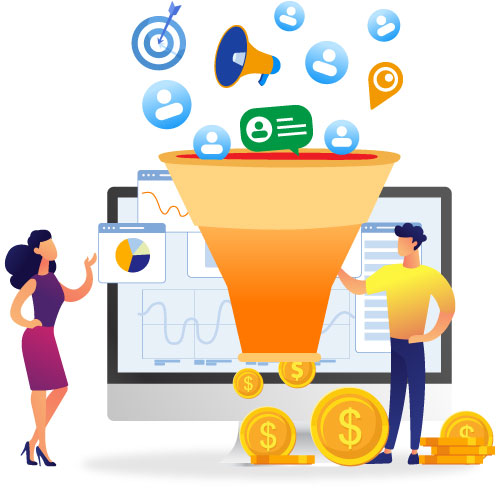 Once all is said and done, it is important to know that one size does not fit all. Every business is different and requires a different approach to deal with their audience and customers. While the majority of the above-mentioned strategies may work wonders for you. But, you have to make self-improvisations and develop your strategy. To create a comprehensive and all-encompassing strategy, here are a few questions you must ask yourself:
How am I working with my sales funnel? What actions am I taking towards the responses? Am I following up regularly? Where do I need to put in more effort and invest my time?


How can I support my customers and team with marketing automation and strategy?


Which areas do not require automation? There are areas where you need to deal directly with customers for building trust and a better brand impact. You cannot automate everything.


How do I keep track of all my strategies? Which tool is working the best for me? Which platforms suit me the most? In the end, it is all about the evaluation of better and successful results for the efforts that you put in.
Conclusion
To summarize, marketing automation sounds complex. But, it is worth every effort and implementation. Many businesses opt for marketing automation tools and that too by investing a lot. But, it all boils down to the point of obtaining effective and comprehensive conversions constantly. Try and manage the marketing gaps and solve them using the tactics. Always ask yourself the questions of what you expect and how it is working to fit the puzzle pieces in the right place. Have a clear business picture, and you are good to go by following the automation strategies for optimum conversions.