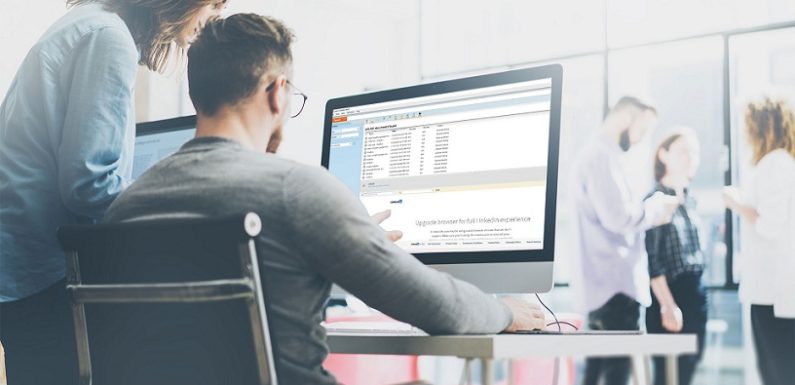 Microsoft Outlook and Mozilla Thunderbird are the most widely used email clients among the organization. Both have different features and supports different file formats to store mailbox data. Thunderbird is a free to download and use application. On the other hand, Outlook is a paid application with many advance features. It offers a more professional environment with a high level of security.
Therefore, Outlook happens to be more preferable by the users compared to Thunderbird. As the need or requirement changes, Mozilla Thunderbird users want to move to Outlook. Now, in order to import Thunderbird to Outlook, a user needs to perform file conversion as both email clients support different file format.
After knowing all these facts, the very first thought that strikes in user's mind is how to import Thunderbird email into Outlook. In order to know about the same, go through the blog and get to know the process in detail.
Why to Move from Thunderbird to Outlook?
If a user is searching for how to import Thunderbird mail to Outlook, then there must be some situations that force users to do so. All the major reasons behind this migration are discussed below:
The wide range of features provided by MS Outlook makes it for the user to handle mailbox in a synchronized and organized manner.
The level of security offered by Outlook is much better than Mozilla Thunderbird. It is because Thunderbird is an open source email clients so, it is not that trusted application to store data.
If a user has switched its organization where Outlook is used and in a previous job, he or she works on Mozilla Thunderbird. At that time also, there is a need to import Thunderbird to Outlook in order to access the old data.
How to Import Thunderbird to Outlook 2016/ 2013/ 2010 & Below Versions?
Whenever a user wants to move emails from Thunderbird to Outlook, both manual and professional solutions are available. Here, in this post, both of them are discussed below:
Manual Ways to Import Thunderbird Emails into Outlook 2016, 2013
If a user is looking for some manual or cost-free solution, then it is possible with the help of two methods mentioned below:
#1 With the Help of IMAP Account
IMAP is a standard protocol that let users perform 2-way synchronization between the email client account and online email account. The main purpose of designing IMAP account is to access it from multiple email clients. Now, to know how it can be used, follow the steps mentioned below:
First of all, you need to configure IMAP Gmail account in Mozilla Thunderbird.
After that, you have to create a new folder in the configured Gmail and move all required messages in it.
Then, configure that same Gmail account in Microsoft Outlook and access the exported emails.
Note: This method will let users import few emails from Thunderbird to Microsoft Outlook.
#2 Import Thunderbird to Outlook 2010 with Drag-and-Drop Method
This method is divided into two parts i.e., extract Thunderbird emails in EML format and import them to Outlook.
Step 1: Extract Thunderbird Emails in EML
First of all, choose the messages that you want to export from Thunderbird.
After that, create a new folder on the desktop.
Now, simply drag all required messages and drop it to the newly created folder on the desktop.
Step 2: Move EML files into Outlook
To begin the task, open Microsoft Outlook application on the machine.
After that, move to the folder in which you to import Thunderbird messages.
At last, drag all contents from the folder created in step 1 to the respective Outlook folder.
Note: It works only in Outlook 2010 and below versions. In addition, this method takes lot of time in the case of large number of EML files.
A Professional Way to Import Thunderbird to Outlook
As the manual tricks discussed above have some limitations that left the user in doubt. Therefore, to have a reliable, simple and one solution to move Thunderbird to Outlook, go for MBOX to PST Converter tool. It is a popular application to convert MBOX to PST Microsoft Outlook . It exports all emails from MBOX file to PST format in a single go also. A user can run this application on any version of Microsoft Windows OS.
Steps to Export MBOX to Outlook PST Format
Open MBOX to PST Converter software and click on the Add File button to upload Thunderbird MBOX file.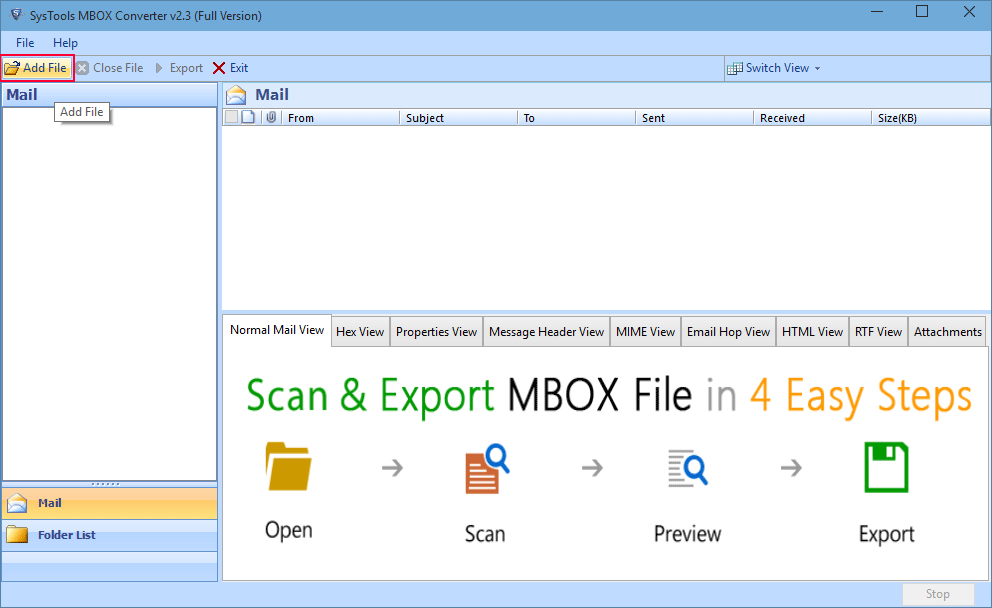 From the next screen, you can choose either Mozilla Thunderbird or MBOX Files option. Click on the Next button.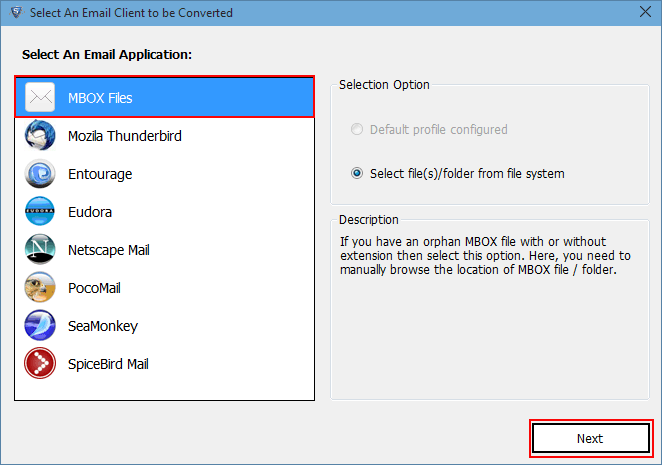 Then, click on the Browse button to add choose the MBOX file and click on the Open button.

As you click on the Process button, the software begin the scanning process. When completed, generates an instant preview of all emails.
Now, you need to click on the Export and choose PST as Export type. Then, click on the Browse button to choose the desired destination location. Click on the Export button to start the process.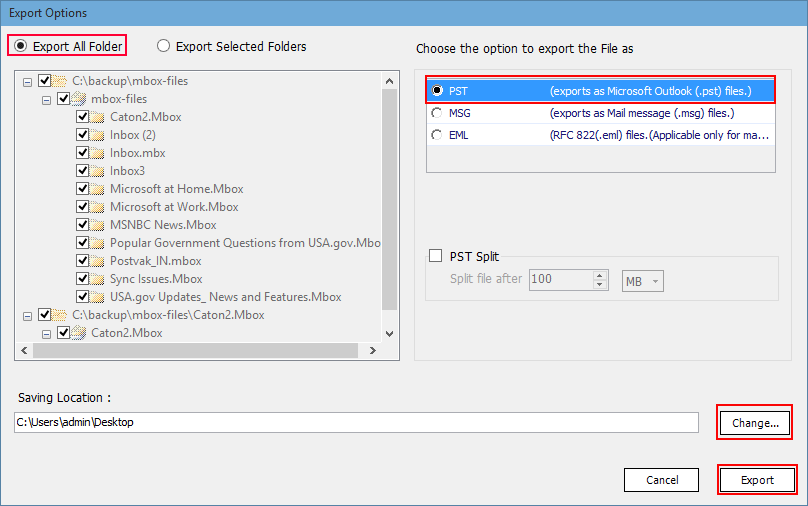 When the process completed successfully, a message will pop-up on the screen. Click on the OK button to end the task.

Now, you can go to the selected destination location and check the resultant PST file.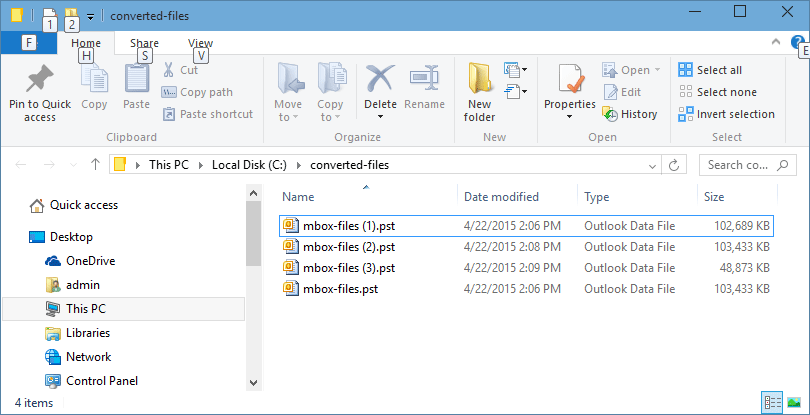 Conclusion
Switching from one email client to another without any issue like data loss is not easy. Thus, when a user wants to import Thunderbird to Outlook it needs to be done properly without compromising the integrity of data. This blog will let users know multiple ways of doing the same. A user can have a look on all of them and choose between them based on his or her preference.