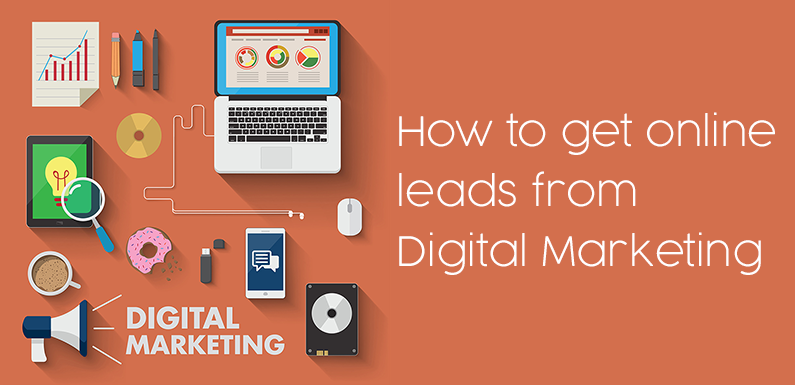 Lead generation is a practice of capturing more interests from buyers towards particular products or services for increasing sales. It is a process in which buyer's information is collected like name and email address with the help of which they can be contacted in the future by the sales department.
Today, the process of lead generation has changed a lot with the change in buying patterns. Marketers are thus finding new scopes to reach out to the buyers and so digital marketing has emerged as a reliable way for the lead generation.
Why is Lead Generation so important?
Naturally, it is important for driving sales to the company. But getting leads is not the job of a novice. It requires skills to send your message to a maximum number of people. You need to focus on more than one channel through which your message is sent to generate maximum leads. And this calls for four L's of the lead generation tactics:
Lead Capture: The process of directing your potential customers towards what they are looking for.
Lead Magnet: The process of maximizing your leads by giving appealing offers in return for their contact information.
Landing Page Conversion: It is the process of converting leads to buyers. It requires creating a page where your potential customers will land when they click on your ads or links.
Lead Scoring: It is the process of categorizing your leads. It allows you to determine the leads that require more attention and the leads that are ready to convert.
Lead Generation Tactics
Earlier lead generation tactics were different from that of today's tactics. People used to conduct shows, approach prospects with telemarketing and send merely text emails. But these tactics did not pay off over time. And so there was a demand for more advanced tactics. With this came digital marketing in the picture.
As already mentioned in the beginning, digital marketing is the new approach of generating online leads for your products. So let us learn how to implement it:
#1 Optimize your website for leads:
Creating a website is one thing and making it ready for lead generation is another thing. You may spend a large amount of money trying to improvise upon its design but it does not provide you the required leads or sales. The reason is you may be focusing on the elements other than the ones required to be focused upon. So what are the elements that demand optimization for a higher lead generation? Let's see Few of them:
Creating online forms
Optimizing Landing pages
Creating strong call-to-actions
Changing the layout and design of your website
Updating content
#2 Get a higher rank on Google to attract quality leads
So, how to get ranked on Google? It is not easy to get a higher ranking on search engines and demands a great amount of perspiration. Just to simplify the things, one needs to focus on two areas for getting higher ranking on Google:
Statistics reveal that only 5 to 10 percent of the leads get actually converted for marketers. Search Engine Optimization requires focusing on several practices like link analysis, competitors benchmarking, keyword analysis, on-page optimization, and tracking site performance. If all these things are in place than a lead generation is assured.
It is important to share content if you want to generate leads but is even more important to generate relevant, high-quality content for converting your leads into buyers. You can always give relevant content to your audience through e-books, industry case studies, free tools and trials, product demo, coupons, consultations, and guides.
#3 Email marketing for driving more leads
A study from Digital Marketing Association says that 66% of the consumers made an online purchase due to the email messages received by them. Have you ever thought that in this modern age, why email marketing is a good option for generating leads? Well, it is because countries like the US have consumers who read emails daily. And not only in the US, there are customers who read emails daily and so it remains an effective way to generate leads; 40 times more effective than Facebook and Twitter combined.
Give catch subject lines for your emails
Use god email templates
Write precise and short emails
#4 Generate Lead through Social Media
In early days social media was used only as a means of entertainment. Nowadays, It provides a very good medium for generating leads to businesses. And if we are to believe the numbers, businesses can increase their revenue by 24% using social media.
With over billions of active profiles on platforms like Facebook, businesses can reach to their target audience more conveniently and effortlessly compared to other strategies.
Create detailed business pages or profiles
Take advantage of paid social media advertising
Share unique content in form of images, videos, and infographics
#5 Webinars and Events for higher conversion
Events and webinars are conducted to have a direct communication with your customers or potential customers. A live interaction with your prospects helps you attain trust and interest towards your business from them.
Strategize the ways in which you can generate more interest from your event attendee.
Do not just focus on converting them into buyers but also try identifying their needs and wants or desire for the following events.
#6 Understand your statistics of leads
Understanding the statistics about your leads is as important as generating it. Getting your data and numbers accurate will only help you in analyzing your performance. Does it provide your insight into whether you are heading in a right direction? Are digital strategies paying off correctly? And what are the areas that need improvements?
Consider evaluating the following set of metrics for getting insights into lead generation:
Click through rate(CTR)
Conversion rate(CR)
Return on Investment(ROI)
Media Efficiency Ratio(MER)
Cost per click(CPC)
Cost per impression(CPI)
Landing page new contacts
The monitor above metrics for getting improvements in a successful lead generation.
Conclusion:
Applying a right set of lead generation tactics acts as a fuel to improve your business sales and it forms a key pillar towards your digital marketing. The above-mentioned list of digital marketing tactics can help you generate the leads as per your desire. We hope these tactics help your business too in getting quality lead generation.
Have you applied any of the digital marketing tactics mentioned above for generating more leads? If yes, please mention your reviews and thoughts about it in the comment section.