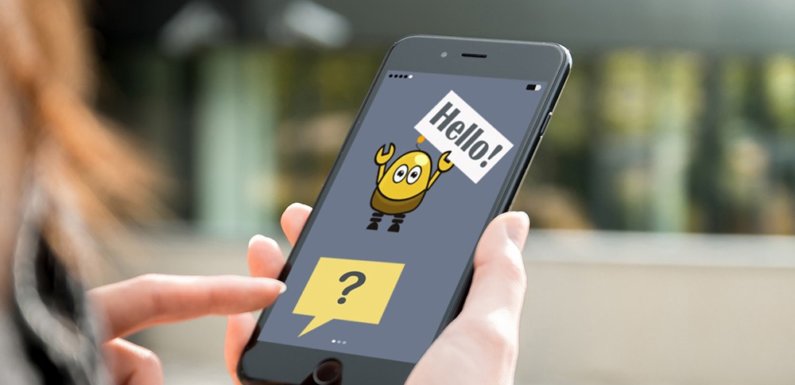 In simple terms, a chatbot is an electronic customer service representative that takes on the previously human role of communicating with a website visitor or potential customer via one of the many existing communication platforms (web app, Facebook Messenger, WhatsApp, etc).
In recent years their popularity and use has exploded with an estimated 67% of global web users interacting with chatbots during that last year for customer support. That number is only going to grow and we could see up to 85% of customer interactions being via a chatbot rather than a human representative by 2020.
Why use a chatbot?
Customer service is such a critical part of the customer experience, and using technology to improve your customer's experience will generate more value and profitability for you; over the longer term it will also save you money. Customers have far higher expectations these days in terms of customer service speed, accuracy, and efficiency; they have very little patience for queues and human error (part of what has been called the Amazon Effect). These expectations cover a myriad potential needs such as 24hr availability, instant response times, fast answers to simple questions, easy communication channels and a friendly, approachable ethos.
We all appreciate the delicate human touch, of course, but chatbots can improve all these areas in a cost-efficient, flexible, and scalable way and this is exactly how chatbots can increase your leads.
Filtering and understanding your customers
Not only can chatbots save you time and money by filtering your digital interactions to uncover those closest to the point of conversion and sending hot leads to your sales team, but a chatbot can also mine for important information about each lead before it's passed on to your sales personnel. The more information and insight you can gather about your potential customer's desires, interests, wants and needs, the more tailored your approach can be, ensuring a far higher conversion rate.
Another key benefit of using a chatbot is that the interface itself is conversational, friendly, and approachable, unlike the majority of contact forms and other lead generation or data capture forms online. The unique combination of a human-esque chat environment allied to a device/platform they are very familiar with using is extremely beneficial to conversion rates.
Scalability and volume
The way your customers use the web is changing. Mobile use is on the increase and digital interaction can occur at any time of day or night. Users expect that they will get a speedy resolution at a time of their choosing, and the human skeleton crew on the customer support night shift will not be considered an excuse for long waiting times. Let's face it, a human operative can only deal with one customer service request at a time whereas a chatbot can deal with hundreds, if not thousands of simultaneous issues, keeping far more people happy, far more often (and they don't need to sleep or ask for double-time pay for the nightshift either).
In industries where volume is critical to success and meaningful growth such as delivery or logistics businesses or fast food takeaway organizations, chatbots are a very efficient way of boosting capacity without all the associated human costs or reduction in the quality of service.
Answering those frequently asked questions
The 80/20 rule is always informing our business decisions and is no less integral to our understanding of customer service needs. IT departments, HR teams and even busy sales staff will be all too familiar that roughly 80% of inquiries are asking 20% of the same questions. This is why we have FAQ sections on our websites, but why would a potential customer waste their time sifting through your web content or waiting on a busy phone line when they only need to interact with a chatbot and get the information they need almost instantaneously?
A chatbot is a great way to boost customer engagement at far higher volumes than could be expected from a human representative while relieving pressure on your human staff to get on with their core value tasks.
Saving your human staff valuable time
Tasks that used to be the exclusive domain of a human operative can now be undertaken by chatbots designed to lighten the unnecessary workload of their human colleagues. Day to day jobs such as setting calendar appointments (often across multiple calendars and in complex user interfaces) can now be done instantly in a conversational interface with very little interference with regular workflows. Far from stealing jobs from existing staff, chatbots can, in fact, boost productivity and free people up to become more productive and happier team members; significantly benefiting the organization's profitability.
Chatbots can benefit businesses in all sorts of ways, but especially by dramatically improving their customers' communication experience whilst simultaneously increasing conversion rates and productivity, all while saving precious time and money for the business.