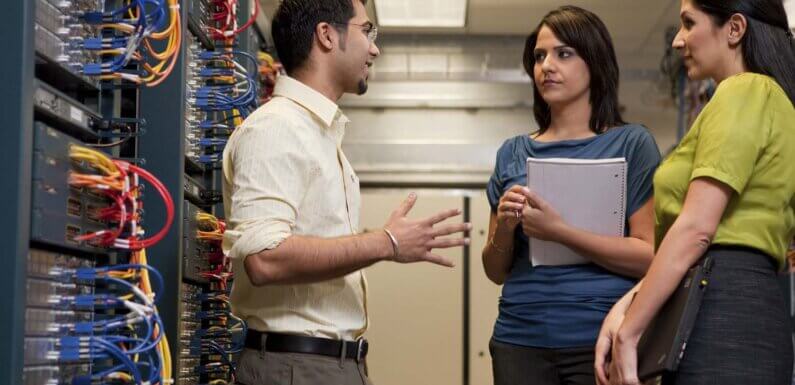 Understanding What Public Cloud Is?
Public Cloud is considered the most recognized and favorable amongst Cloud users among the three Cloud Computing models. In this Cloud Computing model, Cloud and its associated services are offered within a virtualized environment by making applications and storage easily accessible to users. Today, leading Cloud providers are offering this Cloud model on a pay-per-use or pay-per-consume basis, meaning users have to only pay for the resources they have actually used.
Comparing Public Cloud with Hybrid and Private Cloud
Private Cloud: Whenever a business decides to go for the Private Cloud, they get complete ownership of the IT infrastructure, which is usually maintained over a private network. Here, the hardware and software are meant for an individual user or a business. The Private Cloud deploys computing resources exclusively for an organization that remains flexible and customizable based on the user's need.
Hybrid Cloud: Hybrid Cloud, also referred to as "Best of the worlds," consists of on-premise infrastructure (Private Cloud) and Public Cloud. For offering higher flexibility as well as deployment options, data and applications are free to move between the Private and Public Cloud infrastructures. If a business witness high traffic volume demands, it is suggested to opt for the Public Cloud deployment model or an on-premise infrastructure to support critical business operations.
Feature-Wise Comparison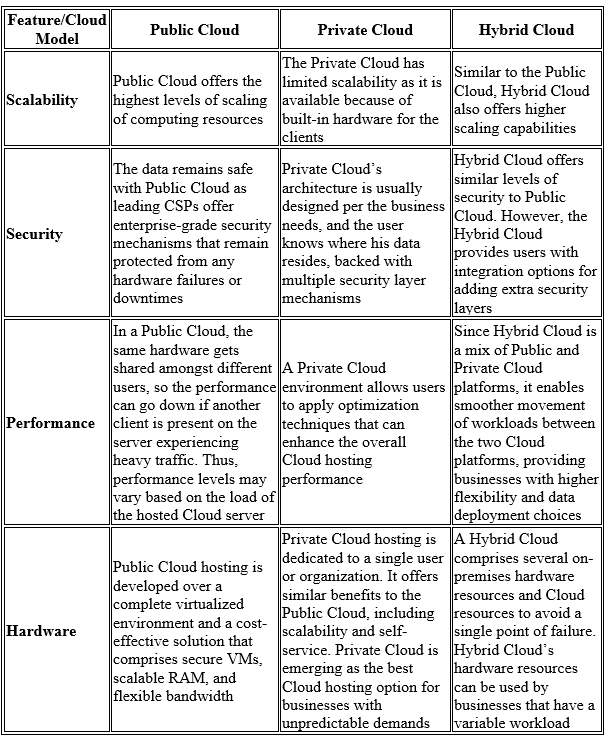 Advantages of Public Cloud
Public Cloud offers other benefits over other Cloud deployment models in the following ways-
Cost-Effective: The primary benefit of selecting Public Cloud deployment is that businesses can save a substantial amount of their cost since, with Public Cloud, there is no need to install, operate or maintain any form of IT infrastructure.
Scalability: Public Cloud offers unhindered scalability that allows users to scale up their resources, such as bandwidth, RAM, and storage, based on the business needs and scale down resources when not required.
Reliability: The infrastructure of the Public Cloud is created by the amalgamation of several servers and networks backed with redundant configurations. This means that the Cloud would run uninterruptedly, and all the infrastructure components would remain unaffected even if a component fails or faces downtime.
Flexibility: In the market, various IaaS, SaaS and PaaS providers are running on the Public Cloud deployment model, which can be leveraged as a service through any device with an active Internet connection.
Location Independence: Like other Cloud models, Public Cloud remains accessible from everywhere using an active Internet connection. It also ensures that the services remain available wherever the user is present.
Wrapping Up:
It is essential for business owners to learn about their business requirements so that there remains an optimal option for choosing the right Cloud architecture. Each Cloud deployment model has its own set of pros and cons, but it's the call of business owners to select the right model that addresses their business objectives. Public Cloud offers its own set of benefits, like a pay-per-consume or pay-per-use billing model, making it a flexible financial model. Public Cloud doesn't have several infrastructure elements, making it easy for businesses to scale their IT resources as per demand.