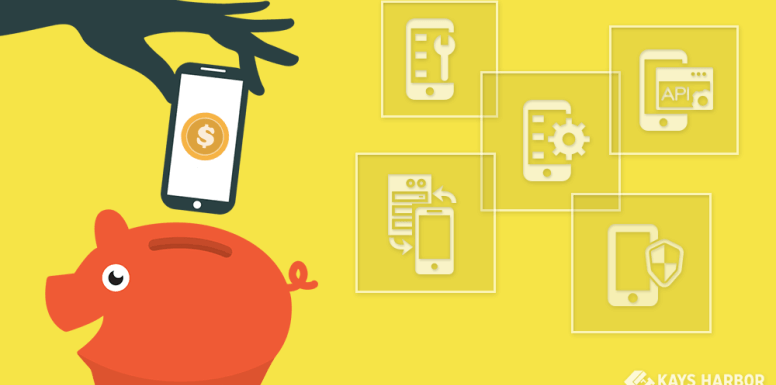 Mobile apps have always been considered as good propellers to traffic. Connecting you with your on-the-go customers is certainly one of the biggest benefits of mobile apps. Especially, with these apps becoming an integral part of the lives of common people, your business needs mobility not only to survive, but to meet the success line as well. However, you should always be well aware of the factors that influence app development cost to a significant extent.
Service cost in top app development companies in USA largely depends on project complexity. How many features will be implemented in the product? How many screens, buttons and fields it will have? Which is the amount of logic required? App functionality plays a major role in the total cost of mobile app development. So, to build a successful application it's necessary to understand the business flow, define how the future product will streamline workflow as well as the goals it must meet.
Also you should conduct competitors research and identify the very peculiarities of the application that will allow you to stand out among your rivals. This important stage enables to easily and correctly define the app features. However, not all of them are equal. Probably, the most complex and expensive are those that involve utilizing new technologies. Also such functions as payment processing require a lot of efforts to build them.
The implementation of a third-party service to enable a certain product feature can increase its price. An application often pulls data from web-based APIs or interacts with them. For instance, a PayPal payment within the app will be interacting with the PayPal APIs to verify the payment so that the user doesn't have to leave the app. In case when there is no clear documentation on technical specification, it can become rather time consuming and expensive to define the right path to implement certain information in the app. Also maintaining the backend of any APIs is a complicated and costly procedure as well as pushing new content and managing multiple app users.
The number of employees ( software engineers, project managers, testers, designers, business analysts, marketing managers etc) involved in the project also have certain impact on the cost of mobile application development. Right from their hourly rates to the number of hours the project took, every nitty-gritty of the thing has certain role to play in.
These cost drivers you should certainly take into consideration while seeking for best mobile application companies in USA. You should always opt for such venture that offers suitable hourly rates, understands your goals and requirements, and offers efficient products in return. Of course, the real challenge is to find the golden mean between price and quality. After you've made it and all requirements are processed, the project team is created.
However, to determine the number of hours prior to the development process is practically impossible as it's necessary to consider and calculate each feature, each small task, each activity, be it marketing, development, testing, or
something else. Thus, custom mobile app development asks for huge monetary investment. Nevertheless, building a successful product that solves your challenges and meets your goals leads to company business growth and revenue increase.
Taking care of data security is really important to ensure the ultimate success of the entire app development project. Security should never be treated on lighter note. So if your app is ready for the launch but you are not quite done with the required security concerns, it's time for you to look into the same on the fastest pace and take necessary actions accordingly. Every possible step should be taken to ensure the safety of user data, passwords and other information linked with the app usage.
Simultaneously, If you fail at implementing adequate security checks into your app, there always remains a chance for you to come across major security breaches, malware attacks, viral infections or system attacks, rectifying which will ultimately cost you much more than installing a careful security strategy in the very start. Therefore, always invest as wisely as you can so that all the probable breaches can be perfectly averted.
Proper implementation of functionality and features is another important criterion that will have a big impact on determining how much you have to pay to the app developer. When it comes to integrating the features, there is a wide spectra out there in the middle. The developer brings about the same based on the requirements of the client and the app. At the same time, it largely depends on what type of app you are building. In addition to the same, one also has to add social media buttons such as Facebook, Twitter and LinkedIn. Many applications also come with geo-fencing facilities and are enabled with GPS connectivity. Quite naturally, the more features the app has, the more costly it will be.
Panacea Infotech is one of the noteworthy mobile application development company in USA, offering exclusive solutions for the mid-scale as well as big scale enterprises. Providing a wide array of mobile application development services, we have been successful enough to enhance our position in the international market. Emerging technologies have always remained an area of strength for Panacea Infotech and we give our best endeavor to provide our clients with the best value for their money.