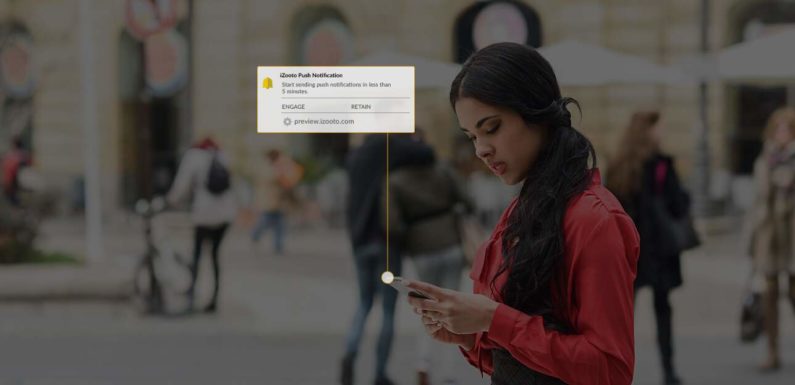 Push Notifications- Why You Should Use Them
The popularity of web push notifications weighs more against any other marketing mediums. Indeed, users never follow a straight-forward journey. They start their journey through one medium and then they take a U-turn in another direction. That's how it is becoming inevitable to be accessible to customers as to where they are- what channels and devices they are using.

There are many marketing mediums, such as e-mail, SMS, in-app messages, and the list is endless. But push notifications have maintained their positions of being the most popular mediums of engagement. It generates an average of 18 percent open rates across industries. Still, the people who don't know much about this medium carry a doubt around using them. Read this blog to know what myths they have created and how best push practices of using push notifications can help you eliminate the same.

The people who are still not aware of the push notifications have undoubtedly created some misconceptions around it. What they usually fear is how the technology works.

What are some of the myths about web push notifications :
Web push notifications are one of the highest user converting channels, which can help in increasing and enhancing your sales. On the one hand, many marketers are adopting it as the medium to grow their conversions. Still, there are a lot of misconceptions and myths built around it. Due to which people feel a fear of using them.
Push notifications are challenging to implement:
Many marketers find it challenging to implement push notifications. The reason could be they are using them for the very first time. But worry not, you can still use them as it's quite easy and intuitive to use them. Many desktop push providers can do all the required coding for you. You only have to copy the javascript code on your website, and you are good to go. You can do it for yourself or hire an IT team for it.
People don't want to receive push notifications:
A widespread fear lingering in people's minds regarding the notifications is that they appear as irrelevant messages, and people usually find them annoying and discard them abruptly. Your website visitors assume that they are irrelevant. Also, they receive these messages quite often, therefore the importance itself fades out. So, it depends on you how you create your marketing strategies so that users don't think that they are receiving them much frequently, and they are not merely for promotional purposes. Consider your visitor's opinions and wants while sending them.
They do not bring adequate results:
The conversion rates differ from one industry to the other. If visitors visit a website regularly, then, of course, that industry would have more conversion rates than the other, which is not visited that frequently. Conversion rates also depend upon the traffic of a website. The more the visitors, the higher are the chances they will subscribe to your services. As your subscriber list grows, it would be easier for you to engage them with the push notifications to turn them into conversions. 
Also, one added advantage of using web push notifications is you can send them to any of the users who are using computers, mobiles, or tablets. Like mobile push, they are not merely for mobile users.
You need to develop a mobile app to send notifications:
It is the most significant doubt and misconceptions people have around web push notifications. There are two types of notifications – Mobile push notifications and website push notifications. You need to have an application or create one to send mobile push notifications to the users.
On the other hand, users receive website push notifications via a browser. You can even send them through your domain. There is not a dire need to have an HTTPs protocol to deliver push messages to clients and prospects.
Visitors need to be present on the website:
Yet another doubt marketer follows is that the visitors have to be present on their website to be able to receive the push notifications. No, that's not true. They can still receive it, the only necessity is they must have accepted the request to receive the notifications. It is the subscriber's will to accept or block the request to receive the notifications.
Now that we have discussed the stereotypical doubts and fears around push notifications, it's time to eliminate them.

What are the surprising facts about web push notifications :
Before, you start using push notifications for your marketing strategies, let's see some of the critical facts you should consider while using them:
1. It is a higher conversion tool:
Push notifications are a simple marketing tool with effective results for both marketers and visitors. According to the statistics, more than 70 percent of people receive push messages from their favorite brands, and marketers get the advantage of around 30 percent of click rates on them. The numbers itself show that notifications can simplify your business motives.
 2.  No privacy issues:
A visitor simply has to click on the "allow" button to receive the notifications. There are no long or lengthy rules needed to follow on their parts. Also, Web push protocol uses google API to assure and protect the user's privacy. The notifications cannot be shared with third parties. So, people can trust blindly.
3. Reduce cart-abandonment:
Cart abandonment is an inevitable situation marketers face. But if you look at it from a positive note, it becomes an opportunity to engage users with a medium that can give you surprising results. You can catch the user's attention by sending them catchy offers via push notifications. They tend to provide you with more effective results and higher returns than an e-mail.

4. Interact better with the users:
Your content plays a vital role in user engagement. That's how you can interact with the users. You cannot merely use push notifications as a tool to convey useful information to the users, but you can interact with them at the same time. You can put links to the content to let users have more detailed information. Also, a timely and accurate push matters a lot for engaging users.

5. Create urgency and engage users at a rapid rate:
You can get quicker results while engaging users via push than any other medium. You can send the notifications in real-time and convince users to buy the product through flash sales offers. Create content to nudge users to click on it immediately.

Bring the attention of the users to your sales page and allow them to peep into the great offers you have for them. You can experiment more with your push notification ideas to capture the user's attention.
I guess till now, and your doubts must be crystal clear.

What are the best practices for using web push notification:
Now that you are clear of the beliefs you have created around push notifications, let's begin the use of push notifications to get the best possible benefits out of it :
It is the beginning of a new decade, therefore beginning the new year does not match with practicing the old ways, whether you talk about the general practices or effectively using push notifications. Your demeanor towards the users must be new and innovative :
1. Send personalized messages:
You can engage your users in two ways through push notifications. Either send them push notifications in bulk or send them personalized messages with relevance. You can tailor your messages as per the customer's requirements when you have sufficient data about them. If you know the user's purchase history and his actions, it becomes simple for you to engage users. You can create user tags based on their attributes, and then you can create segments to build your audience and engage them further.
2. Use images and icons:
A plain and jane push notification can turn people right away. Images create a psychological pull to the user's mind and attract them more quickly. You can include images of your latest items. Also, add icons and CTAs to them. The main agenda is to deliver your messages across the users.
Send them the latest highlights or amaze them with countdown and reminders. Push notifications with images tend to have more open rates and click-through rates as compared to plain-text images.
3. Change the ways to prompt the users:
In case the users decline the prompt to receive the push notifications, they have to enable them through their browser settings to be able to receive them. It becomes challenging to prompt them in such a scenario. You can prompt the users while telling them why they should receive the push notifications. If users find them relevant, then they will automatically be prompted.
4. Use emojis to evoke users' emotions:
Emojis not only help in provoking users to buy your product but increase the click rates to a greater extent. Use the emojis that are in direct alignment with your messages.
5. AB Test push notifications:
A great way to know whether your notification works or not is to test them. Create a variant of the original one and send them to divided traffic to know which works best for you. This way, you would know the people's reactions also and improve your push campaigns.
CONCLUSION
Fears and doubts are merely the illusions you carry around when you are already aware of the non-ending benefits of web push notifications. After learning about how you can eliminate these fears, you can simply come out of the illusions and start using the notifications for your business growth.