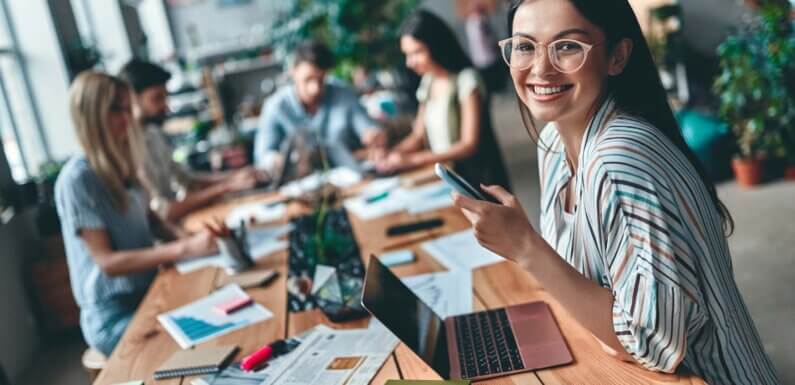 Targeting mobile devices with geo-targeting
In 2018, SMM should fully target mobile devices. Why? Think about how often consumers interact with social media channels through desktop computers. The answer is: less and less, and this is confirmed by the fact that already today Facebook receives 84% of advertising revenue via mobile devices.
Users of mobile devices on average run 75 separate user sessions every day, which equals about three hours of screen time. For digital marketers, this means 75 opportunities to directly interact with the consumer on a daily basis.
It is here that geo-targeting comes in – the process of distributing or promoting content to a site user based on its geographic location. This is especially beneficial for companies that have a showcase. For example, a cafe can show "local" visitors a special advertising offer within a radius of several km, so that they come to you, rather than buying coffee from competitors.
This is called "geo-conquest". Studies have also shown that when conducting geo-targeting campaigns, costs are usually lower, and conversion rates are higher, which ensures that marketers have the most effective budget.
Video
The video will not go anywhere next year and eventually will take over the search. Look at the growth in Netflix, Amazon and YouTube – the latter is already considered the second largest search engine in the world. Statistics showed that by 2019, 80% of all Internet traffic will be due to video.
If you have not yet used the video to promote your business, then you should fix the situation. Creating an account on YouTube and regularly downloading content does not require much effort, besides, it's completely free. Remember that everyone advertises something in the business, so use the video to create innovative, attractive content that will target your customers.
It should be remembered that companies often try to please everyone: they use too many accounts on social networks and can not cope with a clear and effective strategy for each of them. Use and master only the most relevant channels for your brand.
Chatbots
The popularity of chatbots will only increase in 2018. If you are new to this business, chatbots are essentially a live chat window controlled by artificial intelligence. Bots are extremely smart and learn from the experience of users to build answers and interact directly with the client.
Due to cost savings and increased online interaction, the use of chatbots is likely to increase over the next year sharply, and according to the reports, it will provide 85% of customer interaction services by 2020. Statistics also show that chatbots will help save more than $ 8 billion by 2020.
SEO (Search Engine Optimization)
Mobile world
Currently, more than 60% of users search the Internet using mobile devices: starting from the use of social media, and ending with online shopping and banking services. Users are trusting their mobile devices more and more, but the indicator of "love" for desktop PCs is rapidly declining.
As a result, Google is relentlessly approaching the introduction of its Mobile-First Index, which will be rated higher by mobile-responsive sites. The main task is to focus on creating a website that will be quickly and efficiently displayed on various mobile devices.
If you do not have one, correct this oversight as soon as possible.Besides meeting the requirements of Google's index, you will also be able to increase the involvement of that 60 % of customers who use their mobile devices to search the web.
Machine learning
Machine learning will continue to gain momentum in 2018 thanks to the latest update to Google's Rank Brain algorithm. This tool is responsible for learning by searching to increase relevance and provide users with the most relevant content for their search queries.
Rank Brain takes into account how users search and from which devices they do it. As a result, a good SEO will rely on the creation of high-quality content, placed on reliable sites with a high DA (Domain Authority). Another advantage of Rank Brain is that it quickly eliminates the "black" SEO optimization and helps users.
PPC
Many marketers wondered what would happen to PPC? In particular, given that Google increases costs, compared to advertising on social networks. In short, paid search continues to play an important role in digital marketing.
For mobile devices
The "mobile first" strategy is important both for PPC and for SEO and social media. Make sure that all your PPC campaigns are effectively targeted at mobile users, which will maximize results and increase ROI.
Shopping on Google
Purchases through Google really start to dominate and this trend will continue to strengthen its position in 2018. The main advantage of Google Shopping is that even small sellers can compete with large retailers for identical searches and related products.
Cost of ads on Google
The cost of advertising in Google continues to increase this year – is it good? Google reported that in 2018 it will provide more tools that will help digital marketers target more accurate keywords with improved conversion tracking. Any start-up business should use Google AdWords, as this tool quickly demonstrates the level of search and demand for the product, as well as how the audience interacts with it.
2018 promises to be an impressive year for digital marketing, as technology continues to evolve, and the focus on mobile devices, video and artificial intelligence technologies will be the key to success.
Using the opportunities of content marketing and SMM can significantly increase your audience and customer base. However, a person without experience and understanding of how this works can come hard. It is very important that the newcomer understands the basics of marketing social networks.
Compliance with 10 laws, discussed below, will help not only to understand the essence but also to build a reliable foundation that will be useful to your customers, brand and final profit.
#1 The law of attention.
Success in content marketing and SMM requires that you listen more than you say. Read the online content of your target audience and participate in discussions to find out what is important to them. Only then you can create content and engage users in communication on interesting topics.
#2 The law of focus.
It is better to specialize in something than to be a master of all trades. A clearly defined strategy of content marketing and marketing of social media focused on creating a strong brand, has a better chance of success than a more general tactic, where a social digital marketing agency becomes a necessity for an online business.
#3 The law of quality.
Quality is more important than quantity. It is better to collect 1,000 clients who read, share and discuss your content than 10,000 subscribers who disappear after the first "communication".
#4 The law of patience.
Success in social networks and content marketing does not come in one day. Of course, you could hear stories or be an eyewitness of instant luck, but in most cases, you have to go along and thorny path before you get results.
#5 The law of association.
Publishing content of high quality and working on creating an audience of active subscribers increases the chances that the readers themselves will share your publications with their audience on Twitter, Facebook, LinkedIn, other channels in social networks or their own blogs. Publications and discussions of content open up new opportunities for search engines that work on keywords. These "starting points" can grow to hundreds, thousands or even more potential ways by which people can find you on the Web.
#6 The law of influence.
Spend time looking for opinion leaders on online sites in the industry you need; those who have already gathered their active readership and are likely to be interested in your product, service or business. Establish contact with these people and build relationships with them.
If they find you an authoritative source of useful information, they can share your content with their subscribers, which will help to present your business to a huge new audience.
#7 The law of value.
If a person spends all his time in a social network, openly promoting his product or service, people will lose interest in him. Add values to the conversation. Move the emphasis on creating excellent content and developing relationships with opinion leaders.
#8 The Recognition Act.
If a person turned to you personally, you should not ignore him. Similar rules apply on the Web. Building relationships are one of the most important components of success in social media, so always be grateful to every user who has expressed his interest to you.
#9 The law on Accessibility.
Do not disappear from communication after the published post is not an indefinite time. Be available to your audience. This implies not only regular updates of information on pages in social networks but also participation in conversations.
Subscribers are characterized by impermanence and, if you disappear for a month or more, they will find someone else for reading and communication.
#10 The law of reciprocity.
If others are ready to share your content and discuss it on the Web, then you should do the same. Part of the time that is allocated to work in social media should be channelled to outreach and discussion of interesting content from other users.