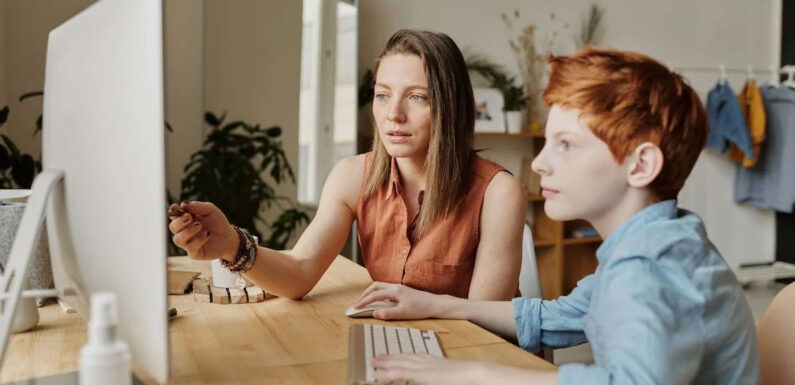 Technology is an integral part of our lives, hence, we should focus on teaching our kids to use it properly. Of course, there should be some limitations. We as parents are responsible to teach our kids about all the benefits tech brings us. For children to be able to grasp all the ways they can use tech in a meaningful way, they need to see it practically.
So, you as their parent should show them how they can use technology besides watching cartoons on youtube and playing games. At the same time, you need to teach them about online safety as well.
When it comes to young minds, such as children, they learn how to become responsible digital citizens. Moreover, tech is great for connecting with distant relatives. When kids use tech, they develop their mental muscles. Also, they can easily access e-books and other school resources. Tech provides kids with a myriad of opportunities to learn new things.
Additionally, tech can also help kids at school in a number of ways. Tech promotes school readiness and kids learn to use tech in clever ways. Using technology for different purposes exposes kids to different platforms. Besides that, it also helps kids develop their interests and talents as well as promotes language learning.
1. Use tech to become a responsible digital citizen
Since their birth, we teach our children in different ways how to be a citizen. A citizen is a member of a certain community, and as such, they need to respect various rules and conduct in appropriate ways. The concept of a digital citizen has developed recently, implying the same thing that stands for a regular citizen, just adapted to the digital surroundings.
So, we could say that a digital citizen should respect, educate and protect while being online. We start to teach our kids these things from an early age when they start attending a child care centre.
2. Use tech to connect with distant relatives
The internet and tech have also given us a great opportunity to connect with our distant relatives. Before the emergence of the internet and the advancement of tech, it was fairly challenging and expensive to stay in touch with relatives living abroad, especially on a different continent. Today, however, the situation is different. Due to widespread globalisation, people move across the world and live in distinct countries from their families. Sometimes because of work, even immediate families part temporarily. Social networking apps and instant messaging apps have made our lives easier by giving us a chance to be able to communicate with our loved ones and even see them on camera. And kids learn this from a very young age.
3. Use tech to develop mental muscles
Using technology is also a powerful tool for developing mental muscles. Certain apps and games can even facilitate the kids' ability to maintain focus and certain motor skills – according to some research. There are even apps that promote meditation and mindfulness. Plenty of apps can actually boost children's brain power. They can even help with anxiety and depression kids tend to feel. However, kids can't know these things on their own, you as the parents, are responsible for doing research and finding such apps. So, you can help your children develop their mental muscles with various apps.
4. Use tech to access e-books and other school resources
The internet and technology have also made a great impact on education, changing the way kids learn these days. What you can teach your children is to access different e-books and online materials that can be really useful. You should show your kids that besides cartoons and games, there are also other handy things they can use tech for. When you start preparing your children for this on time, the whole adaption to learning at school becomes much easier.
5. Use tech to learn new things
The internet provides us with limitless things we can learn. By using tech and the internet, kids develop their fine motor skills, sight and focus, they expand their horizons, use logic and generally develop their minds. They can even learn certain skills if they have a tendency or strong motivation. For example, they can learn to draw on the computer, play a musical instrument or solve puzzles.
How tech helps kids in school
1. It promotes school readiness
Tech is also a powerful tool that helps kids in school in a number of ways. One of the most important benefits it brings is the fact that using tech promotes school readiness. It teaches your kids skills they need to start their schooling successfully. There is a myriad of developmentally appropriate games online that can boost your children's school readiness.
2. Kids learn to use tech in clever ways
It is widely known that kids these days use tech and the internet way too much. However, banning tech and the internet altogether is not the solution – instead, you should find clever ways to use it. So, instead of watching some pointless videos on YouTube, show your kids that there are other useful videos they can watch.
3. It exposes kids to different platforms
Besides the well-known and popular websites and platforms, there are others kids can benefit from. As technology still advances and will continue to do so in the future, you should work on exposing your kids to different platforms. The goal is for them to be proficient in any given platform.
4. It helps kids develop their interests and talents
Being a vast collection of all kinds of amusing, fun, educational and informational content, the internet provides children with a plethora o possibilities to develop their interests and talents. You as a parent should find out about these and present them to your kids. They probably won't like all of them, but they will show great talent or interest in some of them.
5. It helps with language learning
Online interactive games children play can develop their mother tongue language skills as well as second language skills. They can acquire new vocabulary items as well as correct pronunciation. There are also specific language apps you can use if this is something that interests your children.
We shouldn't fear the internet and technology when it comes to bringing our children up. Instead, we should embrace it and learn proper ways to use it and teach our kids to do the same as well.