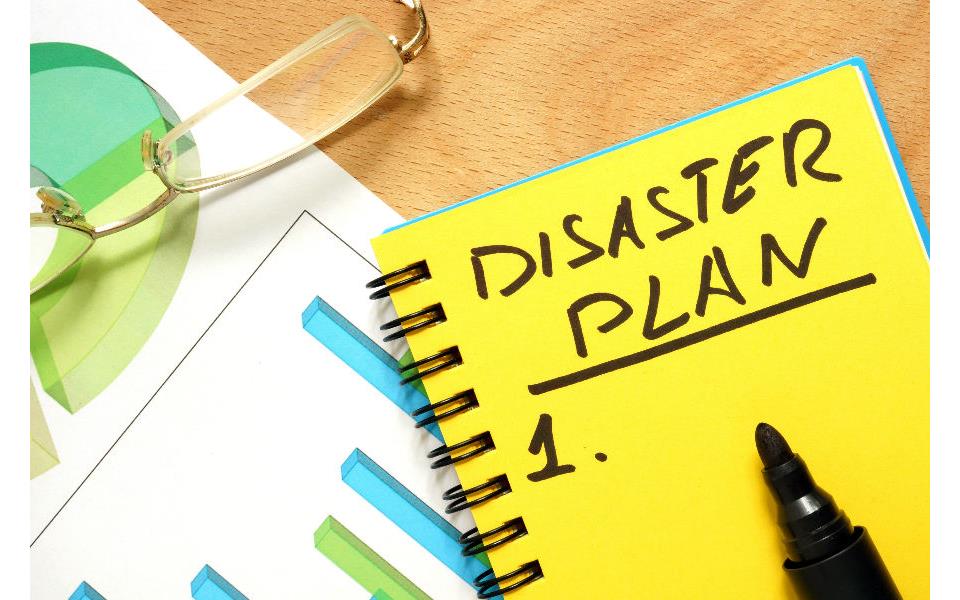 Without a disaster recovery plan it takes an ample amount of resources to bring a business back online after a massive natural disaster such as Sandy, Harvey, Irma or Maria. The disaster recovery challenge isn't just limited to large scale disasters; it can also be equally difficult after a localized incident such as a fire or flood. When it comes to disaster-proofing your enterprise, you need to keep the old health proverb in mind: Precaution is better than cure.
Introducing a DR (disaster recovery) plan to your professional enterprise is a time consuming task; however, the sooner you initiate it the more prepared your enterprise will be if disaster strikes. Here are five tips to help you curate your enterprise disaster recovery plan for small businesses.
5 tips to devise a Disaster Recovery Plan

Communication Plan
It is necessary to plan how an enterprise will communicate with stakeholders, vendors and customers during and after a disaster. This requires a policy that sets a timespan which checks that all contact information of employees are up to data and appropriately inclusive of home, cell phones and email addresses. It is necessary to annually check this file to ensure file/record integrity. It is also wise to consider archiving this data into archival data storage such as Amazon Glacier.
It is also good practice to maintain a list of emergency contacts that the enterprise may require in times of a disaster. It's better to figure out the gas service provider of your building or who your local insurance representative is before the issue, not after.
It is also good practice to establish a communication process that keeps employees, vendors and customers informed regarding business operations during a disaster. This can be done in multiple ways. For instance, using social media means such as Facebook and Twitter or emailing the details or by displaying the information on the company's website.
Backup & Access Plan Determination
This is the essence of the entire DR plan. You need to determine your methods of backing up your data and the ways the backup will be accessed. As disasters are capable of damaging on-premise infrastructure, it is strongly advised to acquire a cloud backup solution. The access management of your backup depends on the cloud service provider. For instance, StoneFly provides a single web interface for storage access, analysis and management. And Amazon provides a number of tools to analyze the rate of access of objects.
Experts advise small businesses to consider cloud backup for their day to day operations before disaster strikes. The utilization of public clouds can certainly simplify things while making them reliable while private clouds provide more security.
Another benefit of private clouds is that data can be replicated on them and you can choose to failover to the replicated system, if disaster strikes. The best policy for your enterprise is determined by your data requirements.
Financial & Insurance Plan Creation
According to the Federal Emergency Management Agency, more than 40 percent enterprises do not reopen after a disaster. One of the reasons is that many small enterprises do not have an appropriate insurance plan or a system to keep cash flowing in case of emergencies.
Insurance policy makers suggest having a business interruption policy in addition to simple general liability coverage. An enterprise that doesn't have such a policy will have to bear expenses in order to restart a business in the event of a business interrupting event such as a disaster. If an enterprise does have it, they can replace lost revenue while working to get the doors reopened.
Another suggestion by the experts is that you need to have a financial plan that comprises of reserve funds. These reserve funds can bear the expenses while the insurance company takes its time processing your claim.
Addressing Employee Needs
If you have a small business utilizing limited human resources, it is necessary to prepare them in case of a disaster. Your disaster plans need to incorporate a way to ensure that your employees have ample time to get to safety with their families. If you have branch offices or remote work areas, it is also advised to train them to cover for the workload of the affected area. This way, the business doesn't have to suffer a hundred percent downtime during the disaster.
If your business comprises of employees who have to travel for business or work remotely, you need to have a system of check-in. This way you can keep a watchful eye on your employees in case of a localized incident or disaster and make sure whether or not the employee is safe or needs help.
Disaster Recovery Plan Testing
It's said that a DR plan means nothing more than the piece of paper it's written on, if it's not tested. That's the significance of testing a DR plan. Backup and Disaster recovery solution providers emphasize on practicing mock disaster scenarios again and again so that there are no surprises when a real event occurs.
Using these mock scenarios, employees are trained to know their roles in case of a disaster. For instance, who will be posting updates? What happens if there are no updates in a specific period? How many times are updates posted?
Conclusion
It is necessary for small enterprises to have a disaster recovery solution. Initiating a DR plan is a time consuming task but it is better to have a prior solution to a problem, then thinking about it when facing the problem. Experts advise that you should consider a number of elements when devising a DR plan: Communication plan, Financial and Insurance plan, Backup and Access plan, addressing employee needs and a DR testing plan.