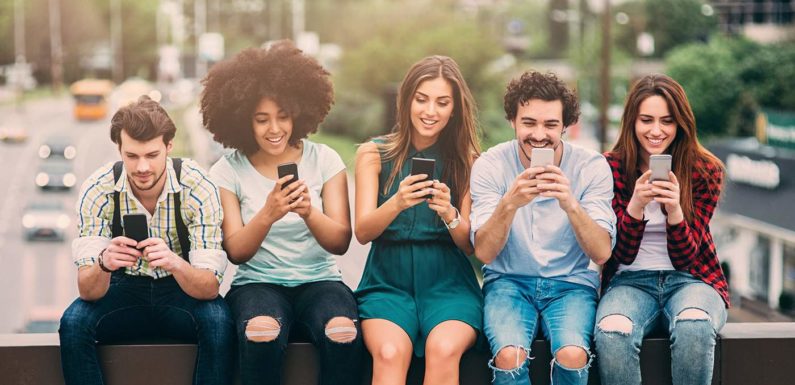 Social media is one of the exceptional things that has evolved. It has brought everything at our fingertips. A single place where you will get answers to your questions.
Facebook, Instagram, Twitter, LinkedIn, and other social media platforms have taken the center stage and has now become the Go-To place for brand's marketing and advertising strategies. On a daily basis, these platforms have billions of users logging in. The engagement level and the reach of these social media networks is massive and that is why It has become an imperative space for getting your brand in front.
Do you want to expertly manage your social media? No matter whether you are an entrepreneur, influencer, marketer, affiliate, it's all about managing the social media the "Right Way".
One of the hottest trends right now in the digital space, which allows you to be omnipresent is – fully automated social media management.  And this can be done with the help of SMM tools available in the market. But what are the major reasons, these tools are essential for you? Let's dive in to know –
1. Too Many Channels
Today we have tons of different social media channels available used by a large number of people every single day. Posting on them becomes a tough task and a daunting one too. When you are steadily posting on Facebook, Instagram, Twitter, YouTube multiple times every single day, you are not able to perform and concentrate on your other tasks.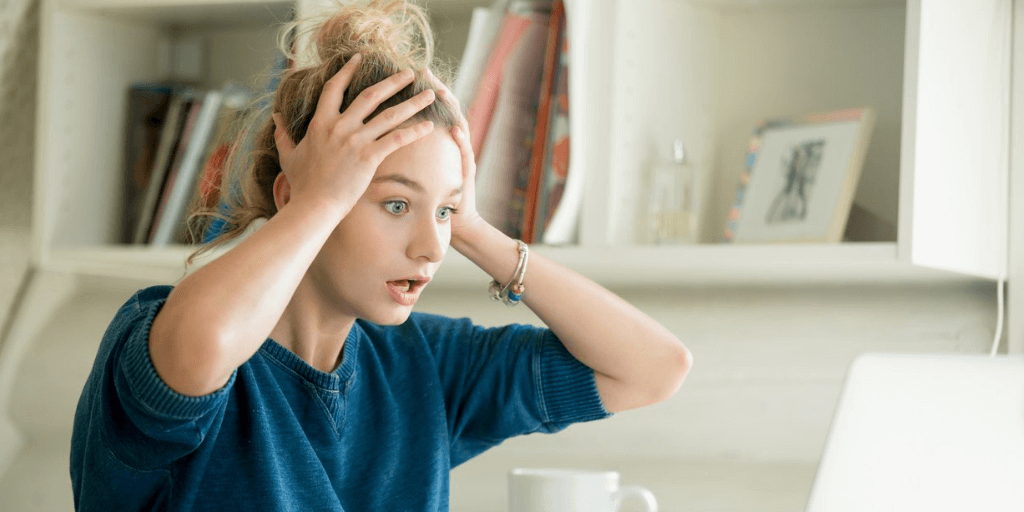 This is where the social media management tool falls into place. It will streamline your posting process by eliminating the need to switch between the platforms. You can plan each and everything in one place, get the content straight away and then post all of them at once, or schedule as per your requirements.
2. Social Media Listening
On the one hand, where it is important to understand your customer's well, it is also very crucial to know your competitors. Track them, see what they are doing, cram their strategies, learn the mistakes, to whom they are speaking and how they are dealing with them.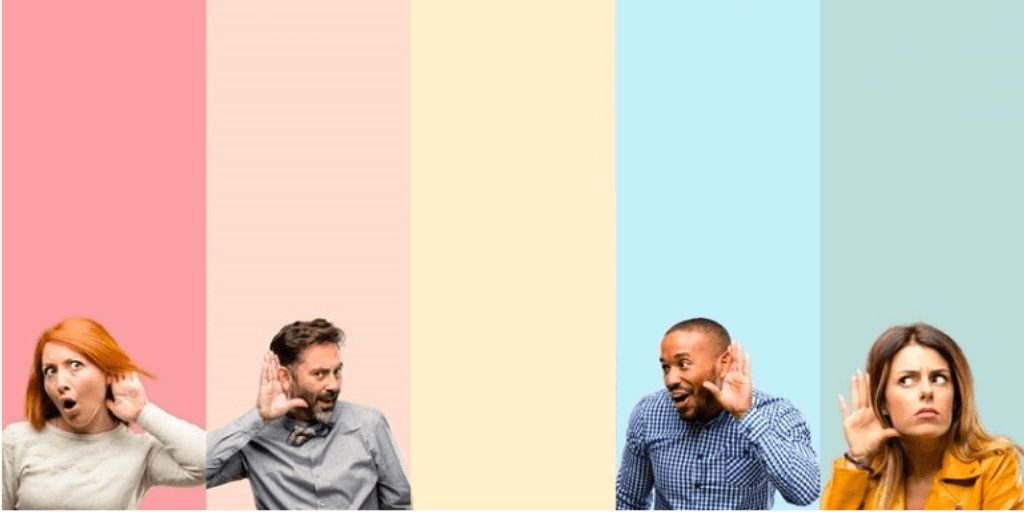 With social media management tools, you can effortlessly get the insights of your competitors every single move, how they are reacting to the latest developments and trends in your digital space. The confidential information provided by these tools will help you to build a solid strategy than your competitors and ensure that your social media campaigns are one of its kinds.
3.  Solve Content Chaos
Social media management tools help to create content and analyze your social media efforts for major social media channels like Facebook, Twitter, Instagram, YouTube. These tools help you solve chaos and therefore saves a lot of time. This time can be used on other aspects of your advertising campaigns.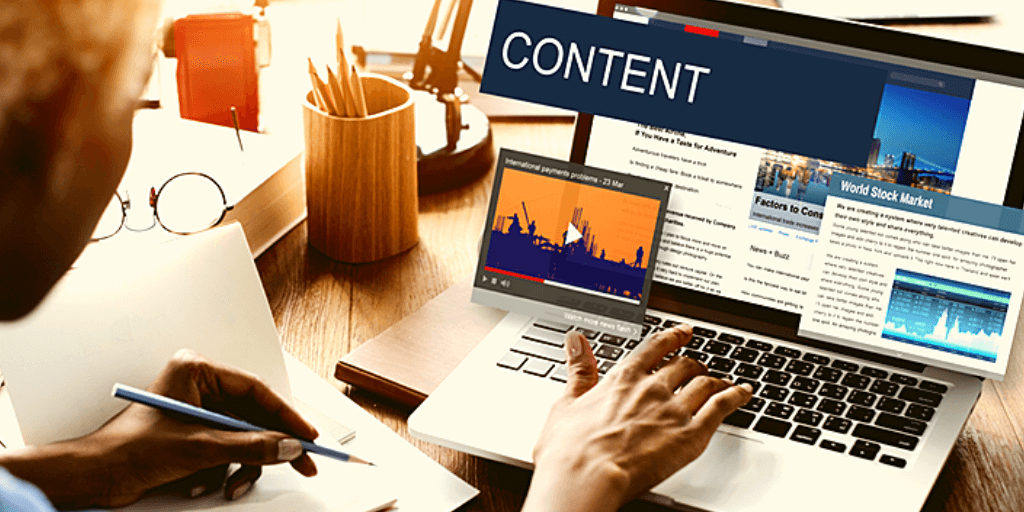 The social media management tools also help to schedule posts as per your needs. This maintains consistency and balance on all the social media platforms.
4. The ROI Factor
In a world obsessed with metrics, ROI of every single activity is expected to be fixed. The ability to analyze and measure results is necessary. It is a big headache to collect, maintain, and analyze the details of the multi-platform campaigns at one single place.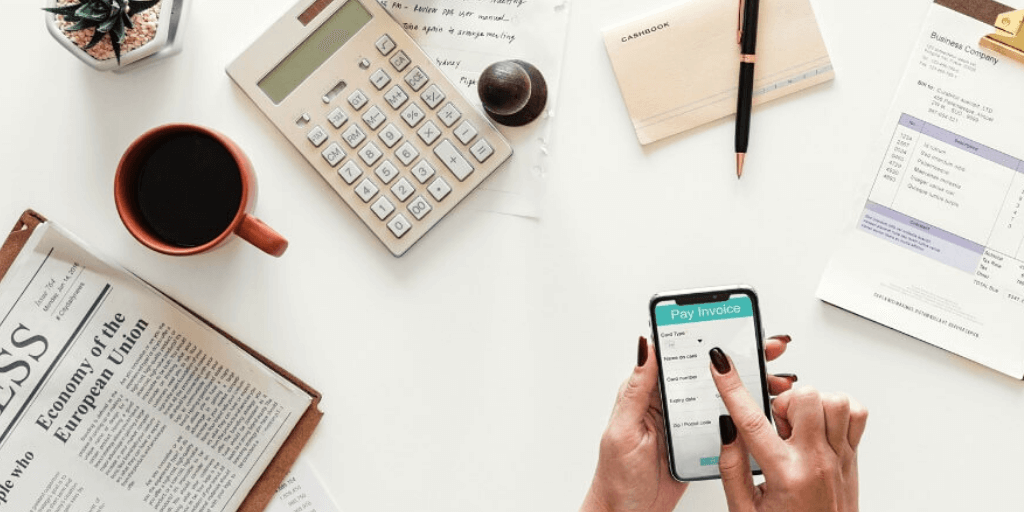 For marketers, it is extremely tough to gauge the ROI, but with the help of these tools, this process gets manageable, smoother, and faster. These tools access useful and relevant information straightaway. This approach helps to avoid the common mistakes that can slant your figures when importing and exporting number data sets. Also, it streamlines the analysis procedure.
5.  Hawk-Eye On Where You Are Heading
Another primary advantage given by social media management tools is the power to monitor and control your campaigns. You can assess your overall performance and can make adjustments and further leverage click-throughs/engagement/sign-ups etc.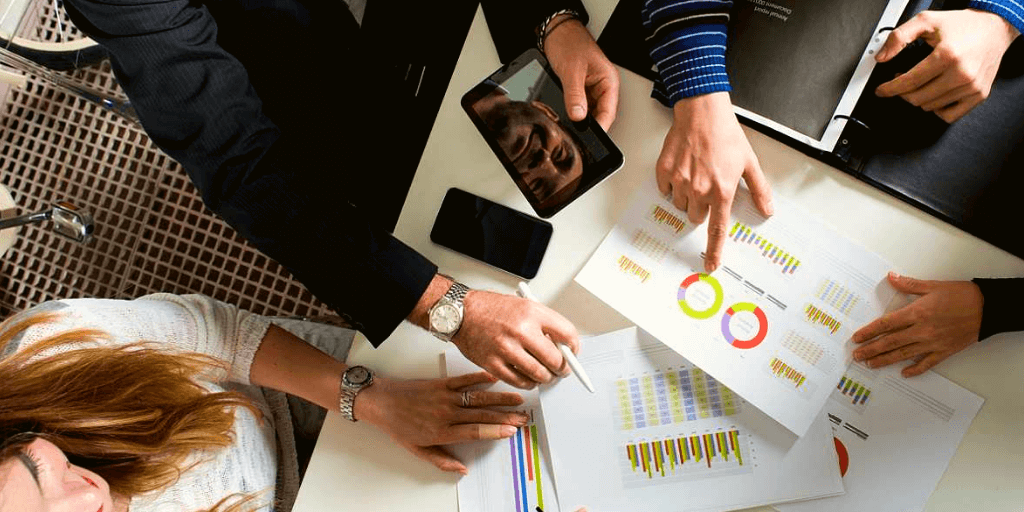 Although we have a ton of great tools present in the market, In this blog post, I have jotted the 03 best social media management tools loved by all –
Tool #1. HootSuite
HootSuite is one of the most popular and established social media intelligence and monitoring tools that companies use to streamline interaction and optimize their activities on multiple social networks. You can schedule posts, collaborate with team members, receive in-depth features.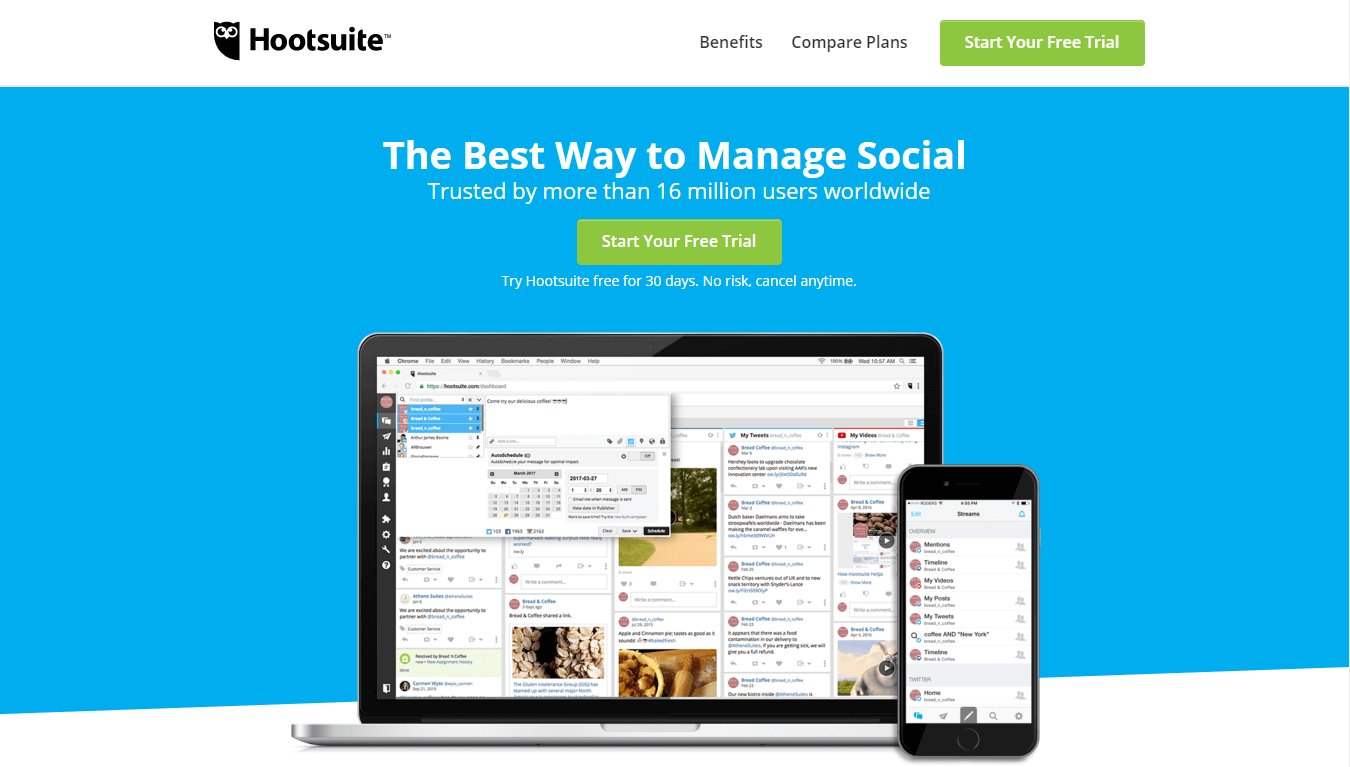 This tool allows to post, as well as schedule on over 35 social media platforms, including Facebook, Instagram, Twitter, LinkedIn, Foursquare, Flickr, Vimeo, SlideShare, etc. Also, it will provide detailed reports and insights on your current activities and posts, thereby helping to make smarter business decisions. You have access to real-time analytics, as well. Plus to safeguard your brand reputation, and outsmart your competitors, you can monitor your rivals each, and every single activity.
You can smartly handle all the social media content challenges by creating hashtags, narrowing keyword search, location, and organizing content that may be of interest to you.
What Else You Need To Know
Hootsuite Podium is one SME tool provided by Hootsuite to everyone. Also, several advanced paid courses and a large number of zero cost resources are made available under their tiered program. This collection of certification programs and resources provide action-oriented, straightforward ways to turn into a social media star and get the most out of Hootsuite dashboard.
Tool #2. Socinator
Socinator is considered to be as the Social dominator providing hassle-free automation to all the top social networks – Facebook, YouTube, Twitter, Quora, Instagram, LinkedIn, Pinterest, Google+, Reddit, Tumblr.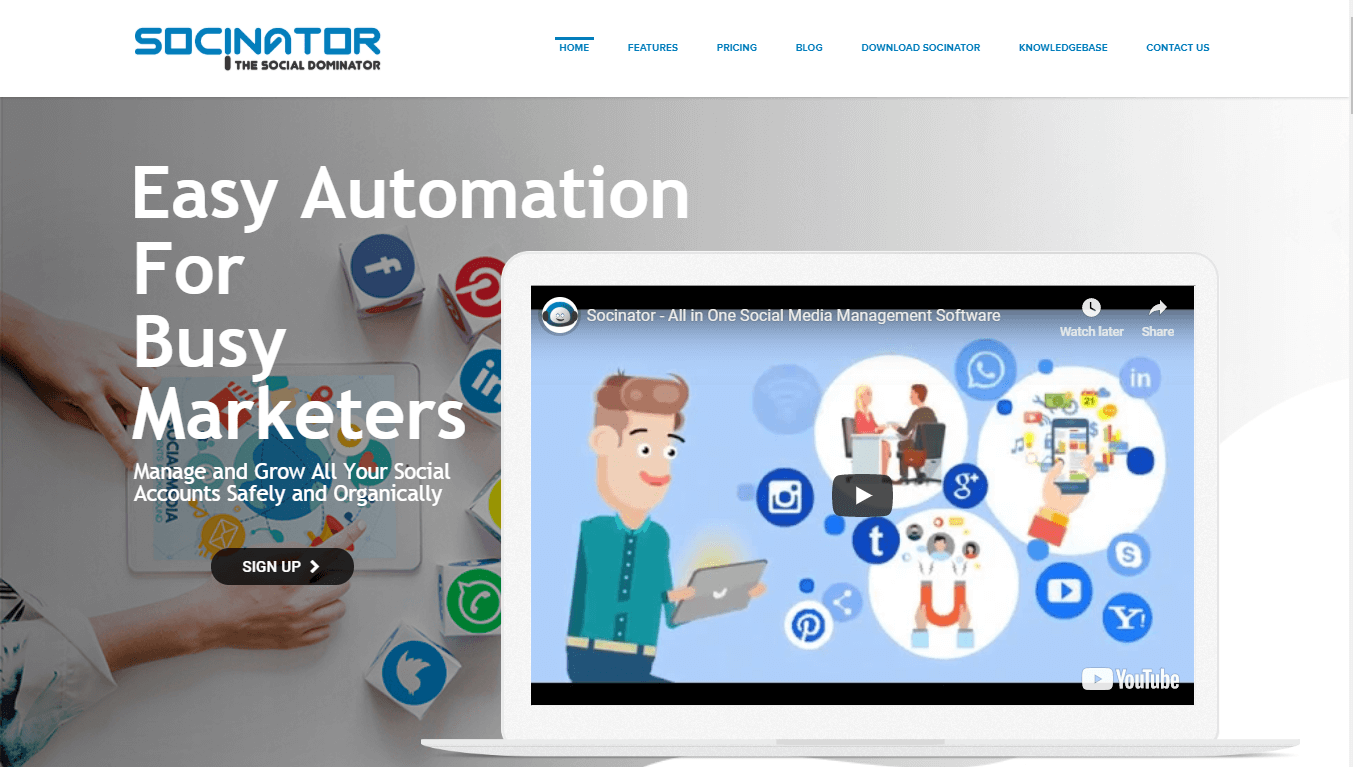 This is one of the most popular SMM tools which gives you more control over your numerous social accounts and guides you to publish regular content over social channels. It helps you drive a higher level of engagement, reply in real time, schedule unlimited posts, automate every activity—From One Single Dashboard.
Socinator is a potential gold mine when it comes to engaging audience. It helps to make your brand more relatable. No doubt it's a huge time saver and a power-packed social media management app with a lot of premium features attached.
What Else You Need To Know
With Socinator you can Auto publish posts directly from RSS, can Auto shorten URLs and can Auto Submit Captcha verification. For each network, you also have an embedded browser.
Tool #3. Sprout Social
Sprout Social is one of the best SMM tools that not only help schedule posts on all your social media channels but also you can perform the keyword searches and get complete reports within one single place. The app supports main platforms, including – Facebook, YouTube, Twitter, Instagram, and LinkedIn. This tool also comes as a mobile app for both iOS and Android.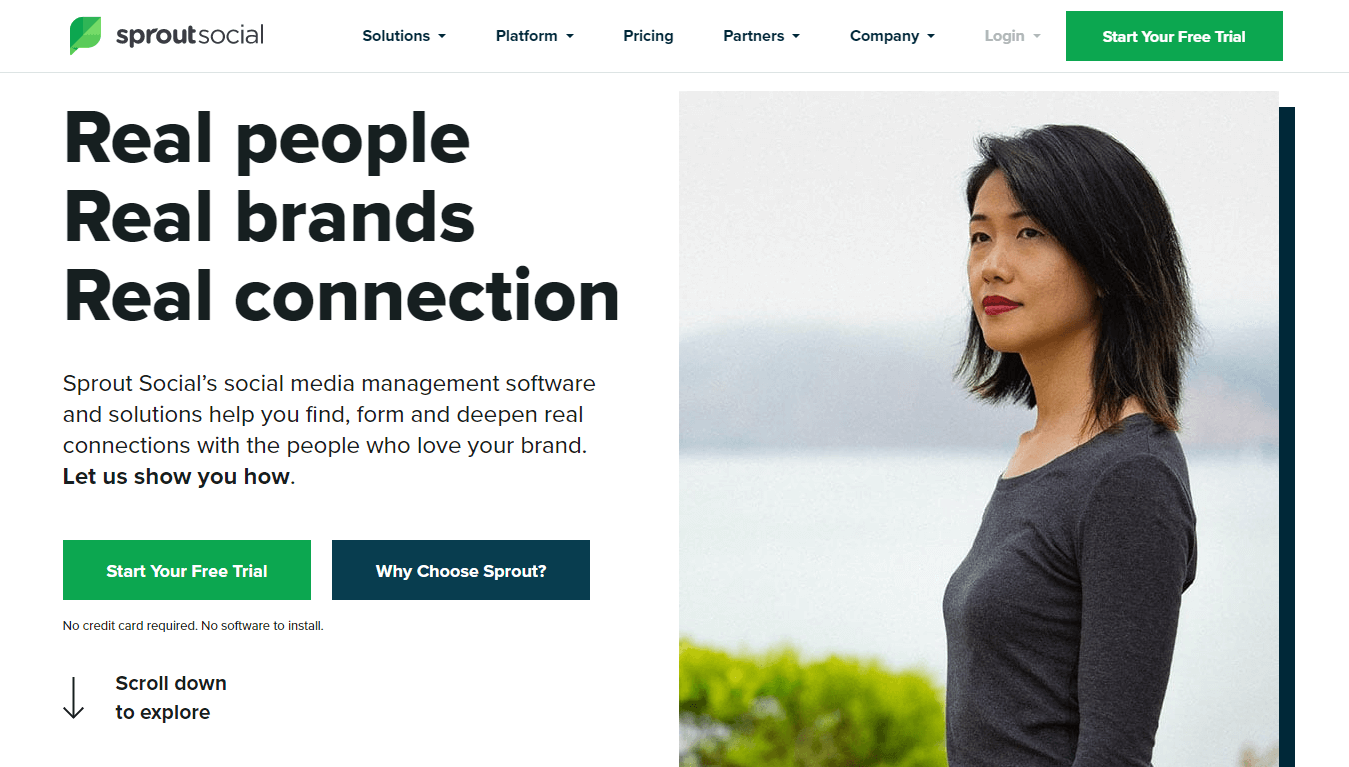 Sprout Social provides you the command to have control over every single conversation, and you organize it, plan it, and manage as per your needs. This tool helps to build your business in a wiser way as you can get real feedback that can direct you towards the improvement of your product. This makes Sprout trustworthy social CRM software.
Also, this tool has a simple yet effective dashboard from where you can manage all major operations with ease.
What Else You Need To Know
A smart box is featured by Sprout Social. This inbox collects your messages from all the platforms and makes it easy to tag and mark them as complete. On specific hashtags as well as keywords you can keep tabs.
That's A Wrap
The power of social media in today's scenario is unmatchable. Different channels demand different ways to generate leads, reach the desired audience, and drive ROI for your business. This requires knowledge and time efforts. To ease up and lower the burden, social media management tool is just the right thing for everyone.
All you need to do is to be wise and select the tool that matches your requirements and fits the best for your business. If done in the right way, these SMM tools will take your business to new heights and will bring up remarkable success.
Over To You
Do you use any of the SMM tools?
What are your thoughts on Social media management tools mentioned in this post?
Let me know in the comments below.