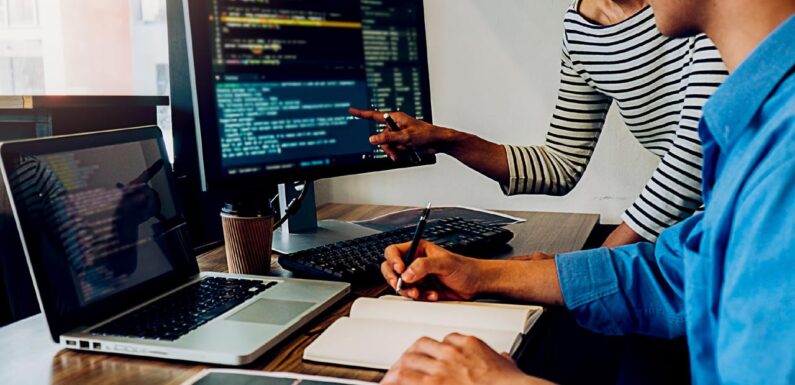 Mobile app and website creation is no longer an exclusive club of a handful of experts. It's now accessible to anyone. Creating apps has become the most prolific form of digital business. The thing that makes no-code development platforms a favorite to many is the ability to create a mobile app with intuitive features, cutting-edge design, and ultimate user experience — without any coding knowledge. Let's learn about top no code development platforms;
Appy Pie
Appy Pie is a cloud-based no code development platform that lets you build apps without any coding experience. You can use Appy Pie to build any app, including content management systems, e-commerce stores, social media apps, and more.
You just drag and drop the elements you want in your app onto the canvas and customize them by adding text, images, and video. You can even add custom animations using a simple timeline editor. When you're building your app, you can publish it to the App Store or Google Play for free.
Glide
If you're looking for a no-code development platform that allows your team to create powerful custom tools without coding, Glide is a perfect choice. In fact, it is the favorite of no code remote developer. It's made with developers in mind, but it's also great for non-developers because it makes it simple to create and publish your custom apps.
Glide supports drag-and-drop customization, so even if you're not tech-savvy, you'll be able to create a custom app for your business. You can work on projects in real time with other team members and track progress through notifications and reports.
Bubble
Bubble is a no-code development platform that allows users to build apps without any coding experience. It offers a drag-and-drop interface and helps developers focus on their app's key features rather than worrying about coding the basics.
Bubble's visual editor makes it easy to build an app in minutes, with only a few clicks of your mouse. Templates are available for many popular business niches like retail, travel, real estate, e-commerce, and more. You can customize these templates and create custom ones from scratch using Bubble's drag-and-drop interface.
The visual editor also lets you add content like text, photos, and videos from your computer or social media sites like Facebook or Instagram. You can also choose from thousands of pre-built animations if you want to add some flair to your app's design.
Bubble offers support for Android and iOS devices so that users can access their apps on their phones or tablets without worrying about compatibility issues between different operating systems. The platform lets you share your creations with friends or colleagues through social media so they can see what cool projects you've been working on lately!
Caspio
Caspio is one of the best no code development platforms that enable you to create and deploy applications in a matter of minutes.
It is an enterprise-grade platform that provides you with all the necessary tools for creating a web application, mobile app, or chatbot. Caspio supports multiple programming languages, including JavaScript, HTML, CSS, and more.
The platform also has a built-in analytics dashboard that allows you to track each user's activity on your site or app. This helps you improve their experience by providing relevant content based on their interests and preferences.
Softr
Softr is a no code development platform that allows for creating websites, web apps, and mobile apps with just a few clicks. The platform allows you to build your website using templates or customizing your own. You can also create an app with Softr and download it onto your phone in less than 10 minutes.
Softr has several templates available for different types of websites, including blogs, e-commerce sites, and landing pages. The platform also offers templates for building mobile and web apps (which you can customize).
Softr offers free training videos on YouTube that can help you learn how to use their platform and get started with no coding required!
Webflow
Webflow is one of the best no-code development platforms in 2023. It is a drag-and-drop tool that allows you to create beautiful designs without coding skills.
You can create websites, apps, landing pages, and more with this platform. It has an integrated CMS and supports all major browsers, such as Chrome, Firefox, Safari, Edge, and Opera.
It also allows you to add interactive elements such as videos, maps, slideshows, and forms to your website. The best thing about this platform is that it automatically creates responsive layouts for all devices like desktop computers, tablets, or smartphones so that visitors can access your website on any device without any problem.
Appsheet
Appsheet is a new development platform that makes it easy for non-coders to build apps. It provides an interface with drag-and-drop blocks that can be used to create apps and then generates all the code behind the scenes.
The best part is that Appsheet is relatively cheaper. That means you don't have to break the bank to use Appsheet, which is an incredible value for those looking for ways to get into app development without having to learn how to code.
Retool
Retool is a no-code development platform that allows users to create mobile apps, websites, and digital experiences. It uses artificial intelligence and machine learning to write the code for you. The platform uses an adaptive editor that anyone can use regardless of their experience level in web development.
Retool's a cloud-based platform provides a drag-and-drop interface that allows users to create functionality without coding knowledge or experience. Users can also use Retool's in-app editor to customize the look and feel of their projects.
The company's offering includes a variety of templates to help users get started quickly, as well as widgets and blocks that allow them to add functionality quickly. The platform also has integrations with messaging platforms like Slack and Twilio.
Retool is free for individuals, but there is a fee for enterprise use.
Quick Base
Quick Base is a no-code development platform that is cloud-based and can be accessed from anywhere. It has a visual interface that makes creating applications easy for non-technical users and allows data to be synchronized across devices.
It comes with built-in tools for creating reports and dashboards and automating business processes. The platform also includes an integrated mobile app development tool, which allows developers to build custom mobile apps without coding.
Google App Maker
Google App maker is the best no-code development platform in 2023. It is a very useful tool for beginners and professionals alike to create apps.
Google App maker allows you to build your app without coding skills. You can create various apps such as games, quizzes, surveys, etc. The tool is very easy to use, and anyone can use it without problems. The tool also has an extensive library where you can find samples of different types of apps that other users have already created.
With just a few clicks, Google App maker lets you publish your app on Google Play or the Apple App Store. The platform also gives developers access to analytics reports to track how many people are using their products and how much revenue they're generating each month.
Conclusion: The development of no-code platforms has made the creation of apps easier.
No-code platforms are a new wave in the ever-evolving technology market. While they certainly have flaws, they have shown that the concept can work well with most general business applications. Machine learning algorithms continue to improve, enabling developers to create robust application programs that can be used on no-code platforms. This will probably lead to more innovation for these platforms as they use larger data sets to learn from. It will be exciting to see how these platforms develop in the years ahead.