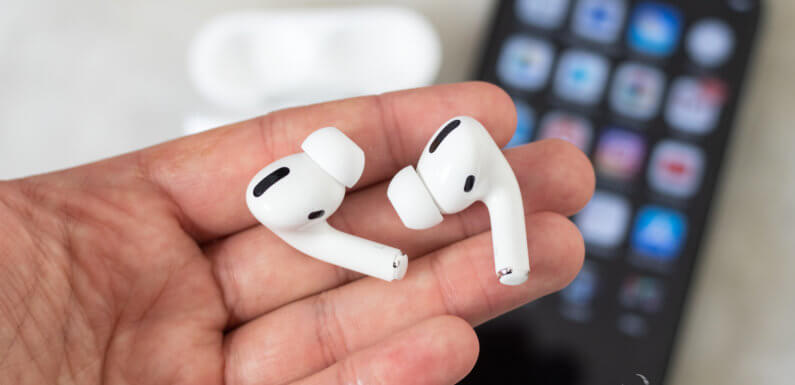 Apple has surely marked the pinnacle of quality and high-end features with new Apple AirPods Pro, recently launched on October 30 and Apple does worth the praise for it.
The Apple AirPods Pro have an in-ear wireless buds with active sound quality, excellent noise cancellation feature, comfortable fitting in the ears and last but not the least, sweat and water resistance. There is one more to say about AirPods Pro – its lofty and superior sound quality and adaptive EQ will knock-your-socks-off.
With that being said, the price is a matter of concern for a lot of customers. These wireless earbuds are far pricier than the standard AirPods. That has directed many people to think about whether the buds are exceptional enough to check all boxes at this cost, or that they ought to just adhere to the less expensive AirPods that were released not too long ago in 2019.
So, let's discuss the price range of these talk-of-the-town AirPods Pro. The recent AirPods known as AirPods Pro costs around $249 while the regular AirPods are priced at $160 – $199. A huge difference indeed!
With all the buzz and hype – the expectations with AirPods Pro are extremely high. Let's get down to AirPods Pro features that we've stacked up for you.
Smaller Stems & Golf-Tee Design
With even more smaller stems than the regular AirPods and considerably more prominent black apertures, that let the air come in to balance the pressure in the in-ear designs, the quintessential AirPods Pro do not reach down the ear – but this is justifiable to the clear and comfy sound quality of the buds.
Another obvious visual feature of AirPods Pro is its size of the buds: The golf-tee design for the buds rather than oval shaped or disc-shaped designs. This redesign has led to the fact that new AirPods have much better feel and fit than its predecessors.
Best Active Noise Cancellation (ANC) & Transparency Mode
Apart from the ergonomic designs, what makes AirPods Pro stand out is the active noise cancellation (ANC) with transparency mode. It is seemingly one of the most observable highlights that AirPods Pro use force sensors to actively manage clamor, content transfer and noise from the ear-tips.
One can conveniently interact with the outer world without discontinuing his/her movies or music or any YouTube clip. Furthermore, on the Pro, noise cancellation can be customized with simple touch-controls. The controls on the slim stems are so intuitive and active that with a single quick squeeze, you can play or pause, a double-squeeze to jump forward to the next song and a triple-squeeze returns to the past track. Transparency Mode is another way to enable you to hear what's going on around you without removing the earphones.
Custom Fit Silicone Eartips & Water Resistance for Long Hours Usage
In case you love listening to music while being in the gym or running in the nearby park, then you definitely need Apple AirPods Pro as they're sweat & water resistance IPX4.
As far as finding the appropriate fit with the size of the ears, the AirPods Pro will offer more customization than the one-size-fits-all Apple AirPods: Inside the case you'll get various eartips and in case you don't know which to utilize, Apple will even assist you with finding the right fit with a fast sound test and can tailor the sound to suit your ear structure.
Use "Siri" Hands-Free Assistant with Pro
Enough being said and heard about Apple's Siri, Siri is always available to summon our queries in the busy schedule. Siri is always ready to be our personal assistant. For example, Hey Siri, "call Mom," and "Find me way to that restaurant" etc. It is easily accessible for iOS users.
Same functionality is also available in AirPods Pro. Siri will notify, read messages along with contact details and allows me to respond with my voice. Nifty enough!
Roughly Same Battery Life (as of Second Generation AirPods)
If ANC is on, then these EarPods have somewhat low battery timings as of previous Apple's AirPods. Previous AirPods last 5 hours while Pro lasts for 4.5 hours if ANC is on. If the noise cancellation is off, Apple claims the batteries to keep going for as long as five hours of listening time. Also, you get 3.5 long of talk time on phone calls.
Once you recharge the AirPods, you get "more than 24 hours" of listening time and 18 hours of talk time.
Wireless Charging Case for On the Go Needs
There is only option to buy AirPod Pro with a Wireless Charging Case, truth be told. The top-end earbuds are compatible with Qi-certified chargers.
The charging case is evaluated to provide you 24 hours of use time, similarly as with standard AirPods. Along with wireless charging support, it accompanies a wired Lightning-to-USB-C Type charger for charging.
Our Verdict
Apple AirPods Pro are launched as of on a point of culmination. They are state of the art wireless earbuds you can get in 2019 and years to come. Sound quality is ah-mazing, transparency mode and Noise Cancellation features are genuine. With secure fit in-ear designs, Apple has made something with appreciative aesthetics and usability.
AirPods Pro fix a lot of issues for melophilia that put them off such as the cracked sound, out-of-ear fit and uncomfortable stems of earbuds.
That aside, if you need a splendid sounding earphone with all-rounding features – the smooth experience on your iPhone, AirPods Pro are a sure thing. With their improved fit and water & sweat-resistance, they're even best earphones for your gym / exercises. So, what are you waiting for? Go ahead & plan a purchase for Apple AirPods Pro.