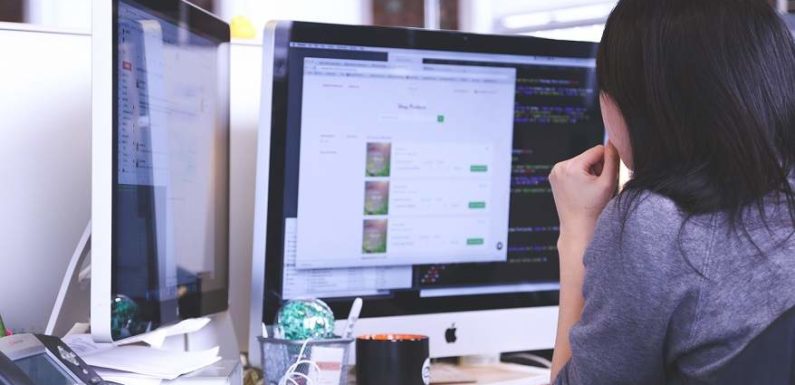 According to Statista, mobile accounts for about half of the Web traffic worldwide. In the third quarter of 2019, mobile devices generated 51.51% of global site traffic, consistently hovering around the 50% mark since the beginning of 2017.
This naturally motivates any company that has its own website to think about the possibility of promoting a sales channel, the source of which is mobile traffic. That is why absolutely any site simply MUST be adapted for all devices: desktop, tablets and, first of all, mobile devices.
Now we will tell you what are the advantages of making your website design mobile-friendly, what are the methods that will help you to do this, and what are the pros and cons of each method.
If you need a website, you must make sure that it will be mobile-friendly in advance. Make your life easier and create a website using Weblium site builder: today, it is the easiest and most inexpensive way to get a high-quality, modern website that meets all the requirements to a decent online presence of the business!
Top 7 reasons to make your website design mobile-friendly
1. The mobile-friendly website expands your audience. If your page is not adapted for viewing from the phone, you simply stop existing for mobile users.
2. People want the same features on the mobile Internet as on the desktop. This means that ordering goods, and watching videos, and communication, and reading articles on websites should be equally convenient from all devices, which requires website optimization.
3. Users are more likely to agree to purchase goods or order services using the phone than using the desktop. So those who do business on the Web should especially think about creating a mobile version of their online store.
4. Mobile sites are simpler to use and load faster. That is, it will be easier for you to eliminate the malfunctions of the mobile-friendly site and to make your visitors happy.
5. Search engines rank mobile-friendly websites higher. Recently, Google launched special algorithms Mobile-first Index, which evaluates the convenience of a site for viewing from phones, and search results are now generated based on them. It doesn't matter if the search query is made using a PC or from another device – the lack of a mobile version will affect the rating of the website as a whole.
6. Driving traffic from social networks to a mobile-friendly website is more efficient. Today, the vast majority of people use social networks and instant messengers from a smartphone.
7. Mobile website optimization is a strong competitive advantage because not all site owners understand the importance of having a mobile-friendly webpage. You can take advantage of this and create the perfect website for viewing from any device, thereby receiving a higher rating from your target audience.
Website mobile optimization methods: mobile version, dynamic layout or responsive design?
Mobile version
The mobile website version is a separate website for smartphones and tablets with its HTML code and URL. Usually, for creating it, business owners set up a separate section in the CMS, develop the design and page layout.
In this case, you will essentially have two separate sites, one for computers and the other for mobile devices. This makes it possible to develop two pages separately and create various functions and features for each of them, thus, meeting the expectations of owners of different devices more precisely.
And if necessary, a visitor of the mobile version can easily switch to the full version of the site.
Pros:
Fast development;
Relatively low price.
Cons:
Simplified design;
If you make any changes, you'll have to make them twice;
The website can still display incorrectly on some devices.
Responsive design
This is the most popular method of making your website mobile-friendly.
The main thing is that you arrange the design elements in a more flexible way, and their size and position may vary depending on the screen size. Design elements can be hidden, replaced by others, the functions may change.
Your responsive website has the same code and URL regardless of the device. Thus, in fact, you will have several versions of the site, still having one website address and one control panel.
Keep in mind that viewing a webpage with a lot of content and links from the phone, even if we talk about the website with responsive design can be quite uncomfortable due to the increased page load time and the fact that some functions will still look poor on mobile devices.
For huge sites and portals, it is more reasonable to create a mobile version with only the necessary functions.
Pros:
Correct display on any device (depending on the degree of responsiveness);
Fast loading;
It is easier to manage;
It is easier to test;
Search engines index such content easier.
Cons:
It is more difficult to develop such a design (especially if the project is already launched).
Dynamic layout
In this case, for different devices, you will get different code options, but one URL.
This option combines the first two: on the one hand, this solution allows you to externally adapt the site for viewing on any screen, and on the other hand, the adaptation occurs at the server level rather than on the screen level, which helps to automatically create the desired version of the page using templates.
This method is a good option for those who care about the correct display of the site, including tablets and computers. Also, it allows you to increase the page load time due to traffic savings and faster processing of requests.
Pros:
Optimization for a specific device.
Cons:
Sometimes, the errors occur and the page does not display correctly;
You have to apply the changes twice;
The number of devices and screen resolutions (for the most part, thanks to Android) is almost countless!
Which method should you choose for your website?
The best option is responsive design. In this case, everyone gets what they want: users – a convenient and correctly displayed website, webmaster – simple administration and testing.
Creating a responsive design may be quite expensive and take more time to develop, but this is a long-term and one-time investment!