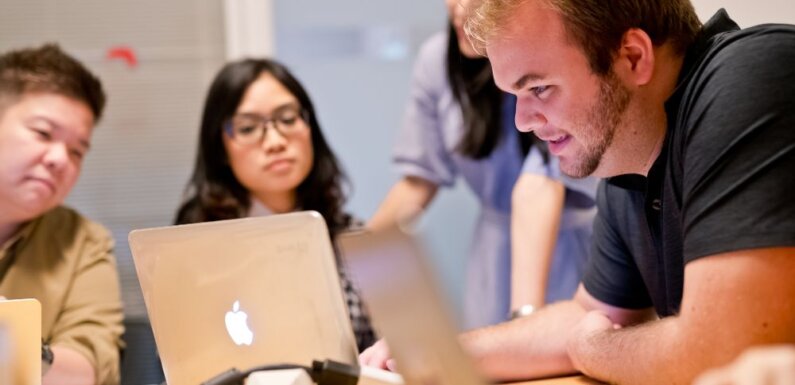 SEO is to digital marketing what Facebook is to social media. Without making your website search-friendly using the search engine optimization tools such as relevant keywords, your business cannot thrive. But there is more to this concept than mere keywords.
We came up with the homework to help you get your cash registers ringing day by day.
Okay,
Let's silent your curiosity and reveal the top 6 SEO digital marketing trends that will rule in 2021 big time. Here we go:
SEO = MOBILE SEO
It is important to make your website mobile-friendly. Because half of the global population accesses the web from their mobile phones. The question that arises is whether your website is mobile-SEO oriented? This is where most of the searches stem from. This is going to be one of the biggest SEO digital marketing trends in 2021.
And we're not alone advocating this concept. Hear it from the pros, Brock Murray, Co-founder, seoplus+. He has been heard quoting that a massive SEO focus in 2021 ought to be mobile device user experience (UX). In his words,
"The best thing you can do when it comes to mobile UX is to think about the user first," Murray said. "
Simplicity in your design is the key. Also, be sure to personalize the website content and elements based on your user."
But, this is not the only reason why SEO is all mobile. Shelly Fagin, SEO Director and Founder, Highly Searched, Inc. quips, "Google will essentially be ignoring your desktop site. Your mobile site will determine your rankings."
USER+SEARCH INTENT
This trend has been rocking the scene for quite a while now, and nothing is new about it. However, the way it impacts the results makes it special. In the wake of the pandemic that began in 2020, things changed swiftly. It is important to bear in mind searcher intent and behavior because it keeps on changing constantly. Read some valuable inputs from the experts of this field.
Jenn Mathews, SEO Manager, GitHub said, "At the core, Google (and other search engines) is a place to go when people want to answer a question or to learn more about something,".
He further adds, "When we understand the nature of why people search and help them with content that provides the answers they are looking for then our business benefits from it."
Britney Muller, SEO Consultant & Data Science Student, Britney Muller LLC feels that a swift transition from conventional practices is required because their value seems to be fading with time as algorithms get comparatively stronger.
She said, "Google houses the world's information, and they know what the majority of people searching 'x' seek," She further added, "Paying closer attention to search results will give SEO pros a leg up in creating competitive content in the way that searchers desire to consume it."
Numerous SEO experts are on the same page as Muller including Andrew Dennis, Content Marketing Specialist, Page One Power,
He said, "Google is already showing you which results it thinks serve users' intent, use this data for your strategy," Dennis added, "For me, SERP analysis will be an important practice not just in 2021, but moving forward as search intents change and Google continues to become more sophisticated to keep up."
Therefore, if you want to be a game-changer of SEO in 2021, you must excel at supplying sufficient information to users. Brands would require to focus more on visitors and less on themselves. It is crucial to understand what a user is searching for, as this is how we satiate user intent.
BRAND SERP OPTIMIZATION
BRAND SERP is known as the information that features the moment a user Googles your brand name. There are various reasons people search your brand name, for example, before or during their working relationship with you. SERP expands as the Search Engine Results Page, which are web pages that provide required details or data searched by them.
During 2021, tracing SERPs as well as knowledge panels, are going to stay in vogue. According to Jason Barnard, The Brand SERP Guy, Kalicube. pro,
"In 2021, the reality that entity-based search starts with Google's confident understanding of who you are, what you offer, and what audience you serve will gain enormous traction," Barnard quipped. "Savvy marketers will truly get to grips with looking at their brand as an entity and start to work in earnest on Google's understanding of the 'who you are' part of that trio by creating or improving their presence in the Knowledge Graph."
It implies that optimizing your brand's every digital platform would be imperative such as your Youtube channel, images etc.
PAGE EXPERIENCE OPTIMIZATION & CORE WEB VITALS
Let's begin with the basics. Page Experience is described as an assortment of signals that measure people's experience of using the web page over its pure information value. Core Web Vitals is basically a set of metrics used to measure real-time user experience for loading performance, visual stability and interactivity of the page.
They are now coming to how it's becoming the talk of the digital world in 2021. Google has introduced Core Web Vitals as one of the top-ranking factors in 2021, while page Experience Metrics cannot be overlooked either.
As per Areej AbuAli, Manager, "Websites and businesses need to prioritize for them to ensure they don't fall behind their competitors," AbuAli quoted. "Make the most out of insights provided via tools such as Lighthouse and Crux API. Everything from page speed, mobile-friendliness, rendering, image optimization, and security protocols need to be optimized for."
Brands should focus on the vibe a web page is giving off, not only how fathomable and accessible a page is to the search engine user.
INCREASED AUTOMATION
The potential of enhanced automation will be mind-blowing in 2021 if we reminisce the umpteen number of SEO tasks brands automated in 2020, including quality content, structured data generation etc. You can expect Artificial Intelligence to be buzzing the digital oyster pretty much in 2021 as well.
LONG-FORM CONTENT
Nobody will tell you about one of the hottest trends unless you struggle constantly publishing long-form content that will outscore your rivals by implementing Google's E-A-T guidelines and emotion.
Digital Marketing is good for your business health. It adds up your brand value, makes your online presence felt amongst the masses and brings huge profits. Therefore, if you are not taking it seriously, your business may be lagging in the race where bigwigs compete with each other. Hiring a digital marketing Company for various services such as PPC, SMO and SEO Services, etc., can be highly beneficial for your brand and business in the long-term.
You can thank us later for the drill we've done for you. Should you have more pointers to add, feel at home with the comment section. You can also drop by your views below to share the priceless anecdotes from your business caravan. We're all ears. Using the hacks mentioned above can ensure success in your business venture and make you a household name in a fraction of seconds. Sounds great.