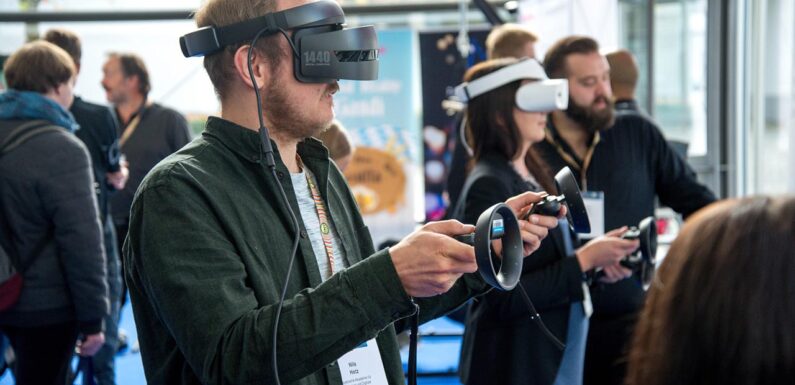 For years, a futuristic notion of humanity has been the reality of virtual reality (VR), augmented reality (AR), and mixed reality (MR). But with the advancement of technology is making that futuristic idea into the reality of our everyday lives. With COVID-19 restricting our everyday physical activities, we are inclining more towards virtual reality. 
IDTechEx has predicted that the market value of AR, VR & MR will be more than $30B. The growth will only increase in the coming decade. In the early '90s, there were technological advancements where we were able to see a video from an external device, but the invention of Google Glass Explorer changed the course of augmented reality. Since then many devices have been developed by Magic Leap, Quest, and many more.
Have we ever thought back in the early 2000s that by 2021 artificial reality, virtual reality will become a regular reality for us? Weren't we all fascinated by watching the marvel movies or the technologies used in sci-fi movies?
To know more about technological evolution, let's dig deeper to know the latest trends in the world of AR, VR, and MR.
Advancement in AR glasses 
When the Google Glass was first released in 2013, we were bound to be astounded by the evolution of technology. Long gone those days when our relationship with technology was not profound. For years after that wearable technology has become more relevant than ever.
Have you not seen anyone wearing the virtual reality goggles and playing some intense gameplay?
You must have! Now more tech players are joining the race to bring more innovation to the track. Facebook first brought its AR glasses in 2017, which allowed users to bring digital images to the physical world. They are planning to bring smart glasses to market in 2021 by partnering with Luxottica.
Speaking about the virtual reality goggles, there are quite a few available in the market but Oculus Quest 2 takes the honors. Clearly a winner in the industry, Oculus Quest 2 accessories would tempt you to buy a VR headset for yourself.
AR-enabled smart glasses can become the next media trend. That can be simple products with Google glasses, or it can be complex like Microsoft's Hololens. The AR glasses function to increase the efficacy through the way they overlay the digital picture in the user's real world.
Expert assistants
You must have heard someone saying I require virtual expert assistance to help me fix this issue. So what is the requirement for expert assistance? And how is it different from a personal expert assistant?
The pandemic has put a constraint on the physical interaction between people. More and more people are inclining towards virtual assistants. In layman's language, remote virtual assistants are experts in a particular niche. They help their customers to fix a problem by visually guiding them. To achieve this they take the help of AR. They combine live streaming where the images and videos are being broadcasted in real-time with the help of AR. This enables the user to enjoy a digital environment in the physical world.
This enhances the customer assistance service by many folds. It creates more efficient listening and visual communication.
The trend of expert virtual assistants will only upgrade more in the coming years.
The entry of 5G
Haven't we seen the evolution of 2G, 3G, 4G to now 5G? 
There was a time when we used to have 1GB of data pack for the whole month. Long gone those days, with the era of 4G-LTE the world is in our hands. The 5G technology brings the promise of a better version of 4G-LTE. With more than 221 million 5G phones in the market by leading brands, 5G is already overpowering the existing technology. But how is it making a difference?
From the name itself, we know that 5G will be faster, more efficient, more reliable wireless technology. Some of the key features of 5G technology which will help in enhancing the AR, VR are-
Don't we all desire an app that can work effortlessly in a flash?
5G technology with its seamless and fast technology will make the AR/VR implementation hassle-free. It is said that 5G is aiming for latencies of 1ms or even less. If this is achieved this would set a milestone!!
2. Better bandwidth and data transfer rate
The 5G comes with a better bandwidth and data transfer rate. Both of these factors will bring more glow to the XR technologies. High bandwidth will enhance the support of data-intensive applications.
High bandwidths will also ensure better data transfer rates. Imagine receiving a file of 4GB from someone within 12 parsecs. Isn't the thought itself thrilling?
AR becomes the reality of luxurious cars 
Will AR technology in automobiles become a predominant concept?
With the current trends going, the integration of AR in the automobile industry will not be surprising. There are few cars by MBW, Chevrolet, Jaguar, Mazda, Toyota in the market already who have adapted the AR technology.
They are using augmented reality in various ways like creating an AR owner's manual. This feature will inflate in identification specific features in the cabin. Other features like heads-up display (HUD) where lane guidance, real-time directions & traffic news will only enhance the quality of driving.
A software development kit named Drive AR has been produced by Nvidia, to assist construct AR interfaces. It can access Nvidia's supercomputers for driving functions, warnings, navigation data, and much more. Be sure to look out for more surprising AR advancements in the future automobile industry.
The role of AR in spatial sensors
When we imagine viewing something, we think of the camera being the main sensory device. Well, this thought is not entirely wrong. But there are other sensors developed which can sense the environment to create a realistic environment around us. Yes! Spatial sensors are the new trend in AR advancement.
With the development of LiDAR depth sensors, the world of spatial depth-sensing has become more relevant to us. LiDAR sensors were ultra-wideband (UWB) radio waves along with spatial fields that took the center stage from smartphones and wearable XR technology.

This technology not only created a more realistic environment but also created scans of the environment and objects around us. UWB devices can detect the relative position of other UWB equipped objects. Spatial audio is also made to make it feel more real along with the movement of your head.
Conclusion
The technology is dynamic and it's changing and evolving with each passing year. If we look even a few years back, we will see the evolution of smart devices, XR technologies to a greater extent. The above list doesn't conclude the list of updated technologies but rather tells you which innovation to look up to the most.