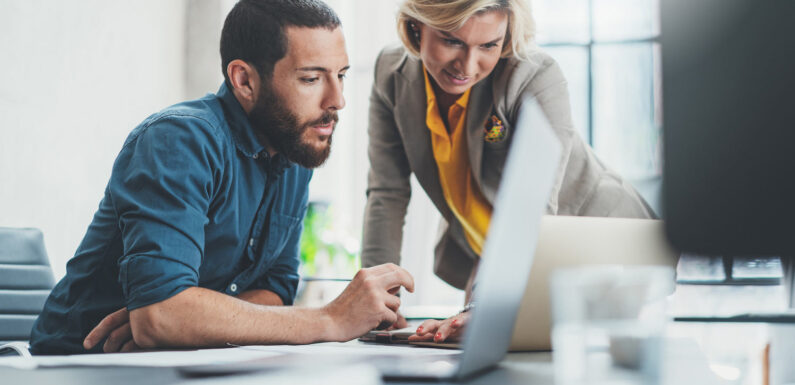 The stringent and sudden lockdowns compelled businesses to embrace remote workforces to survive the Pandemic. There was a massive adoption of digital channels in the transition. As per a report by McKinsey, in the USA alone, the banking sector, on its own, witnesses about 21% of users who were using digital channels for the first time while the entertainment sector placed them at 24%, grocery at 31%, and apparel around 13%. There were also reports of first-time users of digital services for business.
From the above, it is now needless to emphasize the fact that related industries had to accelerate their efforts for digitalization to stay afloat in the Pandemic. There was and still, to some extent, a large element of uncertainty. This digital shift sans the adoption of the cloud has not been optimized fully, which is why many businesses are shifting to the cloud to stay afloat.
An overview
Cloud computing refers to the on-demand access to computing resources which companies need to run their business operations via the Internet. These can be in the form of software applications, remote database networks servers, storage facilities, developmental tools, and network infrastructure. Generally, reliable corporate service providers offer the resources to the enterprises they host and manage via virtual data centres. In return for their service, the vendors charge corporations a monthly subscription fee according to their usage. In case your business has still not made the shift, here are five reasons to consider cloud migration:
Migration to the cloud offers-
Cost savings
Companies generally find setting up and operating an on-premise data centre for their businesses to be an expensive venture. The executives of these enterprises first need to select and buy the right equipment. They even have to hire the experienced third-party technicians to install the storage systems, routers, servers, firewalls, and business-critical applications. Only then can the corporations' software specialists get the centres up and running.
When the same companies opt to use cloud computing to conduct their operations, they only pay for the services they avail. The vendors offering this facility to their clients devise their ''pay-as-you-use" subscription-based pricing policies on many factors. These include technological features, storage capacity, number of end-users logging into the system, bandwidth, and memory space. This enables the corporations to use a package that meets their budgetary requirements. In the process, they can cut down on their operating costs.
Flexibility
Cloud computing allows the companies' directors, executives, and employees to access the Internet-based IT resources from any location. This allows them to complete important tasks from their homes, offices, or any other remote location. Moreover, the enterprises can request their service providers to adjust the bandwidth according to the scale of their business operations. This is not possible with on-premises data centre infrastructure.
Experts from credible database administration and management company, RemoteDBA.com, emphasize by saying resorting to cloud computing allows companies to cut down on the hardware they install in their own IT infrastructure. There is no need for the enterprises to go on setting up extra workstations, network devices, and storage systems servers. This enables the corporations to significantly reduce their capital expenditure which results in further cost savings. Moreover, cloud computing enables companies to monitor their IT and business operations even remotely efficiently.
Scalability
Companies that continue to use an on-premise data centre face immense challenges in ensuring their IT infrastructure matches their growth needs. The enterprises often need to purchase additional servers, workstations, and storage systems under a license whenever their business activities expand. Installing and getting the resources operational often takes many years. In the meantime, the corporations experience regular disruptions to the activities because of the increase in downtime. This costs the companies both time and money.
On the other hand, cloud computing enables companies to resolve many of the scalability issues they face using on-premises data centres. The enterprises can invest in additional virtual workstations, servers, and storage facilities from a vendor to keep pace with expanding operations. The service provider then upgrades the corporations' package and changes higher subscription fees. The revenue which the increase in business operations generates is enough to cover additional costs and still earn a profit.
No need for disaster recovery and backup plans
Companies using conventional on-premises physical servers and data servers need to have a comprehensive backup and disaster recovery strategy. The plan envisages making multiple copies of critical business data and storing the information in secure locations. This ensures the corporations can get the IT resources up and running again in the aftermath of unforeseen calamities. These include natural disasters, man-made cyber-attacks, accidental database corruption, or unintentional data deletion.
In the case of cloud computing, the vendor which the companies hire is responsible for devising backup and disaster recovery plans. This corporate service provider ensures all its clients get unlimited access to their critical business data under all circumstances. The service provider will set up the relevant remote yet secure data centres and storage facilities to achieve this objective. As long as the corporations have seamless Internet connectivity, they can easily access and use their business data.
Data security
Data security is always a serious issue for all companies. The corporations maintaining on-premises data centres take extensive security measures to secure their facilities from potential cyber threats. These include installing various closed-circuit cameras, real-time sensors, and firewalls to prevent cyber-criminals from infiltrating their facilities. The enterprises even encrypt the data on their database servers with strong passwords and issue accessibility privileges to specific employees. However, cyber-criminals can still bypass these security measures can disrupt the companies' operations.
As in the case of disaster recovery and backup, the cloud computing service provider takes on the responsibility of data security. This vendor ensures all remote data centres, storage facilities, and workstations have adequate security measures to avert all forms of cyber-attacks. This makes it extremely difficult for cyber-criminals like hackers to breach and compromise the companies' business data.  The service provider even allows an enterprise to secretly transfer their data to different secure locations if they feel it is under threat.
No matter how big and small your business is, surviving the Pandemic is the need of the hour. Cloud migration is an affordable and powerful strategy to help you stay afloat and tackle these times of uncertainty with success.