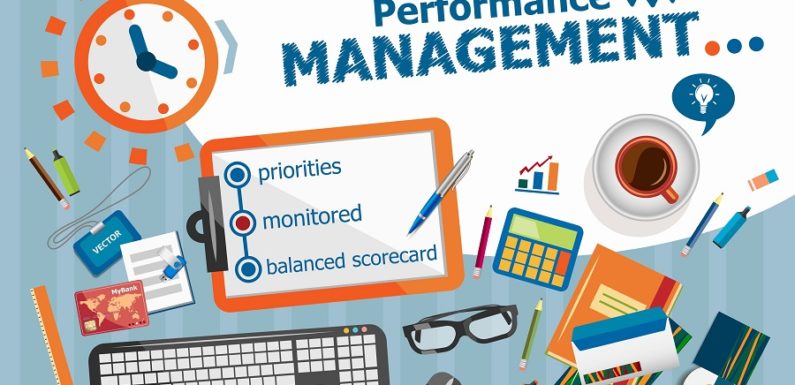 What is performance management software?
Performance management software is also known as performance management system is a technology which is designed to help companies get a better view of their employee's performance and productivity. It ensures employees and teams are working towards the same path keeping the organizational goals in mind also ensures the trending issues are solved and the goals are met on time.
It helps the manager in easy tracking, analyzing and evaluating workers/employees. The data can easily be available to know the company's goal, hiring decisions, performance reviews etc. Also, it works keeping the below elements in mind;
Development and Improvement.
Periodic Rating.
Rewards and Compensation 
How it improves the employee's productivity.
Performance management software is not only beneficial to managers or company, but it also helps in improving the team's (including all the levels) performance as well as productivity. Let's have a look, how the Performance management system is helpful in improving employee's productivity.
#1 Frequent &Real-Time Feedback
Performance management software enables the timely feedback of every employee in a planned and continuous method. It discovers the performance related issues, track the performance and collect the data of employee's high performance while acknowledging their hard work, based on which a company works for their further developments.
Feedback has a great power. Nothing in an organization can be more powerful than giving a good feedback and appreciating the assets. This acknowledgement increases employee satisfaction which helps in improving their performance and plays a vital role in motivating them to stay with the company.
#2 Transparency & Flexibility
Another important thing that motivates and increase the trust of an employee for his organization is the transparency and flexibility of working culture, an important aspect that holds an employee for the long term. Performance management software relates to employee engagement, so it is the best possible way to make the system more transparent and flexible.
It gives freedom to the employee, to be more creative in their work while keeping a proper check over their performance. It automates their routine giving the entire workforce a sense of flexibility and independence while allowing them to work without restrictions and when employees get independence in their work routines, they remain more involved and happy in their corporate life.
#3 Stay on Track and keep a check
Performance management software keeps a track of everything. Automatic e-mail notifications can give you an edge and keep a track of employee's performance, so you don't have to be overburdened. Your employee will also be attentive towards the mails and notification and stay on track which will lead to better performance.
Also, if you are a company with several thousand employees, how you will keep a track of every employee's performance, achievements and production and this tracking are very important to give them the valuable feedback, so the solution to this is Performance management software.
#4 Personal Development Plans
Every employee expects some improvement and development in a career, as well as personal growth from his/her company, Performance management software, helps to trace and providing an organized medium for managers to create, monitor and update the development plans of their team.
Personal development plan assesses employee's current skills, make graphs for a suitable development route allowing training sessions to uplift competency level of the entire workforce, also the career path tools give an employee a method to map career scenarios based on current competencies and skills. They can find out the skills they can develop to move further. This makes the employee more proactive in terms of their personal development which will help in achieving the common goal of any firm and taking the growth trajectory upward.
#5 Streamlined Goal Setting & Uniformity in Work Standards
An employee won't be able to work towards his upliftment, until and unless he/she will be familiar with his goals. Goal setting is an integral part of an employee's growth and it plays a chief role in defining his/her performance. Once the goal is set, then only you can assign any target to that person. The goals are very significant to have an idea of priorities and deliverable. It's a flexible system and allows to change the roles any time as per the change in business requirements.
Performance management software maintains a central repository system for HR related data and follows a set of protocol for different processes such as promotions, reviews, transfers and feedbacks. One of the best things about this system is its free of discrepancy and partiality which help in creating a good atmosphere while increasing the credibility of the system and any firm with a well-maintained Performance management system ensures a high retention level along with the energetic and loyal employees.
Conclusion
As the name suggests "Performance management software" manages the performance, so it's very crucial and highly impacts your employee's performance and satisfaction. If your employee is happy then only he will be able to keep your clients happy.
Once you will move to this technology, you will be delighted to see the changes it brings. The transparency, accuracy, acknowledgement &feedback will satisfy and motivate your employee which will automatically hold them for long innings, taking the company's trajectory of success to a zenith. But, with the increase in competition there are so many software's, so be careful and select the right one while keeping your company's requirement and budget in mind.