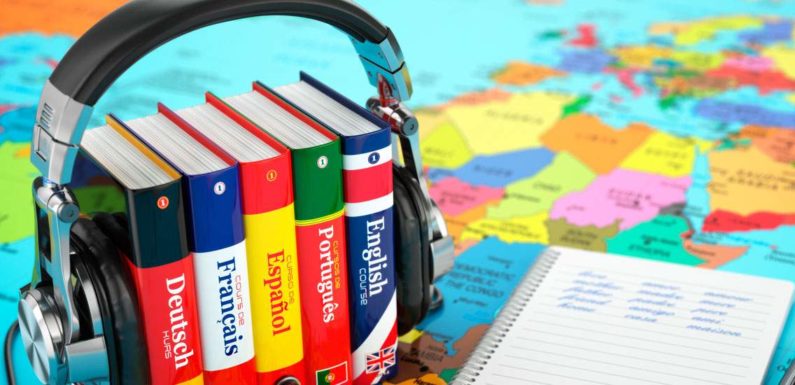 In the vast realm of mobile applications, there exist millions of applications that cater to user needs of every sort. From scheduling your haircut appointment to booking your next airplane flight, the possibilities are endless. The existence of mobile apps has eliminated location and time boundaries, making it easy for people to pursue their interests without having the need to be actually present at those particular locations.
Learning a set of skills or a language is an exceptional yet difficult task. It requires time, effort and money to attain such skills. But with the advent of mobile applications, learning a language is no longer a far-off goal. There exist numerous mobile apps and tools that assist you in learning a whole new language. We have compiled a list of language learning apps for various languages.
Duolingo
Duolingo is a free-to-download language learning app and offers an extensive variety of languages to the users. The main concept is to cater to learning requirements through visual games, helping users to learn vocabulary and correct their grammar in an interestingly engaging manner. There are no in-app paid features hence, all learning activities from basic to advance come with no cost.
Memrise
Memrise was labeled as one of the best apps of 2017 for its unique technique of helping users learn new languages. It offers all sorts of learning lessons such as games, vocabulary and grammar improvement as well as a learning community where users can communicate with each other. The app comes with two versions. The free version covering only the basic lessons while the pro version has both monthly and yearly paid subscriptions with a wider range of learning opportunities.
Busuu
Busuu, designed by developers working in the field of online education, has a number of variant apps on the Android app store for learning a selected amount of languages. The Busuu app supports a total of 12 major languages, with levels ranging from beginner to advanced learning. It comes with both free and paid versions of the app. The free version having limited sets of learning while the premium version has all the exercises unlocked. With over 80 million users, Busuu does not offer a wider range of languages as compared to its competitors but it is still ranked in the top mobile applications for language learning.
Google Translate
Google Translate a translating tool, created by the best mobile apps developers at Google, is used on a large-scale on both the web and app platforms. It offers a simple user interface, where you can type in the word or sentence of your choice and get its translation in your desired language. Users can translate words in around 103 languages just by typing. It also has the capability to allow users to translate text in an offline mode or use their camera to translate text into 38 languages. The cherry on top, it also has a voice detection feature.
Simply Learn Apps
Simply Learn apps follows the outlook of using flashcards and quizzes for learning purposes. Available in over 50 languages, users can access phrasebooks and learning languages in a fun, engaging manner. Alongside flashcards and quizzes, there is also a variety of on-the-go audio and text translations. It is a free-to-download language app with premium features for advanced learning.