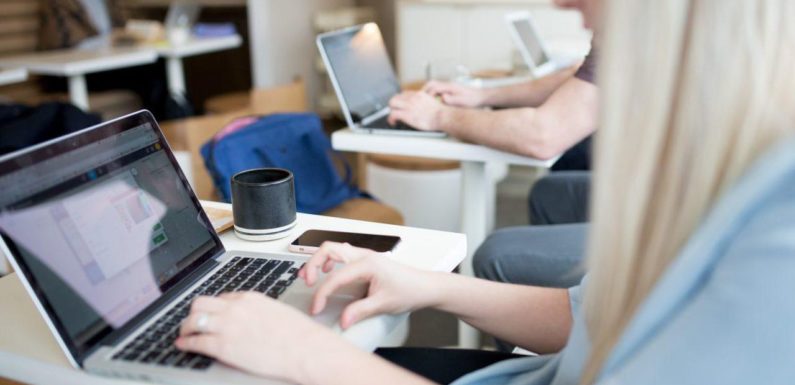 "The advance of technology is based on making it fit in so that you don't really even notice it, so it's part of everyday life."
                                                                                      – Bill Gates, Co-founder of Microsoft.
Technology has revolutionized the small business industry and helped it reach new zeniths of success. From digitization of information to automation in the workplace, technology has spread its wing across a wide array of functionalities.
Reportedly, small and medium businesses spend more than 23% of their workdays inputting data manually. This, as a result, takes away a lot of productive time that could be invested in other projects. This is where the benefits of technology come in. Be it automated payment gateways or web-based project management systems, technology definitely reshaped the corporate world. Now that you are wondering how small businesses can boost their productivity by embracing technological advancements, here's everything you should know.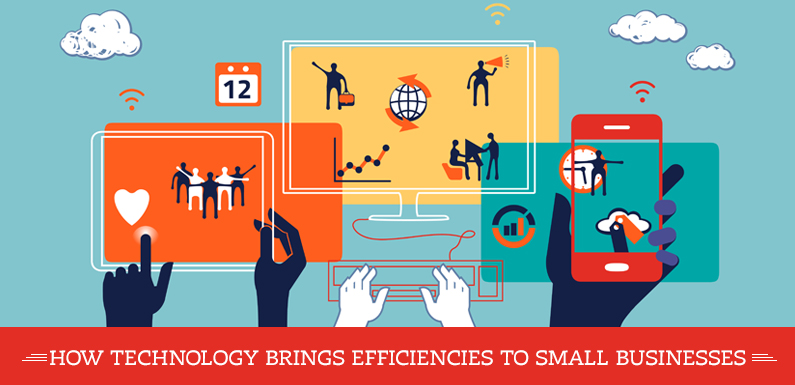 Technology Balances Business Quality and Growth
According to the U.S. Census Bureau, with 400,000 new businesses starting every year in the country, 470,000 are dying. Lack of technological advancements and automation at the workplace can be major factors that lead to poor ROIs, unproductive work environment, lack of coordination, etc.
If reduced productivity, poor quality, and growth are proving to be the major factors that affect the efficiency of a small business, technology can significantly improve the scenario.
 There are time-tracking software and tools that can be utilized by the small business owners to map out who is spending time on what.
This can eventually help the entrepreneurs to analyze workplace productivity, and work on the potential loopholes to process improvements and ensure growth. In addition, one can always rope in email management tools such as Zoho Mail, SendGrid, Gmail and Yesware to track all messages and manage bulk emails with a single click. This, as a result, can be beneficial in terms of reducing the pain of manual paperwork, thus, fostering productivity at workplace.
PR Strategies and Feedback Acknowledgment Foster Brand Awareness
Forbes considers PR strategies necessary for the success of every small business. From creating interest for the business among customers/stakeholders to building a positive brand image; PR strategies work great for start-ups. It is especially helpful when getting a head start over other contemporary business houses is a priority.
Coming up with your brand story on digital platforms, connecting with the target audience and acknowledging their feedback online are great ways to save time. It also fosters brand awareness across the digital market.
To talk about online client feedback acknowledgment, statistically, 97% of consumers looked online for local businesses last year, with 12% of them searching for local business every day. Positive reviews make 73% of consumers rely on the potential of a local business.
This makes it pretty obvious how digital PR strategies are spreading brand awareness through digital platforms. Also, acknowledging the importance of client reviews can prove to be effective for the small biz entrepreneurs. When it comes to going digital with such strategies, one simply cannot overlook the significance of embracing technological advancements.
Going online reduces physical expenses for the start-ups
Operating cost is one critical aspect and perhaps the primary point of concern for every small business and start-up. Thus, carrying out business operations digitally might just reduce the cost associated with physical expenses. You can always choose to form a virtual office, operate online and wait till the business grows.
To cite some of the examples; there are so many small businesses that operate online. From e-learning firms offering online interaction with academic essay writers to other internet companies across the globe such as Alibaba, Netflix, Facebook, Twitter and LinkedIn; half of the functionality of these digital forums is entirely based on the digital traffic.
You can certainly seek inspiration and invest in a small business to operate digitally until you have the coveted ROI coming your way (which is necessary for setting up a physical office). Moreover, going digital or investing in digital technologies can help your business by reducing training cost.
As far as developing a productive business is concerned, accumulating and utilizing online resources and tools can save your time and provide ample options to distribute all training materials and assignments among your team members via audio clips, interactive videos, live conference, etc.
 Digital content marketing fosters an enhanced client engagement rate
Talking of technology and its contribution to the field of small scale industries and businesses, it is to be mentioned that digital marketing certainly has a significant role to play in this regard. 72% of marketers are of the opinion that content creation is the most effective SEO tactic. More interestingly, content marketing is said to cost 62% less in comparison to traditional marketing.
Now, if we are to believe the statistics, it becomes all the more evident that small businesses are likely to benefit from the perks of technological advancements.
For a small business, gaining digital exposure is perhaps the most critical point of concern. The idea is to create engaging contents in the form of short videos, regular blog posts, call-to-action texts, and hashtag campaigns to gain recognition without shelling out a huge capital.
Thus, it goes without saying that digital technology is definitely the key to successful business growth for small companies.
Technology makes it easier to safeguard and update information
Every small business and start-up agency has to deal with a substantial amount of paperwork, transaction details, customer data, analytics and more. This has eventually made companies turn to Information Technology. Making the most of telecommunications networks to streamline the service is mandatory.
Storing all important documents, client data, and daily transaction statements online can save time and keep you away from the pain of searching through the cabinets of files and heaps of paperwork.
People are also using drawing and document management systems for businesses like construction which helps them to manage a project, where a construction engineer can quickly go through the drawings from start to finish.
According to Forbes, some of the big fishes like Apple, Google, IBM, Nestle, and Toyota are using IT to gain competitive advantage. Every successful business you see today was once a start-up with business ideas and aspirations quite similar to yours. They made the most of technology to reel in prospective buyers, and so can you.
To wrap up
From trunk calls to official landlines, pagers to Smartphone, technology has traveled a long way. Small businesses willing to make it big cannot miss out on welcoming technological advancements. In order to make your start-ups or small businesses walk that extra mile of success, you have to make the most of technology. That's how you win!