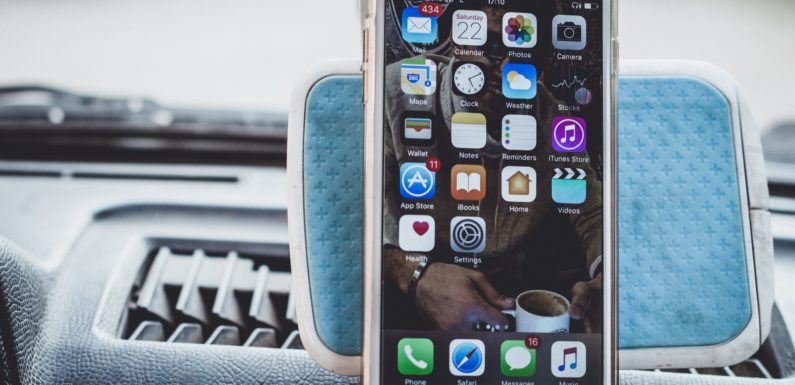 The best OBD2 Bluetooth adapters offer a lot more when paired with the most suitable iPhone OBD2 app. If you are an iPhone owner, you can take advantage of these apps and turn your phone into a powerful diagnostic tool. But which app ranks as the best? Here are our top three picks.
1. BlueDriver
Product Link: https://itunes.apple.com/us/app/bluedriver-obd2-scan-tool/id445403397?mt=8
The idea behind the BlueDriver OBD2 app is to provide ordinary car owners with a tool that can probe the most essential systems of a car. It is that practicality that makes it the ideal app to use alongside your best OBD2 Bluetooth adapters.
Vehicle Compatibility
As an OBD2 platform, the BlueDriver OBD2 app works on OBD2-compliant vehicles. These are generally cars and light trucks that were manufactured any time from 1996 to date.
If your car is a Ford, GM, Nissan, Chrysler or Toyota then you may use this app. It doesn't matter which market it was meant for. However, it only works on Honda, Acura, BMW, Mini, Volkswagen, and Audi cars that are sold in the USA (not worldwide).
Diagnostic Functions
So what can you do with the BlueDriver OBD2 app? For starters, you can pull and clear diagnostic trouble codes from the engine, ABS, SRS, and transmission. For that reason, it makes a great tool for resetting the Check Engine Light and other warning lights.
Secondly, it tests the EVAP system. Also called smog readiness checks, these tests typically let you know if your car will pass emissions.
In terms of data delivery, the BlueDriver OBD2 app works with the best OBD2 Bluetooth adapters to feed you with tons of data. At its most basic it will give you codes and their definitions. Beyond that, you also get freeze frame data and interactive graphs (PIDs). Graphs are particularly important because they allow you to compare various sets of data.
Perhaps the one challenge is that although it gives code definitions, they are not detailed enough to help a newbie understand the issue completely. You may also need to do some Googling to understand how to interpret graphs and other data.
Monitoring
The best OBD2 Bluetooth adapters are generally tiny devices. That's a good thing because you can leave yours plugged in the car and it won't obstruct you as you drive. By doing so you will enable the BlueDriver OBD2 app to collect real-time data like oil pressure, battery level, oil temp etc.
2. OBD Auto Doctor
Product Link: https://itunes.apple.com/us/app/obd-auto-doctor/id908897183?mt=8
The OBD Auto Doctor performs exceptionally well when used with the best OBD2 Bluetooth adapters. Made strictly for iOS devices, this app is available to download for free.
Vehicle Compatibility
You can use the OBD Auto Doctor on OBD2-compliant vehicles. Specifically, those are all cars made in the US from 1996, EU gasoline models made from 2001 and EU diesel models made from 2004.
Diagnostics
This app allows you to read and clear diagnostic trouble codes. By doing so you can turn off the Check Engine Light. The built-in code database makes it easier to understand what each code means.
Additionally, the OBD Auto Doctor allows you to check readiness status. That information shows whether your car meets state and federal emission standards.
When used with the best OBD2 Bluetooth adapters, this app especially excels in data management. Aside from DTCs, you can monitor OBD2 sensor data, view freeze frame and even send your diagnostic reports via email.
Monitoring
OBD Auto Doctor will pull and relay real-time diagnostic data as long as your OBD2 adapter is still plugged in the vehicle's OBD2 port. It displays info like live sensor data, fuel consumption, fuel temp etc. to help you catch any abnormality as soon as it occurs.
3. DashCommand
Product Link: https://itunes.apple.com/au/app/dashcommand-obd-ii-gauge-dashboards/id321293183?mt=8
The first two diagnostic apps are great for pulling codes. While the DashCommand does that too, it is particularly excellent for monitoring gauges. Want to know the type of live data you will get? Jump to the 'Monitoring' section below.
Vehicle Compatibility
The DashCommand works on all domestic and OBD2 vehicles. Simply put, if your car has the 16-pin OBD2 port you may use this app alongside the best OBD2 Bluetooth adapters of your choice. That said, its database is not up to date. For cars made after 2014, you may have to enter their details manually.
Diagnostics and Monitoring
This app is primarily for collecting and displaying the performance parameters of a car. It displays the information in form of gauges. If you leave your Bluetooth dongle plugged you will see live (real-time) data streaming on each gauge.
So, with that in mind, what kind of data will the DashCommand display?
Performance data: here you will see your car's engine speed, torque, boost, corrected vehicle speed, acceleration, and open/closed loop. All these are displayed on your iPhone in real-time.
Engine data: this includes real-time readings of fuel pressure, intake air temp, engine coolant temp, ambient air temp, air/fuel ratio, mass air flow, engine load etc. These are basically indicators of your engine's performance.
Fuel economy data: this set of data includes fuel level, instant fuel economy, average fuel economy, time/distance to empty, fuel flow rate, remaining fuel etc.
Trip guide: these pieces of information are meant to help you plan your trips. They show drive time, elapsed time, distance traveled, max speed, avg. speed, idle time and a ton of other data.
In addition to all that information, the DashCommand also runs emission readiness tests, pulls DTCs and resets the Check Engine Light.
Recommendation
Each of the three diagnostic apps is suitable for a particular set of needs. If you just want to check the 4 main systems (engine, transmission, ABS and SRS) and maybe run emission scans then the BlueDriver and OBD Auto Doctor apps make the best choices for you. The only difference is that the latter has a wider vehicle coverage.
On the other hand, if you are keener on tracking the performance of your vehicle then the DashCommand is more suitable. It provides a ton of gauges to help you know how your car is performing over long and short trips alike.