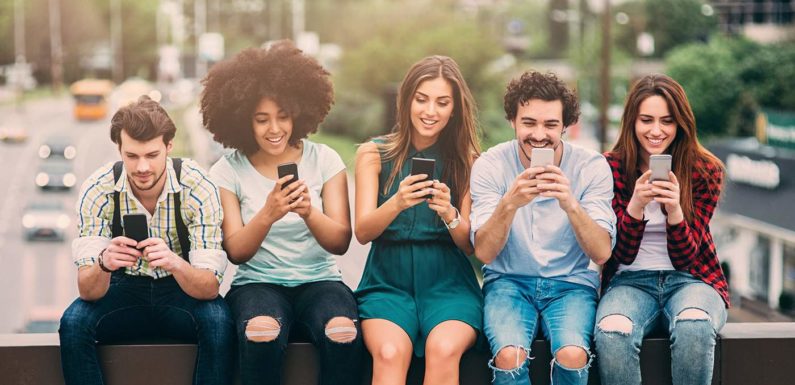 Social media can prove to be an effective tool to engage more students in classroom learning. Use of social media in a conventional education setup/process can help teachers bring cultural diversification in their classroom and capture the attention of their students for long. Amalgamating social media with current Edtech trends can enhance the overall experience of a student and bring them closer to our digitized world.
It fosters a sense of community among students and makes them capable of sharing their ideas and thoughts on a bigger platform. Some of the ways to combine social media activity with Edtech tools have been discussed for your reference:
#1 Online classroom discussion through social media interaction
With more and more students getting a hang of social media with the swelling penetration of the internet, educators have started using it in their classrooms. Through social media activity, students can be encouraged to share their opinions on a public platform by writing and sharing classroom blogs or posts about something they have learned in their class. They can connect with the students across the world by responding to their blogs. Commenting on each other's blog posts facilitates idea to share, forming a social media classroom discussion.
One of the most appropriate examples of using social media in the context of educational technology could be a mathematics teacher weekly sending out a tricky mental math question via Twitter to stimulate a productive class discussion in the next class. The students can be asked to give their answers as a reply to the teacher's tweet or tweet the picture of the solved question.
#2 Forming online student communities through social media  
Students can establish a collaborative forum (via Facebook). They can connect with the ones who share their interests or make a community with those who have difficulties in the same subject. Online student communities would help pupils to understand diversity and adapt global culture. With a chance to peek into the lives of students from the length and breadth of our world through the medium of a social platform, they would have a better understanding of how different societies and cultural set-ups function.
This is a necessity in our globalizing world. Social media eradicates physical and cultural boundaries and add perspective to the young minds thinking. To measure the outcome of this social media activity, the students can be given an assignment to write an essay about their learnings of various cultures and education practices across the global. Students can seek academic assignment help from experts if they like who can help them build their knowledge and skills according to the latest global trends.
#3 Creating professional learning network through social media
The digital era has made it possible for students to go beyond school to expand their horizon of learning and create a credible social footprint for themselves. Such is the story of Alex Laubscher, a cartoonist with an immense love and passion for Zine Culture and illustrating. Using Instagram, Laubscher was able to connect with the experts in his field. Over the period of time, he developed a relationship with the leaders in the industry and by the time, he turned 15, he successfully created an extensive network of professionals. Without the assistance from his teachers at school or without any guidance from his parents, Laubscher soon learned to produce his own zines and start selling them. Laubscher used his Instagram page for the multitude of things – he used it to connect with fellow zine artists from around the world, post his finished zines and ideas to take reviews from his Instagram followers, create a fan base for himself and connect with people in the trade.
LinkedIn is another platform where the students can meet their role models and experts in almost every field. Plus, it allows personalized messages to one's connects- it could be an efficient way of social networking for those aiming to build their professional network.
#4 Massive Open Online Courses (MOOCs) and social network learning
Social networking is an integral part of MOOCs curriculum. Students on social networks come from different corners of the world thus are unable to meet each other. MOOC becomes the online platform where they come to interact and have a discussion on course concepts. Each MOOC usually have discussion forum/s (can be called a mini social network of its own) or Facebook groups; these open pages have a huge number of members (students) who share, post, discuss and comment on the content of each MOOC.  
These open pages are regulated by admin (often an educator or a passion-driven MOOC student); they keep a check on spam messages or inappropriate posts. Some of these forums/pages remain active even after a MOOC is completed. The content shared on MOOC-specific groups encourage people to read, think and learn. It doesn't enforce learning on anyone rather attracts zealous students to increase their knowledge bank.
#5 Social media enables remote learning
Remote learning through the use of social media makes learning possible for those who cannot make it to school on a regular basis. Such students can attend classes through e-lectures and access online video libraries on multiple free video-sharing websites to complete their credit score. Using social media, they can be a part of class forums to keep them updated on the curriculum front.
Pre-recorded videos of educators on class forums will come handy to students who are unable to be physically present in the classroom. Apart from bringing in students remotely, subject matter experts can also impart their lesson remotely. Social media makes it possible to tailor education programs as per students' needs. An active social media account and Wi-Fi-enabled device are two perquisites for this Edtech trend.
#6 Social media networking and flipped learning
Schools and private educators can collaborate textbook information with social media to foster student-centered learning on the student-preferred device. Flipped learning enables students to gain knowledge by either watching video lectures or studying online. Social media platforms such as YouTube, Vimeo can be used by educators to start an exclusive educational online channel for their pupils.  
They can do their academic assignments in class or at home by referring to online video repository by their teachers; instead of directly taking notes from the teacher in the classroom, students can put their opinions on social media groups using mind maps (via Pinterest, Facebook, and Twitter).
They can visit these open groups to learn from each other and enable collaborative learning environment. The students should be encouraged to use mobile apps to participate in school/classroom quizzes or discussions; this would help educators to keep a track of their performance as well as keeping the students engaged in interactive exercises.
#7 Creating virtual boards
The popular social networking website Pinterest can help you collate all the information on one board and teach your students through full visual means. Even it will allow your students to 'pin' their thoughts on your board. This could be a strong way of teaching children to use visual imagery to convey their thoughts rather than using language. This social media exercise would aim to expand the skyline of imagination among students while developing critical problem-solving skills. In a history class, you can ask the students to explain an era using relevant pins; each pin must be supported by textual information.
  #8 Establishing collaborative Skype communities for young talent and educators
Skype is the most feasible social networking site to meet people around the world. Skype has its own network of educators, experts, and students that can connect you to online classrooms across the world on the basis of your interests. Most of these networks/Skype communities link users to international communities; while sitting at your home in Mexico, you can co-read or co-watch poetry or films with your peers located in China. Skype communities facilitate real-time communication thus enabling collaborative learning and simultaneous knowledge exchange.
#9 Encouraging digital footprint through the scoop.it
In a world that is driven by ruthless competition in all aspects of one's professional life, it has become immensely important for young talent to have an outstanding profile, which is accessible to all- teachers, peers and recruiters. Teaching your students to maintain a digital footprint from early stages of their schooling can prove decisive for their career later on in life. For creating the digital trail, an educator can introduce scoop.it to her students.
This platform is internationally known for its religiously high set of guidelines; it lets one curate their own blogs/articles and publish them on the topic of their choice. It opens up the possibility of letting others discover your content on the internet; it helps you garner loyal followers of your writing. Once your content has been published on scoop.it, it can be effortlessly shared on various social channels and embedded in a website.
#10 Digital classrooms through online communities  
To understand how digital classrooms can come into existence using online communities, let's take an example of Edmodo. This interactive platform engages all the stakeholders in a child's education- the child himself, his teachers and his parents. The control over the learning of the student relies on the teacher; the educators are encouraged for paperless teaching as this platform let them create online homework groups, schedule quizzes, and Olympiads while providing analytical tools to measure the performances of the students.
This platform exterminates the need for traditional study tools for students and pushes them to embrace technology to become world-class citizens.  Furthermore, teachers can connect and share their e-documents and progress report with the parents to ensure holistic development for each student.
Bottom-line
The bottom-line for educators using social media in their classroom is to ensure that every student knows the 'whys' and 'how's' of staying safe online. To ensure that it doesn't prove a distraction in teaching, the use of social media needs to be regulated by authorities at school and parents at home.  Students must be taught to identify scammers that can prey on young minds. Another important lesson for students using social media could be knowing the distinction between the content that can be shared online and the content that needs to be private to themselves and their teachers. The Curriculum of every grade must be inclusive of lessons on online safety.