Overview
At present, the genius of Flutter has grown extensively to fuel up operations for different start-ups. This software development kit was announced in May 2017, and since then, it has been recognized as an appropriate powering partner for budding companies.
The most common dilemma that hits start-up organizations and developers during mobile applications is to select between native and cross-platform applications. Flutter is the perfect mobile app development suite that combines all the finest Google technologies that have resulted in constructing a robust mobile framework.
This article will comprehensively highlight why start-ups are more inclined towards Flutter and its benefits towards mobile app development.
Flutter for Mobile App Development: The Dilemma that Start-ups Face
As we already mentioned, the dilemma in making a selection between native and cross-platform apps has consistently troubled start-ups and developers.
The tech world is witnessing exponential technology advancement and innovation. Enterprises are finding ways to augment the customer experience without restricting themselves to the web or mobile platforms. Given that customers are spread across the globe and use different operating systems for accessing the web, it is sensible to serve numerous platforms at the same time.
This is where the usefulness of Flutter and its cross-platform abilities come into play. This technology makes it possible to serve multiple platforms for mobile apps using a single development phase. Hence, the quality and user-experience of mobile apps are not sacrificed.
You will be surprised to know that close to 1.84 million mobile apps are active on Apple's app store and 2.7 million apps that exist on Google Play Store. The dependency on mobile app development by businesses ranging from small, medium to large sizes is rising each day.
For start-ups, there are several platforms available to create mobile applications. But the actual reason why they should pick Flutter to access mobile app development needs better clarity. Read on to get a precise answer to this question!
Advantages of Flutter for Mobile App Development
Flutter does offer unique advantages that align themselves perfectly with mobile app developers and business owners. To understand it better, take a look at some of the primary benefits of Flutter related to mobile app development: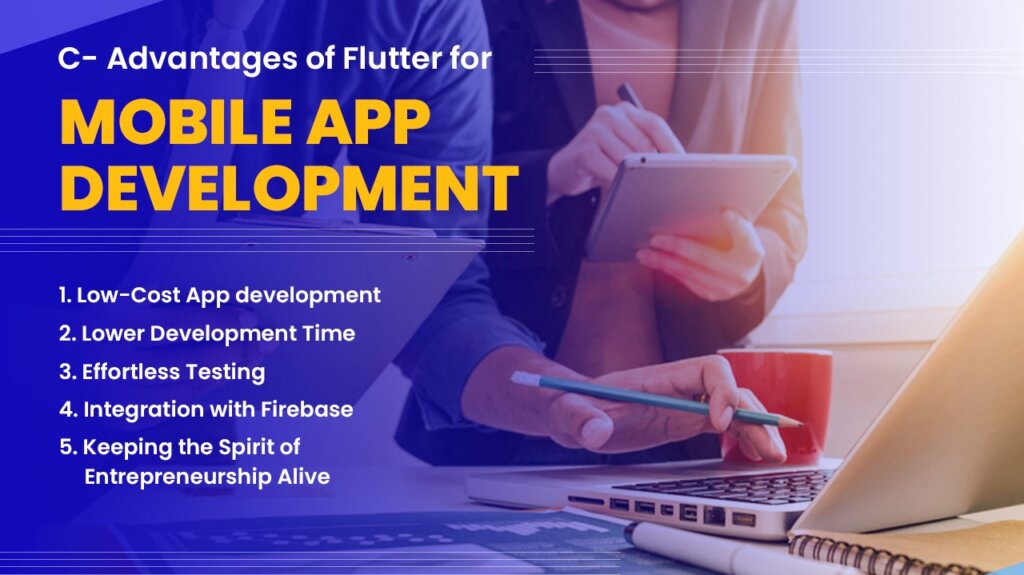 1.- Low-Cost App development
The process of carrying out native app development does require sufficient investment that might not fall in the budget for start-ups. One of the main reasons for this costly project is writing different codes for different operating systems.
A single code base is used to construct mobile apps that operate smoothly on multiple platforms. Such an arrangement lessens the maintenance cost for mobile apps. This is indeed significant support for start-ups since the expenses are restricted. Flutter is a popular mobile SDK that makes Android and iOS mobile applications using a similar codebase. You need not hire different engineers for creating a mobile application that runs on both platforms in simple terms. Having Flutter at the forefront of mobile app development, start-ups do get to save a lot of money.
2- Lower Development Time
While working on cross-platform application development, the developer only has to focus on a single codebase. There is no need for different versions of a single application, therefore, saving ample time and effort.
Flutter readily makes use of a codebase platform. This is a blessing for software developers to construct different mobile applications.
Moreover, Flutter is easy-to-use and requires minimum effort from developers in building mobile apps.
3- Integration with Firebase
The most vital benefit for using Flutter, especially by start-ups, is associated with relaxed backend development. It means you do not have to invest any time and resources for planning out backend operations. With Flutter, the Firebases are merged with an automation tool that is sufficient for your team to carry out the development process smoothly. Firebase is everything that is required by a start-up. Firebase efficiently provides access to cloud storage, analytics, error monitoring, push notifications, hosting, and a real-time database. You get the opportunity to create a server-less setup that is ranked as redundant and scalable.
Typically, there are situations when the developers might have to build tools on their own. But with Firebase, you already possess a collection of essential tools that majorly streamlines the creation of applications.
4. Keeping the Spirit of Entrepreneurship Alive
As per market visions, it is seen that businesses that are new to the competition do fail when it comes to balancing growth and constant maintenance approach. Such a situation can impact the potency of entrepreneurs.
Flutter, as a platform, is quick to learn when it comes to small businesses. Above all, it is efficient and productive, making it highly suitable for start-ups. For a company trying to establish itself in the market, Flutter can provide excellent support to keep their spirit of efficacy alive.
Conclusion
The above article gives a precise idea regarding Flutter's strong preference to assist start-ups in efficiently managing mobile app development. This popular SDK offers faster time-to-market and low development costs, thereby proving highly advantageous for start-ups.
What is stopping you? Connect with our team to gain quick knowledge about the Flutter platform and its mobile development process.