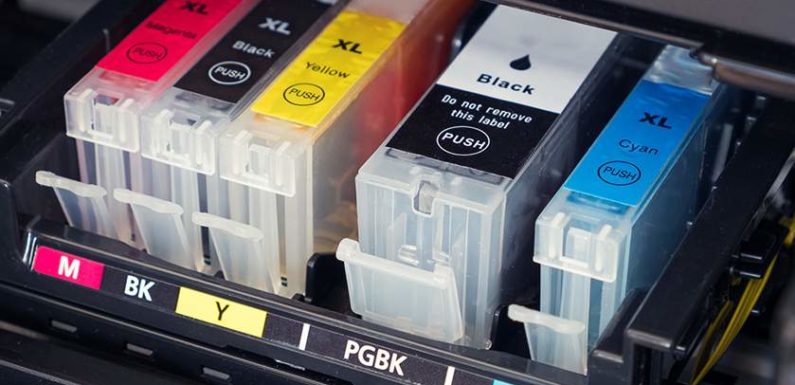 Running out of printer ink, its time to buy a new replacement. For your interest, there are various brands available in the market which produces OEM, compatible and re-manufactured replacement inks for a variety of printers. Curious to know about these brands, read this article which elaborates the top 10 brands of cartridges manufacturers.
1 HP
Hewlett Packard is a renowned name in the printing industry. They have produced a wide range of Deskjet, laser and all-in-one printers. To provide the best in class printing quality and compatibility, they also produce ink cartridges for their printers. In all, they have a huge variety in toners and ink with respect to the compatibility with the printer.
Being an OEM cartridge manufacturer, the quality of ink is very high, reliable bit the costs are a little higher. But for high-quality prints of images and documents, the price won't matter much to the purchaser. Some of the best selling ink replacements are HP 61, HP 951, HP 62XL, and HP 63.
2 Canon
Canon is another popular name in the printing industry, with their high-end multi-functional printers. To provide better quality printing, Canon also manufactures in-house cartridges which are highly popular. They have a wide range of ink replacements which are compatible with their famous models like PIXMA MP450, IP1600 and many more.
With both black and tri-colored inks, they offer high yield output with high-quality prints. Most of them are affordable and provide smudge-free printing. Some popular names with Canon cartridges are CL 41, CL 831, BCI 3ey and many more.
3 IKONG
IKONG is a famous compatible cartridge producer and marketer in the printing industry. They produce high quality inks which are smudge free, water resistant and compatible with most of the popular printer brands. The amazing thing is, they have kept low prices for their products and this makes it a reasonable purchase for the buyers. IKONG offers good variety in their ink products and the best thing is its brand exclusive feature.
This feature guides about if you are installing it in a compatible printer. For purchasers, who are not brand conscious can go for IKONG's ink, which is highly affordable and reliable. INONG 950XL is one of the top-selling models which is compatible with the HP OfficeJet printer series.
4 JARBO
Available on various e-commerce platforms, JARBO is yet another famous name as compatible cartridge manufacturer. Most of its products are known for printing best quality printing images. As per the compatibility of its ink replacements, they widely suit the HP Photosmart printers and also perfectly blends with HP 3522 and 4620 Deskjet printers.
The JARBO replacement inks are popular for their high yield capacity, with 800 black pages and 750 color pages. As per users reports, the JARBO ink cartridges are easy in installation and offer iconic prints. Also, they have been approved by the MSDS and the company provides two years of guarantee.
5 Epson
Epson is a Japanese electronics industry which has marked its presence by producing world-class printing products. These printers are known for their high-speed print speed and better quality. Also, to maintain the quality, the company recommends Epson cartridges for excellent results.
One of the top-notch product in this segment is Epson DURABrite.  This product is empowered with even flow ink technology for high-quality prints. Also, enabled with a built-in chip which alerts with low ink warning.
Another great remark of this product is that it comes in different sizes for the user convenience, specifically as standard, XL, and multi-packing. It prints smudge resistant and the ink won't bleed, which makes it best suitable for double page printing requirements.
6 Brother
Another Japanese electronics multinational, which produces the best quality printing devices for both home and office use. Also, this brand is forward in manufacturing the OEM printer cartridges exclusively for their products. The Brother ink replacements are highly compatible with different Brother printers which offer the best printing quality with high yield pages per minute. The ink they use is eco-friendly and known to produce vibrant and rich prints.
7 FreeSUB
FreeSUB is a compatible cartridge producer and their product is getting famous among customers worldwide. These replacement inks are highly compatible with the HP printers. On being specific, it supports HP OfficeJet Pro series printers which includes 8600, 8610, 8100, 8615, 8629, and HP 251DW, 279 DW are also in this list.
The popular product from FreeSUB is 950XL and 951 XL. It is a pack of six cartridges and provides a high yield of prints. It comes in variable sizes and customers can use it according to their needs.  
8 GPC
For the Canon users, GPC replacement inks are best suited. This company is a compatible cartridge producer and provides best in quality inks for high yield prints. The GPC printing products are quite affordable and are available in various models. Amongst all, GPC 250X and 251 XL can be the best pick.
It supports a variety of Canon printers including, the PIXMA MG series like MG5522 and MG6320. these replacement inks come in variable sizes and are affordable in nature.
9 JetSir
JetSir is a popular name as compatible ink replacements and it blends with the Epson printers, especially the XP-330 and XP-446. The JetSir replacement inks offer a high yield of prints that also at affordable costs.
They produce eco-friendly inks and have been certified by the ISO and meet the requirements of MSDS. For better quality and economic prints, JetSir replacement inks can be the right choice for consumers.
10 Dubaria
Dubaria produces remanufactured, recycled and compatible replacement inks. Its products are compatible with HP and other printers. They offer a huge variety in these series and are affordable on another hand. For those who require more printing, can rely on this brand for economic printing.
To Conclude:
Replacement ink cartridges are necessary to continue printing at home or office. When choosing the type of replacement, it's important to decide that one requires OEM, compatible or remanufactured produced by different brands. The above article tells you about various brands which produce replacement inks for different printers.